In recent years, the debate has raged over Netflix's (NASDAQ:NFLX) impact on how we watch television. Netflix, and others like Amazon (NASDAQ:AMZN) Prime and Hulu as well, have definitely made programming more accessible. Do you remember when you actually had to buy a DVD set to watch a season of your favorite show? Those days seem like decades ago.
Netflix and others are certainly impacting television as they aim to launch their own original programming. However, most of the shows these online services have are network or cable shows that are battled for. So that brings up an interesting question. Could Netflix, as well as Amazon and others, destroy quality television as we know it? Today, I'll examine why I think it is possible, and what it means for Netflix as an investment.
It's still about older/legacy shows:
The first table I will provide shows the top ten programs of the 2012-2013 television season. There are 13 shows listed, because three of the shows air multiple times a week, but for ratings purposes count as "two" shows. As for these networks, ABC is owned by Disney (NYSE:DIS), CBS (NYSE:CBS) is its own company, AMC is part of AMC Networks (NASDAQ:AMCX), Fox is part of News Corp (NASDAQ:NWS), and NBC is owned by Comcast (NASDAQ:CMCSA).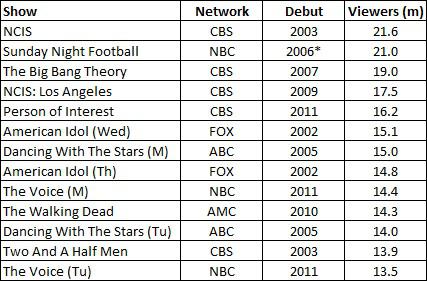 *ESPN, owned by Disney, aired Sunday Night Football from 1987 to 2005 before it moved to NBC.
You'll notice that only two shows that are in the top ten premiered in the past 3 years, and I'm talking about The Walking Dead and Person of Interest. To me, The Voice is just another branch of American Idol and Dancing With The Stars even though they are on different networks. All of these competition shows have really dominated the past ten years or so. Right now, throw out some sort of singing or dancing competition with a few celebrities, and it will probably break the Top 20 within a year.
Most of the shows on this list are older franchise types. CBS branched off of CSI and JAG to launch NCIS in 2003, which spun off the NCIS Los Angeles version in 2009. Recently, CBS decided not to launch a third series of the NCIS show because they did not want to hurt the brand. If you go back to 2006, it was CSI and CSI: Miami and now it's NCIS and NCIS LA. It's mostly the same thing.
You'll also notice a shift from hour long dramas to 30 minute comedies. In 2006, two of the top ten shows were House and Desperate Housewives. Those have been replaced by The Big Bang Theory and Two And A Half Men. Not only is there a shift in what viewers are looking for, but it's easier to gamble on a 30 minute show than an hour long one.
It's not always about ratings, but about cost:
No matter how successful a show is in terms of ratings, the show can still be cancelled. There's a huge difference between a show that brings in 15 million viewers a week and costs $1.25 million per episode versus one that brings in the same number of viewers at a cost of $3 million per episode.
A good example of this might be Fox's hit show 24, which actually is coming back on a smaller scale next year. The terrorism drama launched in 2001 and consistently delivered strong ratings. The show's worst season was 8.6 million viewers, with five of the eight seasons having more than 11.7 million viewers. Ratings did drop a bit in the final season of the show, but still got over 9.3 million average viewers.
While some may argue that the show's premise had become stale, it wasn't just the ratings that did the show in. The show became a victim of its own success due to high costs. Obviously, when a show becomes a hit, it costs more to produce, as actors/actresses want more, and other costs increase over time as well. A show may have great ratings over a long time period, but you must remember this is a business. No matter how great a show is, it won't continue if it doesn't make money. It will be interesting to see what Netflix does with House of Cards after its two seasons that cost a reported $50 million per season. Of course, there's a difference between a Netflix show and a weekly network program, but you get the point. A show could have 100 million viewers per week, but if it costs so much to produce that it loses money, why bother air it?
Netflix and New Girl:
Recently, Netflix struck a deal to gain access to the Fox comedy New Girl, which is the most popular comedy among women aged 18-34. In the past, most TV deals have been bundles, so this is an interesting move for Netflix to acquire just one show. However, reports are stating that Netflix paid a hefty six figure sum per episode. How does that translate overall? Well, New Girl had 49 episodes in its first two seasons, and it was renewed for a third season which has not aired yet. The following table shows how expensive this could be for the first two seasons.
Now I don't know what your definition of high six figures may be, but I would think over $500,000. If these reports are true, Netflix could be paying $25 million to $35 million just for the first two seasons of this show, with another expense coming for season three. At $30 million for two seasons, Netflix would be paying roughly $612,000 an episode. Another way of looking at it is in terms of subscribers. At $8 a month for a year, 150,000 US Netflix streaming subscribers bring in $14.4 million in revenues. So Netflix needs a nice chunk of subscribers to make this work at these expenses, and the $15 million per season (if true) doesn't even take into account other expenses Netflix may have.
Netflix is targeting a specific demographic with this show, 18-34 year old women. Maybe they will look to launch New Girl as an original series sometime in the future. Why do I say that? Well, I don't think Fox will be interested much longer. Viewership for season two of New Girl was down significantly. The show averaged 6.52 million viewers in season one, but just 4.40 million in season two. The season two premiere was down 48% year over year. The first episode of season two drew 5.35 million viewers. That number was down to 4.07 million for the season finale, and hit a low of 3.57 million just a few weeks earlier.
My point here is two-fold. First, Netflix is picking up a show that saw a significant decline in ratings this year, which if it continues next season probably means Fox will drop it. Second, Fox took advantage of a somewhat successful show and flipped it to Netflix for a nice payday. That brings up a larger discussion I want to have, which I'll detail more in the next section.
Cable networks and quality:
With the New Girl example being a good test case, one must also look at some of the non-network shows, those found on cable. If Fox can take a two season show with a large drop in ratings and turn it into a multi-million dollar payday, why won't others follow that model? The big networks are different because they will attract more viewers and have bigger budgets, but let's examine the cable side of things. For my argument here, I'm going to talk about mid-level type cable shows. I'm not going to talk about AMC hits like Mad Men that are in their own separate category.
For this discussion, I'm going to discuss Syfy shows Warehouse 13 and Eureka. These science-fiction shows had a specific niche, sci-fi comedy for Eureka and a little bit of action and drama in Warehouse 13. These aren't going to be drawing the ratings of a show like NCIS, but the two shows did draw up to 4.4 million an episode at their peaks. These were two of Syfy's highest viewed shows of all-time.
Both of these shows brought a new feel to the science fiction genre, and that's why they were so highly rated by those who watched them. Eureka faded away a few years ago, and after this week's Warehouse 13 season finale, the show will have a limited six-episode fifth and final season. After averaging about 2.1 million viewers in season three, this year's season of Warehouse 13 is getting just over 1.5 million. Part of that has to do with the fact that it is on at 10pm on Monday's, as it probably would be doing a bit better if it was on an hour earlier. But for both Warehouse 13 and Eureka, the premise was mostly the same. In both shows, the good guys had to stop the world from ending (generally speaking) in that corresponding TV hour. The shows were really good, but the storylines became repetitive in a sense.
These niche type shows were good for a short-term period, but their goal was to be high quality. They weren't planned to be a ten or more season giant like NCIS, where every few seasons there was some major character overhaul to freshen things up. Like all TV shows, grabbing the largest audience was key, but these cable networks also wanted to produce high quality shows.
What's my overall point? Well, five years ago, a show like Eureka might have lasted an extra season or so, even with declining ratings. If the show was decent and did attract some viewers, the network might have picked up an extra eight or ten episode "season" (normal shows are like 22-25 episodes a season). If a show like Warehouse 13 went from say 2.5 million to 2.0 million viewers a season, it might have been renewed for some extra episodes. By the way, Amazon's Prime has acquired the rights to Eureka and Warehouse 13.
But now, these types of shows probably wouldn't make it. Syfy, or USA, or whoever you want to use as your network, would probably look to run away while the show is near the top, to get a nice little payday like Fox just did with New Girl. Why go through the time and effort, as well as the cost, to produce an extra few episodes, if the ratings are going down? It might also hurt the brand enough that your payday from Netflix or Amazon might overall be less, even with more episodes. A show with 50 episodes that fetches say $200,000 an episode brings in $10 million. A 60 episode show that only brings in $150,000 an episode gets you just $9 million. Plus, you could actually lose even more on those 10 episodes.
With Netflix, Amazon, Hulu, and others spending millions to acquire content, there isn't the emphasis to produce tremendously high content. If a network can throw together a show that will last maybe two or three seasons with okay ratings, and flip it to Netflix for a $20 million payday, why not do that? Why bother going out and spending a ton to produce something of high quality? That's why I worry about overall content quality going forward, as networks look for a payday rather than to please viewers. Financially, it seems to make the most sense, and the goal these days is more about money than it is about viewer's happiness. The other side of it is that once you've flipped your show over to a Netflix or Amazon, your payday is probably fixed. If a show's ratings are declining and you've already got that money in the bank, why bother pushing it any further? I've already shown how it can do more damage than good. Not bringing back that Warehouse 13 type show for an extra season allows you to bring something new in, which could get you another huge payday in a year or two.
The investment thesis:
There have been many debates over Netflix as an investment, and I've certainly been on different sides of the fence at times. One thing you cannot debate is that Netflix is a growth company. The company has certainly increased its total subscriber base. The chart below shows the total subscriber count (not paid subscribers) per segment, in millions, since Netflix began providing these details in Q3 of 2011. Netflix has certainly increased its total number of subscribers over the past 18 months. Even with DVD subscribers falling by nearly 6 million over that time, total subscribers have increased from 36.86 million to 44.29 million.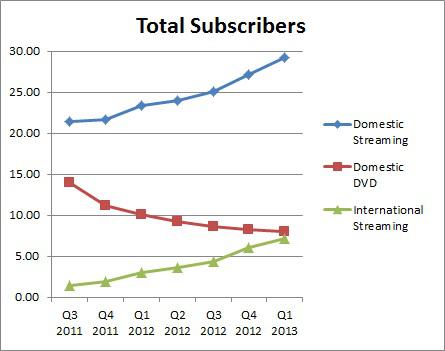 At the same time, quarterly revenues have increased by nearly $200 million. In Q1 of 2013, Netflix had revenues of more than $1.02 billion. That's solid growth considering the huge drop in DVD revenues. Current estimates call for Netflix to have annual revenues of more than $5 billion next year. The expected revenue growth rates for this year and next are 20% and 17%. That's impressive given the large decline we are seeing in DVD revenues this year, a decline that should slow down in pace over time. In Q1 this year, Netflix sported a 17.73% rise in total revenues (year over year). That's pretty good, considering that DVD revenues were down nearly 24%. Total streaming revenues were up about 42%, thanks to a 227% rise in international streaming revenues as Netflix continues its global expansion. A new market is coming later this year when Netflix enters the Netherlands. Domestic streaming showed 26% year over year growth, a solid rise.
Netflix has been criticized by many, including myself in the past, for its lack of profitability. Netflix was doing well in 2010 and 2011, reaching bottom line net profit margins of around 7% or 8%. Once they split the plans, and began to kill off the DVD segment, profit margins collapsed because the DVD segment was the profit machine. Netflix has barely been profitable in recent quarters, actually losing money at times when they've made a large push into a new international market. However, Netflix has worked on improving its profitability. Domestic streaming contribution margins have risen from 14.3% to 20.6% over the past year. A lot of that has to do with the leveraging of marketing expenses. After the DVD split, the company spent a fair amount on marketing to keep the brand strong. Now, they don't need to spend as much, and that certainly helps. Going from say 10 cents of marketing spend (for every dollar of revenues) to say 8 cents really makes an impact on your overall segment margins. Netflix has also been able to slightly improve on the cost of revenues line, something nobody thought they could do. In fact, in Q1 of 2013, domestic streaming contribution profits were higher than domestic DVD contribution profits.
The one thing that investors must realize is that Netflix is not trying to be tremendously profitable right now. Every time they start to reach some level of profitability, they take it as an opportunity to expand to another international market. We are seeing that right now, as they will enter the Netherlands later this year. Over time, you would expect Netflix's profitability to rise. While DVD profits are decreasing, Netflix won't let this segment lose them money. They probably will sell it before that happens. Streaming profits should also continue higher. The wildcard is the international segment. When Netflix gets into a few more markets, they'll have a sizable international presence. The question is can they get to a point where increasing profitability from current markets outweighs the decrease in profitability from entering a new market? It might take a few years to determine this.
If Netflix truly wanted to be profitable, they could easily do it by stopping their international expansion. Profitability would soar, but revenue growth would slow. This is why I say that bears cannot have it both ways. Right now, I think you have to value them on the growth in the business in terms of subscribers and revenue growth. You can't criticize them for lack of profitability, then turn around and criticize them for slowing revenue growth when they stop international expansion for a quarter or two. That's just not fair.
Do I think Netflix has rallied too much? I think you could make that argument to a point. Part of it has to do with those that thought Netflix would be out of business within 18 months after the DVD split. That hasn't happened, and Netflix is doing fairly well right now. Shares were priced for a worst case scenario, and that did not happen. Another part of the reason for the sharp rise also has to do with short covering. As you can see from the chart below, Netflix has seen its short interest halved since the October 2012 high.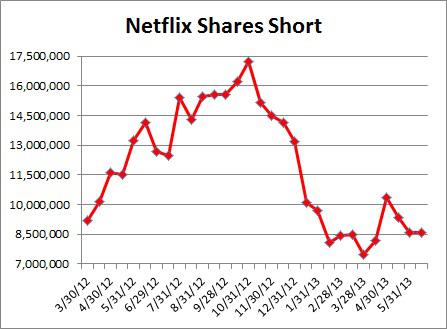 So do I believe there is still upside for Netflix shares? I do. Netflix trades for 2.58 times next year's expected revenues, which is not terrible for a company growing revenues at a 20% or high teens clip. Don't forget, Netflix's "core" business, domestic and international streaming, is growing much faster. As DVD revenue losses subside a bit, revenue growth numbers could look even better. For reference, Apple (NASDAQ:AAPL) is trading at 2.09 times its next fiscal year revenue estimate. Apple is growing at about half the pace Netflix is (even less if you only count Netflix's core). Netflix really has only scratched the surface of international growth. In terms of the international market, the potential for hundreds of millions of subscribers is there. This is why many have argued that Apple should buy Netflix. I'm not in that camp because Apple has never made a large acquisition, but it is something many have considered. Netflix hasn't reached $5 billion in revenues yet, and they certainly could be at $10 billion within the next decade. If Netflix could get to $10 billion by say 2020, would a valuation of 1.31 times those revenues be fair? There is room for shares to rally further on this basis.
In summary, I do believe there is some potential for upside in Netflix shares over the longer-term. However, I think there could be some downside first. There are a couple of items that I think could be short-term headwinds. They are the following:
Carl Icahn starts selling some of his position.
A quarterly revenue/earnings disappointment or guidance miss.
Equity sale. Netflix could sell some shares to pay for content. While the dilution could hit shares in the short-term, it could ease some long-term balance sheet worries.
General market pullback.
A new large competitor like Apple or Google (NASDAQ:GOOG) seriously entering this market.
Final Thoughts:
Netflix has certainly changed the picture for the TV industry. Five years ago, it seemed that networks were more concerned about creating quality television. Now, what's the point? If you can produce an okay show that lasts for a solid year or two, you can flip the rights to Netflix, Amazon, etc., for a multi-million dollar payday. This could hurt the quality of programming going forward, as networks look towards quick paydays instead of building franchises.
Where does that leave Netflix as an investment? Well, Netflix has a market cap of $13 billion at this point, with an expected $5 billion in revenues next year. The company will increase profitability over time, but only if they sacrifice growth. It seems logical that Netflix will be a low margin business for years to come, and that could make the price to earnings ratio meaningless. I think there is potential in Netflix shares if the growth trajectory continues, but there are some short-term issues that could push us down for the time being. Would I recommend buying Netflix today? Maybe not. But if we get a pullback, this stock could be priced at a more reasonable valuation.
Disclosure: I am long DIS. I wrote this article myself, and it expresses my own opinions. I am not receiving compensation for it (other than from Seeking Alpha). I have no business relationship with any company whose stock is mentioned in this article.
Additional disclosure: Investors are always reminded that before making any investment, you should do your own proper due diligence on any name directly or indirectly mentioned in this article. Investors should also consider seeking advice from a broker or financial adviser before making any investment decisions. Any material in this article should be considered general information, and not relied on as a formal investment recommendation.