Despite the latest expectation for policy changes and higher interest rates from the US Federal Reserve, there are still many sectors income investors can still look to and find solid dividend yields. This will continue to be the case as long as treasury bond yields fail to post substantive, sustainable gains. With the market still without a good variety of acceptable income-producing alternatives, dividend stocks should not be neglected.
But where should investors be looking for these high-dividend stocks? One clear option is big pharma, as it is still highly common to find stocks with payouts of 3%, 4%, or higher. One key point to remember, however, is that many companies offer high dividend yields that turn out to be unsustainable over time. When companies are forced to cut back on these payouts (given the increasingly unbearable cost burden), stock values themselves can also see significant declines. So it is important to remember that when looking to invest in dividends, bigger is not necessarily better. Here, we will look at two examples in big pharma that show why this central investing theme should not be forgotten.
A Weakening Company with High Dividends
AstraZeneca (NYSE:AZN) offers the highest dividend yield in the pharmaceutical industry (7.4%). This massive payout will look highly attractive to some but when we start to assess the outlook for the company, this starts to look like a risky investment. It should be said that AstraZeneca's payout ratio is 62%, which is lower than what can be seen in some of its key competitors (for example, in our next company). But the company's weak financials and upcoming patent expirations paint a more negative picture for the long term.
A previous example can be found in Seroquel, which is a drug for treating schizophrenia. Once this patent expired, AstraZeneca's y/y revenues for 2012 were dragged down by 17%. Looking ahead, patents for two of AstraZeneca's best sellers (Nexium and Cresta) will expire next, and this drastically reduces the prospects seen in the company's drug pipeline. To remedy this, AstraZeneca is now looking to acquire smaller pharmaceutical companies, and hopefully add to its up-and-coming list of drugs in development. Until progress is made in this area, AstraZeneca will face some critical obstacles which could ultimately lead to dividend reductions in order to help offset the likely weakness seen in future earnings.
A Strengthening Company with (Somewhat) Lower Dividends
A stronger candidate for dividend investors can be found in GlaxoSmithKlein (NYSE:GSK), which still offers a very solid yield (one of the biggest in the sector) at 4.3%. Glaxo has a very stable payout history with a clear commitment to raising its dividends, even at times when the company has faced earnings pressure. One example was seen in 2010, when legal expenses drove down earnings per share [EPS] by more than 50%.
Glaxo's rolling dividends have kept coverage below 2 times prospective earnings. This is the security benchmark often used to mark sustainable dividend rates. For 2013, Glaxo's earnings are expected to rise by 2%. In 2014, this number is expected to grow to 8%. These improvements in EPS should bring the stock's dividend above 5%, strengthening the argument for long term investment. But with all of these improvements, coverage should still manage to hold below 2 times prospective earnings. This helps to ensure that current levels in dividend yields are sustainable, and will continue to be paid out to investors.
Potential negatives can be found in the company's payout ratio (88%), and in the fact that Glaxo will see some of its own drug patents expire in the next few years. But with 14 drugs nearing the late-stage clinical data phase, Glaxo boasts one of big pharma's most impressive product pipelines. This will be key in protecting the company against revenue declines that might be seen after its next patent expirations. As a whole, Glaxo's drug portfolio puts the company in a position to continue its run higher in terms of stock value - and to sustain its high dividend levels as well.
From these two examples, it should be clear that big pharma must be considered as a source for some of the strongest dividends in the market. But when we compare the specifics of individual companies, it can be seen that higher dividends will not always be the best choice for long term income investors. It is a much better strategy to make sacrifices in the way of yields, and instead focus more on companies with stable balance sheets and a stronger product outlook.
Price Perspective
GlaxoSmithKline is caught in a well-defined uptrend, with a clear series of higher lows supporting prices. Bias remains positive as long as historical demand at $46 remains intact.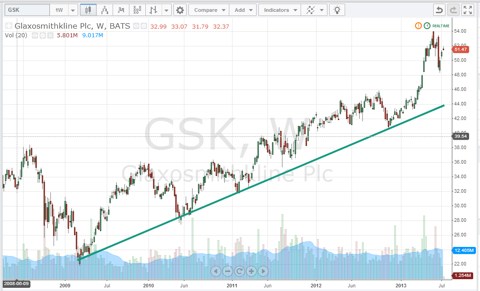 AstraZeneca is showing some near term weakness now testing resistance turned support at 47.20. Downside momentum should accelerate if this level sees a bear break.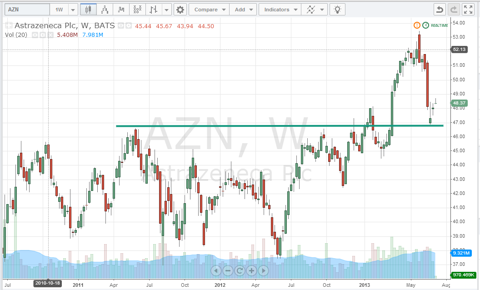 Disclosure: I have no positions in any stocks mentioned, and no plans to initiate any positions within the next 72 hours. I wrote this article myself, and it expresses my own opinions. I am not receiving compensation for it (other than from Seeking Alpha). I have no business relationship with any company whose stock is mentioned in this article.