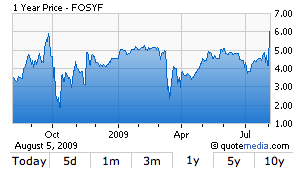 It has been a wild ride for anyone trying to play the takeover of Forsys Metals Corp. (OTCPK:FOSYF) But after yesterday's announcement that George Forrest International Afrique (GFI) is apparently securing the financing necessary to complete the deal, the odds of it actually closing look as good as ever.
Canaccord Adams analyst Eric Zaunscherb agrees. He raised his target on the stock to C$7.00 a share (which is the offer price) and changed his rating to "tender."
He wrote in a note:
We had believed that GFI had the ability to raise the funds necessary, but wondered whether the available terms were sufficiently attractive to compel GFI to consummate.
Apparently the answer is "yes."
Mr. Zaunscherb noted that he expects the stock to trade in a range of C$6.25 to C$7.00 a share between now and the projected closing of the deal on August 17, reflecting the risk that another roadblock to this transaction could pop up.
The price of C$6.25 represents his fundamental value for the stock. He noted that Forsys shares are trading at a price of C$5.83 enterprise value per pound of uranium. That is expensive relative to other junior uranium companies, but he thinks the premium is justified given that Forsys' Valencia project has a mining licence in place and is in Namibia, a mining-friendly country with plenty of uranium production.