[ charts]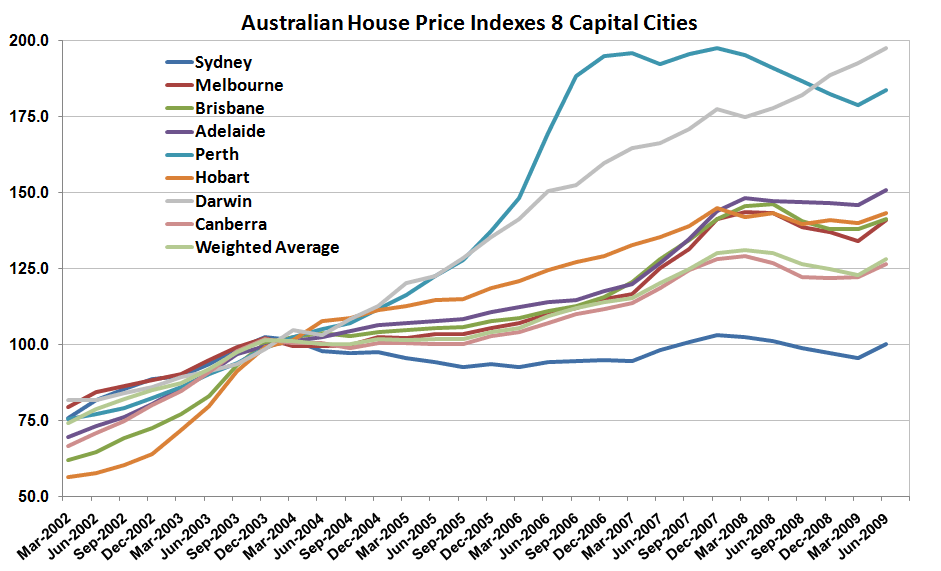 The chart above really tells the story. Australian home prices experienced an across the board recovery in the June quarter according to data released yesterday. The Weighted Average 8 Capital City index rose a seasonally adjusted 4.2% in the quarter ended June 30th after an upwardly revised -1.5% fall in the March quarter.
No doubt the FHB grants have helped. However, it remains to be seen whether investors will follow which is the normal course of a housing recovery. However credit for investment housing has been in a slump and remains at its lowest levels since records have been kept.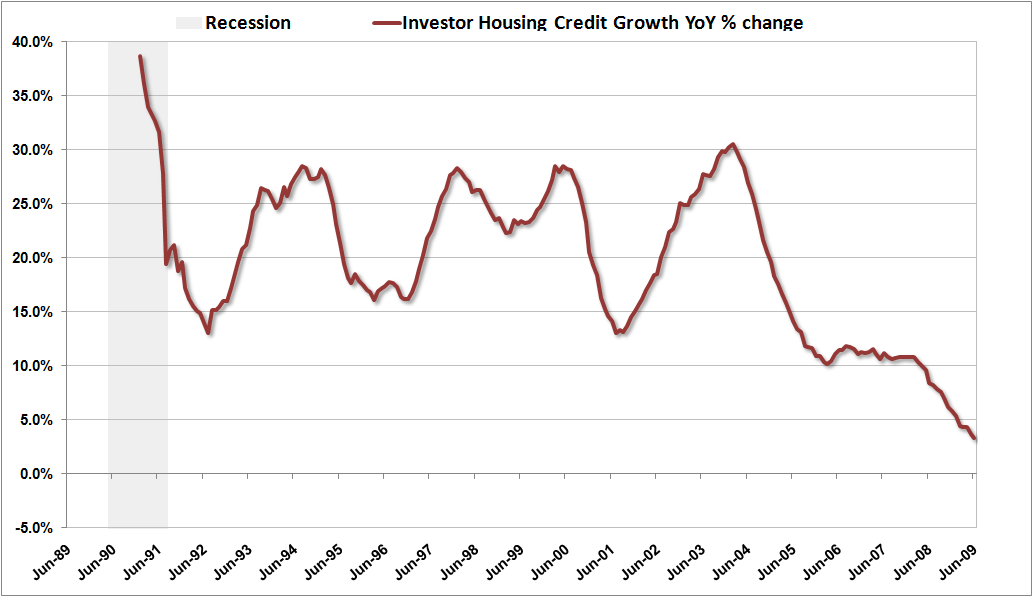 Low interest rates coupled with ridiculous subsidies for home buyers have definitely put a floor under Australian housing prices. So much so that now we are hearing noises from the RBA about the possibility of a housing price bubble. I could never envisage the type of falls in Australian home prices as we have seen in the US, simply because we do not have the same oversupply problem. That said, Australian house prices have held up better than I would have expected.
So are we headed for another real estate bubble before the first one even gets deflated? It is too early to tell, but we know a couple of things: First of all, the souped up version of the FHB grants will disappear at the end of this year and secondly it is looking more and more likely that interest rates will not be staying at the current levels over the medium term. Yesterday's statement from RBA governor Stevens suggests the RBA has moved from an easing bias to a neutral stance on monetary policy. Interest Rate futures are now pricing in an RBA cash rate of 5% by the end of 2010. And lets face it, Australian housing is hardly what you'd call cheap.
Personally I think the futures market is getting ahead of itself. Business investment remains weak and will probably remain so for the remainder of this year. That doesn't mean we can't have an economic recovery, just that it will be weaker than most expect. Also the Chinese economy remains a risk for Australia's prospects: On Monday, former Morgan Stanley analyst Andy Xie labeled China a Giant Ponzi Scheme.
If Australian house prices are off to the races again it would seem that the Australian government has been successful in propping up house prices. However, at what cost? Are we just kicking the can down the road for a future generation to pay for? Government policy effectively encourages Australian households to save very little and to take on large debts just to finance the purchase of a home, just the kind of behaviour that facilitated the US housing bubble.