HollyFrontier Corporation (NYSE:HFC) is an independent petroleum refiner with operations throughout the mid-continent, southwestern and Rocky Mountain regions. The new entity was created on July 1, 2011, when Holly Corporation merged with Frontier Oil Corporation.
Subsidiaries of HollyFrontier Corporation produce and market gasoline, diesel, jet fuel, asphalt, heavy products and specialty lubricant products. The company operates five refineries with 443,000 barrels per day of crude oil processing capacity. Subsidiaries of HollyFrontier Corporation manufacture and market lubricants, specialty products, asphalt products and other heavy products.
Last but not least, HollyFrontier owns a 39% interest, including the 2% general partnership interest, in Holly Energy Partners, L.P. (NYSE:HEP), a master limited partnership that owns and operates petroleum logistics assets including pipelines, terminals and tankage throughout the mid-continent. HEP has a long-term strategic relationship with HollyFrontier to pursue purchases of logistic assets at several existing refining locations and work with HollyFrontier on logistic asset acquisitions in conjunction with HollyFrontier's refinery acquisition strategies. HollyFrontier grants HEP an opportunity to acquire certain types of transportation and distribution assets that are part of any acquisition it makes.
The following illustrates the combined footprint detailing logistics and marketing operations for HFC and HEP: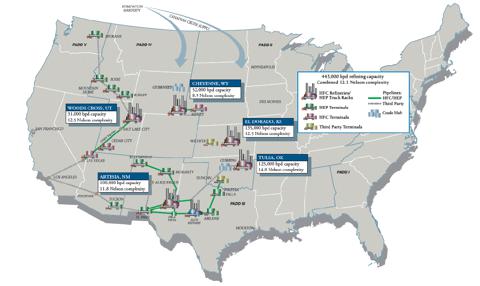 Source: HFC May 2013 investor presentation.
So why is HFC trading at a discount to fair value and sporting an attractive yield pushing 3% (excluding special dividends) at the time of this writing? Fear created from the narrowing spread between WTI (West Texas Intermediate) and Brent crude is creating opportunities in the market. The fear being margins will collapse as the spread approaches zero. This article will address the following:
Gross margins vs. the WTI-Brent spread
What if the spread approaches zero?
Cash returned to shareholders
Conclusion
Gross Margins Vs. the WTI-Brent Spread
While true the narrowing spread will have an effect on margins the fear of collapsing margins is overblown. The surplus at Cushing is, in part, a result of increased production in both Canada and the central U.S., causing a large spread to develop starting in 2011. Referencing the earlier map Cushing is located in PADD II. According to the EIA, production in PADD II for the period 2010 through 2012 has increased 63%.
So what is causing the spread to narrow? We'll summarize information from a June EIA report among others factors:
Significant pipeline takeaway capacity has been added at Cushing.
Other pipeline and rail projects have also been completed, making it possible to move barrels from production areas, such as Texas and North Dakota, to refinery centers without passing through the hub.
U.S. East Coast refineries, which historically have relied on Brent crude oil and Brent-like crudes, can now access U.S. light sweet crude oil.
The perception the Keystone XL pipeline will get the green light by the U.S. government.
The spread, which was more than $23 per barrel in mid-February, fell to under $9 in April. Recently, the spread has been hovering in the $5 range. So what does this mean for HFC? We'll start with a few quotes from Michael C. Jennings, chairman of the board and CEO heard at the American Fuel and Petrochemical Manufacturers annual meeting in San Antonio.
The news of our demise is probably overstated …The fact is, our company lived for many years without a crude differential.
We've gone back in time to compare the effects on gross margins to changes in the spread:

While it's reasonable to expect lower margins history shows that any selling sparked by a fear in margin collapse is overblown. EIA forecast the Brent-WTI price spread to average $11/bbl in 2013 and decline to an average $8/bbl in 2014, still quite a bit higher than the spreads from 2002 through 2010 and they could be wrong by a factor of seven and still exceed the average spread.
What If the Spread Approaches Zero?
We can use the company history given above -- i.e., a long-term gross margin average of 10% -- and compare this to the TTM (trailing 12 months) results to get a better feel for the effects. This assumes cost efficiencies are as good as they will ever be and the share repurchase programs are cancelled. Substituting TTM results with a 10% gross margin produces: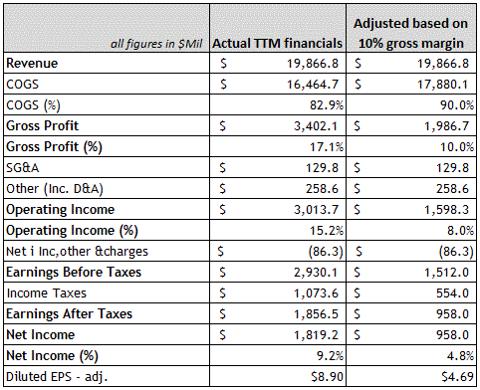 This would yield a current P/E of 8.74 on a price of 41.
Extending the view through cash from operations and FCF (free cash flow) yields: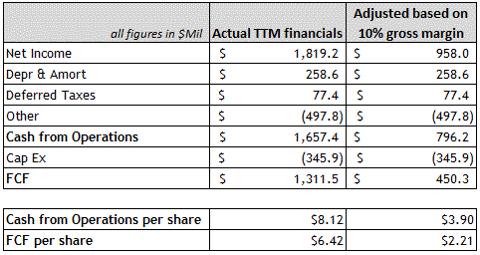 The spread has a larger effect on FCF, although it's important to note that while HFC's capex plans for 2013 approach $450 million the maintenance capex is approximately $200 million. In any event the reduced FCF easily covers the dividend. Its effect would probably impact special dividends as shown below. It could also slow down but not end the Woods Cross Refinery phased expansion from 31,000 BPD to 60,000 BPD.
A spread of less than a dollar would call for the EIA forecasts to be off by a factor of eight for 2014.
Cash Returned to Shareholders
HFC's policy of returning cash to shareholders via dividends and share repurchases is one of the attractions for investors. Management is shareholder friendly when it comes to returning cash to shareholders: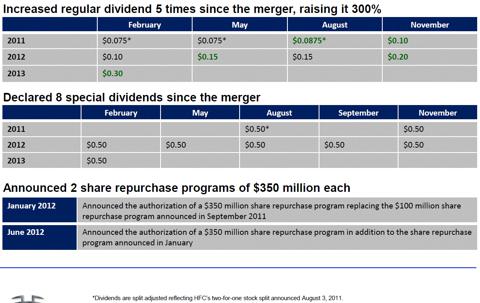 The yield continues to be attractive as margin fears are fueled by narrowing WTI-Brent spreads. The positive impact from margin fears comes at a time the company is in the midst of a large share repurchase program.
Conclusion
HFC has strong operating income per share as shown below. What separates HFC from its competitors is a higher yield in combination with strong operating income among its peers.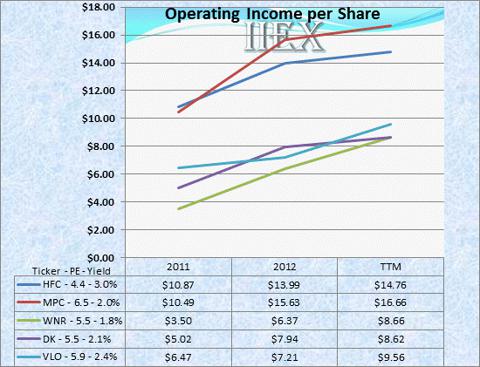 We have a fair value of $53 as of this writing. Any major changes or small fluctuations in fair value going forward can be found here. We'll leave a discussion of HEP for another day, but HEP's distributable cash flow has increased each year since inception (2005) and HFC received approximately $70 million in cash contributions for FY 2012.
In summary HFC has established a shareholder-friendly policy of returning cash to shareholders through a growing dividend since the Frontier Oil merger, special dividends and share repurchases. The yield is attractive and could fit an investor looking for income from a stock trading at a discount to fair value. The discount required depends on each individual's tolerance for risk.
Margins will be lower but the stock is approaching value territory. Repeating the CEO's quote from earlier: "The news of our demise is probably overstated." A complete set of updated detailed financial data used in this article and longer-term projections can be found here.
Disclosure: Currently I have no position in HFC but have been the writer of puts at strikes of 39.50 and 39.00. I wrote this article myself, and it expresses my own opinions. I am not receiving compensation for it (other than from Seeking Alpha). I have no business relationship with any company whose stock is mentioned in this article.