Potash (POT) was a stock that made investors a lot of money about five years ago in 2008. Since the financial collapse however, the stock has been stuck in a multi-year trading range. While potash supplies have kept the stock dragging its feet, the price action has been relatively stale for the past 18 months. But that might soon be changing.
While the company has had its fundamental droughts -- no pun intended -- I think the tide may be beginning to turn. Since April, analysts have started to warm up to the fertilizer giant, with five good upgrades or positive coverage initiations. Below is the table of ratings for those five upgrades:
| | | | | |
| --- | --- | --- | --- | --- |
| Date | Firm | Coverage | Rating | Price Target |
| April 1, 2013 | JP Morgan | Upgrades from Neutral | Overweight | $45 |
| April 18, 2013 | HSBC | Initiates Coverage | Overweight | $48 |
| April 23, 2013 | BMO Capital | Maintains | Outperform | $47 |
| May 1, 2013 | Cantor Fitzgerald | Initiates Coverage | Buy | $50 |
| May 16, 2013 | BGC Partners | Upgrades | Buy | $49 |
Of these five positive ratings, these firms have given an average price target of $47.80, which is approximately 25% higher than Friday's closing price of $38.19. While this might be a stretch, I would think that a move to the upper end of Potash's long-term range is in the cards. Below is a chart, displaying the price range and possible entry point for long-term investors: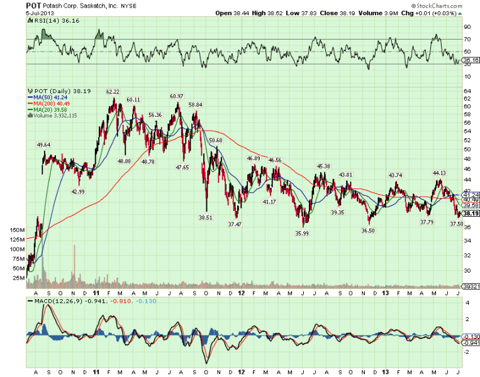 Chart compliments of Stockcharts.com
As you can see, the $37.50 level has acted as long-term support for Potash, giving investors a great entry multiple times for building a long-term position. As the stock runs higher, it tends to become exhausted around the $44 range, suggesting that long-term investors might look to trim their long exposure, or possibly sell upward covered calls against their position. While short-term in nature, covered call writing has many long-term advantages, including limiting risk and generating income.
While Potash, and other related names such as Mosaic (NYSE:MOS) and Agrium (AGU) have had a rough couple of years, the second and third quarters of the calendar year are typically stronger for these names. Coupled with increased demand from emerging markets and a higher-than-expected crop planting that tops 2012's numbers and the most acreage since 1936 with 97.4 million acres, fertilizer will certainly be in demand.
Sharp declines in grain stocks could also be positive for both Potash and Agrium.
On top of the positive analyst opinions and increased demand from domestic and emerging markets, the current 3.67% dividend yield is certainly enticing. Because the turnaround story will not be overnight, the dividend, which has increased rapidly over the past couple of years, shows that the company has confidence in its operations over the long-term. This should also aid in investors' confidence, especially with Potash being near long-term support.
The dividend, which currently pays out $0.35 per quarter, only used to be $0.03 as recently as January of 2011. While this represents a time frame of nearly two and half years, the fact that the dividend has rose over 1,000% is pretty substantial. Actually, this is very substantial, and the income offers investors a reason to get involved in a name that will do well in the long-term from an increasing population and increased planting.
On a valuation basis, Potash is trading with a future P/E ratio of about 12.5. This has proven to be a solid "bouncing point" based on valuation. Recently, when the stock begins trading with future P/E ratio of about 15, the stock has become a "sell," while over the longer term, a future P/E ratio of about 17.5 has indicated a "sell." Current levels have generally supported a "buy" thesis.
I have entered Potash and am looking for a move up to ~$44 in the next six months.
Disclosure: I am long POT. I wrote this article myself, and it expresses my own opinions. I am not receiving compensation for it (other than from Seeking Alpha). I have no business relationship with any company whose stock is mentioned in this article.