Two companies with large institutional buying this week are Achillon Pharmaceuticals (NASDAQ:ACHN) and DaVita Healthcare Partners Inc (NYSE:DVA). Typically institutional buying is a bullish signal that a financial experts feels there is a promising investment in the stock from a specialist's point of view. In this article we will take an in depth look at the current business operations, upcoming catalysts and financial positions of the two companies featured to better understand why hedge funds may be expecting to profit from buying shares of these two health companies.
1) Achillion Pharmaceuticals
Achillion Pharmaceuticals is a biotech company working to develop drugs for treating Hepatitis C as well as bacterial infections. Their pipeline consists of 3 trials aiming to treat Hepatitis C and 2 pre-clinical candidates in the areas of bacterial infection and Hepatitis C again. Just this past Monday the company issued a press release stating that the FDA was placing a "clinical hold" on one of the company's main drug candidates due to unanticipated elevations in ALT liver enzymes during the drugs Phase I clinical trials. As a result of the FDA's decision shares of ACHN dropped from $8.36-$6.42 and have been fluctuating in the $6.15-$6.37 price range for the last few days.
Institutional Buying
Following ACHN's price plummet on July 2nd and 3rd, institutional investment group OVT Associates stepped in and purchased 1,963,248 shares of ACHN bringing the hedge funds total share holdings of ACHN to 12,931,101 shares. Likewise, before the price plummet, in the month of June 2 directors of ACHN also purchased a combined 40,000 shares of stock while one director sold a total of 10,000 shares.
Financials
As of March 31st the company had a total of $39.4M in cash and $105M worth of short-term investments. With a quarterly burn rate of an average $12.4M per quarter, unless the company manages to partner or sell a portion of their short term investments there appears to be a significant chance of a secondary offering or market offering within a year's time. While there is no guarantee that any dilution will be in store for ACHN, if there were I would infer it could be in the area of $50M worth of shares based on the company's burn rate.
Analysis
Although the FDA placed a clinical hold on ACHN's clinical trial for Sovaprevir, there still appears to be a chance that this road block will be reconciled since the FDA is going to review reports from two drug-drug interaction studies which ACHN will be providing the FDA within a 6 week time frame. Since ACHN appears to have a lot of weight riding on their lead candidate Soveprevir which has just been placed on clinical hold I would recommend steering clear of purchasing ACHN's stock until the issue with the FDA is remediated.
2) DaVita Healthcare
DaVita Healthcare is a Fortune 500 company and leading provider of kidney care in the United States. DaVita specializes in providing dialysis to patients with end stage renal disease and chronic kidney failure and owns roughly 2,000 kidney dialysis centers in the U.S. The company also provides dialysis services to over 950 hospitals as of the beginning of this year.
Institutional Buying
In the past week Berkshire Hathaway Inc. (NYSE:BRK.A) (NYSE:BRK.B) purchased a total of 639,200 shares worth an estimated $73,369,509. As well, Berkshire Hathaway portfolio manager Ted Weschler invested a personal $73,369,509 for 639,200 shares in the company, upping the prior 1.1% stake in the company he already personally owned. Berkshire as a company currently owns 14% of DaVita and has been restricted by DaVita from purchasing more than 25% of DaVita's shares.
Financials
Revenue for DVA has grown significantly each quarter and does not show any signs of slowing down. The estimated annual revenue for 2013 DVA is predicted to generate is in the area of $11.5B. The factors behind DVA's revenue growth appear to be the growing dialysis/CKD market coupled with the companies branching out its operations into new international territories.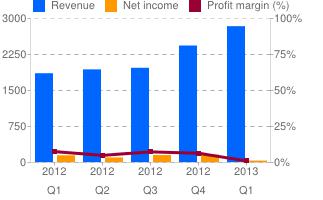 Analysis
Being that DVA controls roughly 1/3 of the dialysis treatment market and is working to treat a major epidemic such as CKD, (a market expected to grow 5.9% annually for the next 7 years) I would consider DVA shares to be a buy at the current 27 P/E ratio. Estimated revenues for DVA in 2013 are projected to be in the range of $11.5B for the year. If the P/E ratio of DVA jumps above the 30 figure however I would still buy, but with more conservativeness as this stock appears to be generating lots of attention due to Berkshire's numerous acquisitions.
Disclosure: I have no positions in any stocks mentioned, and no plans to initiate any positions within the next 72 hours. I wrote this article myself, and it expresses my own opinions. I am not receiving compensation for it (other than from Seeking Alpha). I have no business relationship with any company whose stock is mentioned in this article.