Let's get this out of the way first. We're not saying Clorox (NYSE:CLX) is going to cut its dividend. What our dividend process does is allow investors to see how much cushion (excess cash) above our forecasts of dividend growth the firm has. And in doing so, investors can see just how much more the firm could raise its dividend above and beyond our forward-looking expectations. With that said, let's dig into why Clorox's dividend is not as healthy as you think.
Clorox's Investment Considerations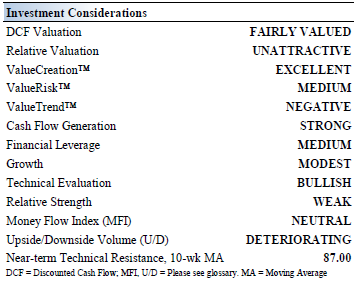 Clorox's Dividend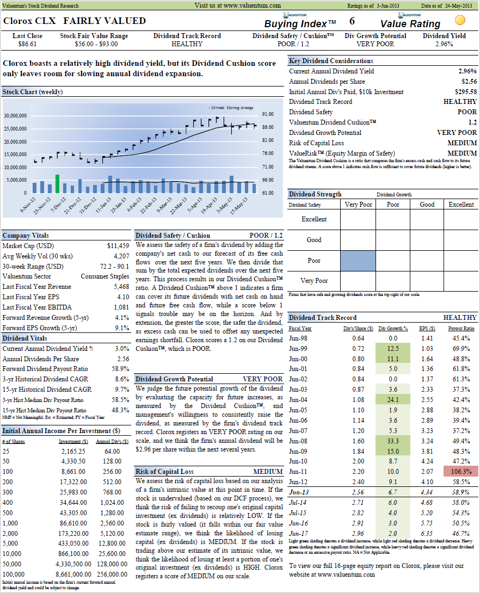 If you haven't yet, please click on the picture above. We make these full-page dividend reports available for all companies in our coverage universe. First, note that in the bottom right corner of the image above, you'll see our expectations for declining dividend growth at Clorox (from 6% to 2% within the next four years). Also, in the above report, you'll notice that Clorox's dividend yield is above the average of S&P 500 companies (~2%), offering nearly a 3% annual payout at recent price levels. We like this. In fact, we prefer yields at or above 3% and don't include firms with yields below 2% in our dividend growth portfolio. So Clorox could fit the bill for consideration thus far.
The Safety of Clorox's Dividend
Derivation of the Dividend Cushion for Clorox - $ mil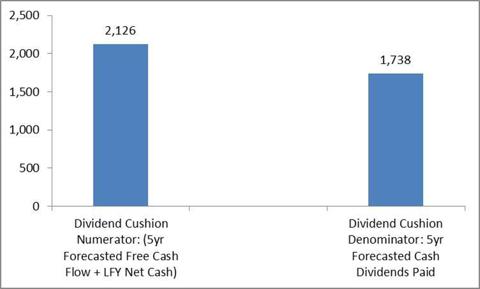 Source: Valuentum
This is where it gets tricky. We think the safety of Clorox's dividend is poor (please see our definitions at the bottom of this article) - despite our forecasts for growth. We measure the safety of the dividend via the forward-looking Valuentum Dividend Cushion™. The measure is a ratio that sums the existing cash a company has on hand plus its expected future free cash flows over the next five years and divides that sum (see the numerator value in the image above) by future expected dividends paid over the same time period (view the deonomitor in the image above). Basically, if the score is above 1, the company has the capacity to pay out its expected future dividends. As income investors, however, we'd like to see a score much larger than 1 for a couple of reasons: 1) the higher the ratio, the more "cushion" the company has against unexpected earnings shortfalls, and 2) the higher the ratio, the greater capacity a dividend-payer has in boosting the dividend in the future. For Clorox, this score is 1.2, revealing that on its current path the firm doesn't have much room for error and still cover its future dividend payments (including the expected growth in the dividend).
Deriviation of Cash Remaining To Be Used for Increases Above and Beyond the Forecasted Dividend Growth Rate - $ mil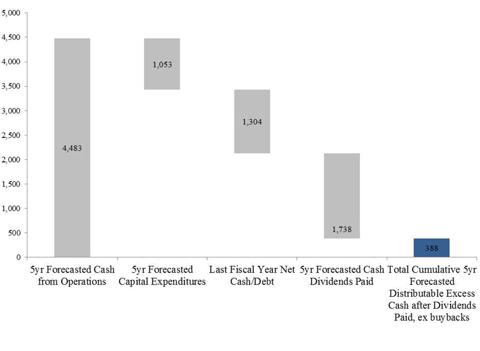 Source: Valuentum
You'll see from above that Clorox is quite the solid cash generator. In fact, its free cash flow is robust. However, where our Dividend Cushion picks up risk relative to dividend growth above and beyond our forecast is via its net debt position and the actual size of its future dividend payments. Click here for why the balance sheet is important in dividend analysis. This causes the firm to have a relative slim excess cash reserve (the blue box) at the end of this 5-year horizon. We like dividend growth firms that have a larger 'blue box' -- or said differently a larger Dividend Cushion score (ratio).
The Growth of Clorox's Dividend
Now on to the potential growth of Clorox's dividend. As we mentioned above, we think the larger the "cushion" the larger capacity it has to raise the dividend (above and beyond our expectations). However, such dividend growth analysis is not complete until after considering management's willingness to increase the dividend. To do so, we evaluate the company's historical dividend track record. If there have been no dividend cuts in 10 years, the company has a nice growth rate, and a nice dividend cushion, its future potential dividend growth would be excellent, which is not the case for Clorox. Though the firm is a Dividend Aristocrat and we expect management to have a favorable dividend growth policy, we're expecting slowing growth in coming years. Its future dividend growth potential is not excellent relative to other dividend growth ideas.
And because capital preservation is also an important consideration, we assess the risk associated with the potential for capital loss (offering investors a complete picture). In Clorox's case, we currently think the shares are fairly valued (the share price falls within our fair value estimate range), so the risk of capital loss is medium. If we thought the shares were undervalued, the risk of capital loss would be low.
All things considered, Clorox boasts a relatively high dividend yield, but its Dividend Cushion score only leaves room for slowing annual dividend expansion, in our view. All things considered, Clorox's dividend is not as healthy as you think.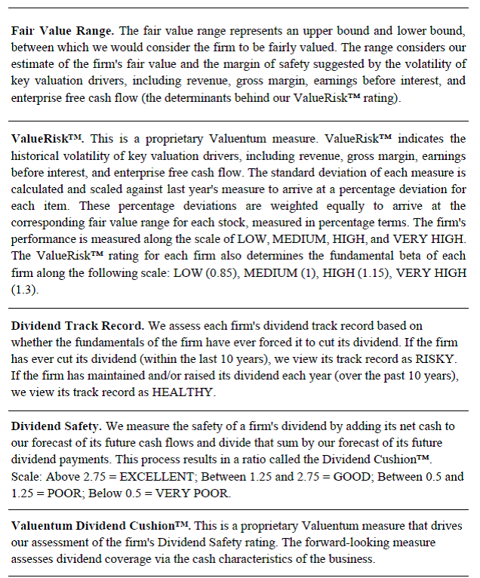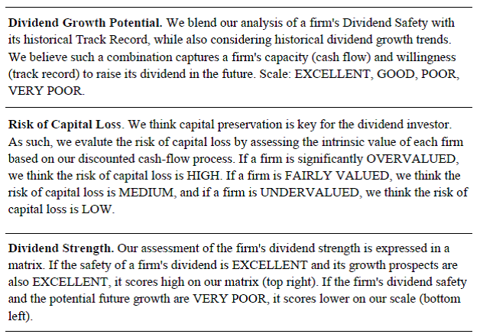 Disclosure: I have no positions in any stocks mentioned, and no plans to initiate any positions within the next 72 hours. I wrote this article myself, and it expresses my own opinions. I am not receiving compensation for it (other than from Seeking Alpha). I have no business relationship with any company whose stock is mentioned in this article.