I can't agree that this report shows "green shoots":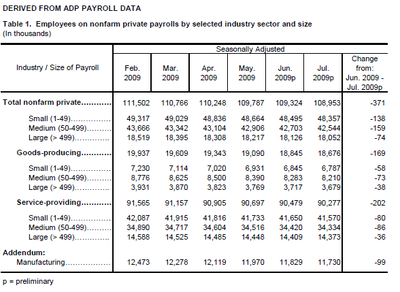 While the rate of decline has slowed the fact remains that we are nowhere near "turning the corner" in terms of job loss, and yet the mantra is "green shoots, green shoots!"
Here it is "in pictures":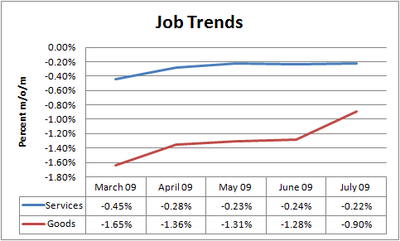 Note that while goods-producing layoffs have dropped materially, the services side of the economy has basically flat-lined. That is, the goods-producers have drawn down inventory (a cycle that may be nearing completion) and as such their need to lay off people has waned - however, the services side is still seeing contracting demand and that contraction appears to have flat-lined from May going forward instead of continuing to improve in June and July.
Continuing contraction in the services portion of the economy is not positive no matter how you slice it, and the improvement from the January and February time frames for services appears to have stalled in June and July.
It appears that the market was looking for a significant positive surprise; there were even estimates that we'd see job gains this month in the ADP report. That obviously is not the case.
ADP's report is an actual count from their customers, where the BLS' numbers contain their "adjustments" in the form of a guess in the formation of small business jobs through their "birth/death model"; as such the two are not really comparable. While ADP only picks up their customer activities, it is nonetheless more reliable than the BLS cooked statistics, and therefore has to be respected as a trend indicator.
The biggest threat to recovery at the present time is the overhang of debt that remains in the economy. Pulled-forward demand such as the "Cash For Clunkers" deal sounds good but is fleeting; sustainable economic growth requires growth in income and earnings power, and I will be studying the Non-Farm Payroll report out later this week for clues as to the direction of consumer earnings power - the only true indicator of impending economic recovery.
The ADP report strongly suggests that any belief in a trend change - a change that one would expect to be reflected in services employment - is misplaced.
ISM Non-Manufacturing came in weaker than expected - gee, who could have predicted that given the graph above? (snicker)