In my investing career I have witnessed a number of calamitous events, which have greatly impacted Emerging Markets:
The first was the Mexican Tequila Crisis, which I witnessed as a young Economics student
Next was the Asian Contagion/Russian local debt default, which I saw as a wet-behind-the-ears Analyst for a large bank
During the TMT implosion, Argentina and Turkey went into major crisis while I was an ambitious Associate for a major Investment house
Finally, the 2008 global financial crises unfolded before me as I was managing portfolios for institutional clients
Note these crises pop up once every four years or so and as such I think I am about to see my fifth. Given all the money that has flowed into the EM trade despite deteriorating fundamentals, I think this one could be pretty nasty.
Readers of my newsletter and Seeking Alpha followers have read for the past year certain asset classes which I fundamentally disdain. This list includes many Emerging Market proxies such as Canadian and Australian real estate (and their currencies), the British pound (FXB) and Russian ruble (and Central London real estate), as well as certain Emerging Market countries such as India, and South Africa, that I believe are on the verge of blow up and which I plan to write about in more detail in the near future. Conversely, I have also been a fan in the relative value of U.S. assets such as U.S. residential real estate and bonds (although that view has moderated).
There are some very simple reasons as to why I am mega-bearish on the Emerging Markets complex.
The first reason pertains to credit conditions. There is currently an incredible divergence between U.S. credit conditions - which have been somewhat resilient - and EM conditions, which continue to deteriorate. The first chart is an approximation of EM sovereign credit spreads. The chart clearly shows a rapid deterioration in credit spreads with the all important 6-month Rate of Change clearly negative and set to stay negative (absent a sharp move back up).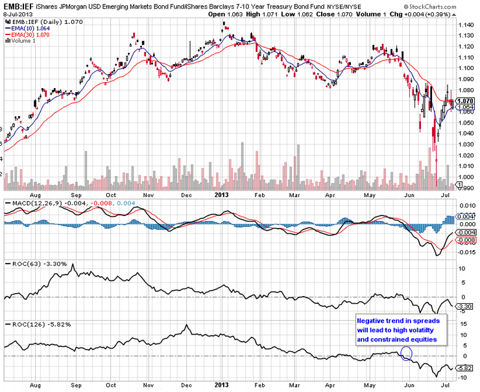 Figure: Credit spreads are in a danger zone
But credit spreads don't always tell the story. At the end of the day, borrowing rates matter so if spreads are uncooperative and the risk free rate (in this case U.S. Treasury yields) falls, then for some period of time, asset price stability can be found. Unfortunately this is nowhere near the case as Emerging Markets have seen a concurrent rise in the risk-free rate and widening of spreads. This is a very unhealthy combination, which has led to the current situation of higher absolute borrowing rates, and is something we haven't seen since 2011 and before that 2008.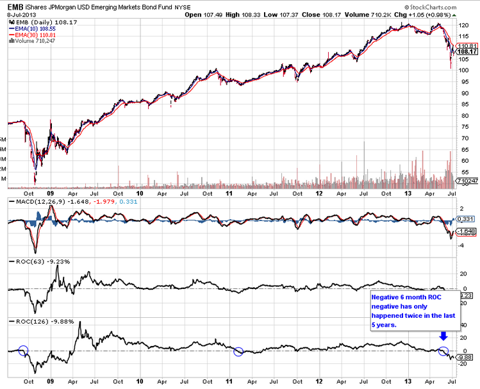 Figure: Combination of wide spreads and higher risk free has pushed borrowing costs up significantly
Bulls will argue that the recent widening of spreads is overdone and that Emerging Market fundamentals are great. I am not so sure about that. Let's take just one of the BRICs - India as an example.
India has a current account deficit of -5%
The rupee has deteriorated significantly in recent weeks as investors shun risk. The RBI has used precious reserves to defend the currency and not raise rates, which would stall an already slowing economy.
The country has reserves that can cover 6 months worth of imports (import ratio)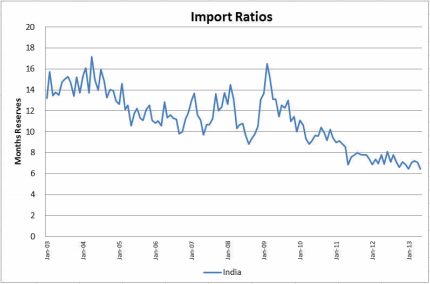 Figure: RBI reserve position continues to deteriorate
Needless to say, I don't think owning Indian assets like INP is asymmetric at this point. Not at least until interest rates rise to a level sufficient to stabilize the rupee (since reserves clearly won't do the trick). If you're bullish Indian equities in that sort of environment, then you are a braver investor than me.
Sadly, the Indian example is not isolated. It can be played out throughout the Emerging Markets world.
Russia - overly reliant on selling oil at over $100/barrel in the face of ample global supplies. Inflation problem. China commodities consumption reliance.
Brazil - clear inflation problem and seemingly little resolve to fix it. China commodities consumption reliance. Major high-end real estate bubble.
Canada/Australia - real estate/consumer credit bubble. China commodity and Asian real estate speculation reliance.
South Africa - see India plus major ethnic strife a la Zimbabwe.
China - ???
So you get my point, the problems are potentially widespread. If you believe my bearish thesis, then the natural question becomes how bad can it get? My response is "a thousand over." The reference I am making is how wide credit spreads on the JPM EMBI index could go (we're at 350 over as of this writing). EM crises are marked by sharp, almost existential widening of spreads, which feed the contagion, ultimately transpiring in the bailout of one or more nations. Many times these events transpire in the span of 8 weeks or less (though the deterioration has been developing for years). Crises are almost never caught before hand. Indeed, many Analysts and hedge funds were caught red handed long owning Russian debt just before they defaulted in 1998. Think carry hungry funds won't do the same again 15 years later? Who will be caught owning what - oh, the excitement of anticipation!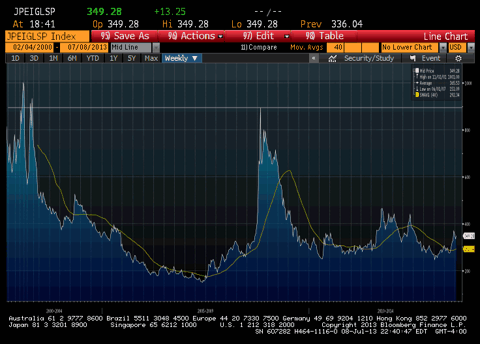 Figure: Spreads of 1000 over are not out of the question
I have little doubt the Emerging Markets trade of the past decade is dead. Like all overcrowded assets, its retreat will not end with a whimper but rather a bang. I do not believe investors have recognized the full scope of the fundamental deterioration that has occurred in many countries. Many nations are facing deflating real estate bubbles, uncompetitive labor at costs, which are not commensurate with productivity, government corruption, poor infrastructure, and lack of rights. I am also certain investors do not have a frame of reference as to just how bad things can get and how fast events can transpire in a classic Emerging Markets crisis. Indeed, should there be an EM crisis, I cannot currently handicap its impact on global growth given the increased importance of these nations' global GDP versus 10 or 15 years ago.
In summary, shorting NYSEARCA:EEM here presents an excellent risk/reward. Emerging Markets are generally levered to global growth, which in turn for the past 10 years has been powered by Emerging Markets. It is perhaps one of the most asymmetric short trades available since shorting financials during the global financial crisis.
Disclosure: I am short EEM, INP. I wrote this article myself, and it expresses my own opinions. I am not receiving compensation for it (other than from Seeking Alpha). I have no business relationship with any company whose stock is mentioned in this article.