JPMorgan (NYSE:JPM) is not my favorite financial, but the stock still has room to extend higher, even though it is sitting near all-time highs as it approaches its earnings report Friday. The stock closed Monday at $54.70 - just 2 percent below its 52-week high at $55.90.
Year-to-date, JPM has gained 24.4 percent, compared with an increase of 15 percent in the S&P 500. JPM's YTD increase is also comparable to 25 percent increases in Wells Fargo (NYSE:WFC) and Citi (NYSE:C), though higher than the 14 percent increase in Bank of America (NYSE:BAC).
Fundamentals
But, despite strong gains this year, JPMorgan still has a Price/Book ratio hovering slightly above 1, while both forward and trailing P/E measures show that the stock is inexpensive as well. Compared to Wells Fargo - the most expensive financial by these measures - JPM's forward P/E of 9.16 is well below WFC's forward P/E of 10.95. WFC's Price/Book is also substantially higher - 1.49 compared with 1.04 at JPM.
JPMorgan is expected to earn $1.41 per share in the second quarter, with full-year earnings coming in at $5.74 per share. Earnings in 2014 are expected to be $5.96, for growth of 4 percent.
In a recent note, Raymond James upgraded JPM to "strong buy" from "outperform," putting a price target of $64 - 17 percent above Monday's closing price. That target prices JPM at a 1.25 times book, a reasonable valuation in my estimation.
Capital Requirements
But, Raymond James's upgrade came before news reports revealed the Federal Reserve, Federal Deposit Insurance Corporation and Office of the Comptroller of the Currency would propose banks increase their ratio of equity to loans and other assets. Regulators are expected to propose that banks hold 5 or 6 percent of equity in reserve. This follows last week's announcement that the Federal Reserve approved the Basel III accord that doubles the minimum ratio for capital.
While JPM is in a good position, this could cause worry among investors, particularly after the Fed "conditionally approved" JPM's capital plans in March. The Fed noted that JPM's planning exhibited weakness that required immediate attention. The bank is not required to submit a revised plan until the end of Q3, one that is likely to meet - or exceed - the Fed's standards.
Not the Time to Rush Into a Position
However, until the bank does submit this plan - and until these capital requirements are fully digested - JPMorgan may not have much farther room to extend higher. While Jamie Dimon doesn't want to talk about it anymore, the London Whale fiasco left a sour taste in investors' mouths. And, though the scandal did not have a meaningful or lasting impact on the bank's bottom line, it showed that JPMorgan is not invincible.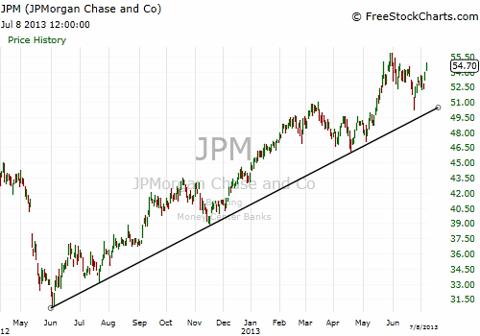 But JPMorgan is still a leader in the financial industry whose outperformance has been due to strong fundamentals, profit growth and expectations that financials will continue to perform well moving forward. However, as changes to capital requirements will be digested, now may not be the ideal time to enter new positions. As the chart above indicates, the bank has experienced a strong up-trend since the June 2012 lows.
With this trend line providing support, as well as a book value of $52.02 and a 200-day moving average at $49.36, these are all great places where I would look to initiate a long position. Ultimately, I agree with Raymond James that JPM could move to $65 per share and, potentially, higher.
Disclosure: I have no positions in any stocks mentioned, and no plans to initiate any positions within the next 72 hours. I wrote this article myself, and it expresses my own opinions. I am not receiving compensation for it (other than from Seeking Alpha). I have no business relationship with any company whose stock is mentioned in this article.