Dole's (NYSE:DOLE) stock price has seen a jump after its CEO's unsolicited offer to take the company private. I believe it is interesting to have a look at the stock, given its CEO's confidence in the company.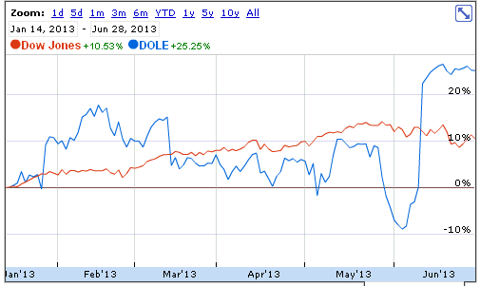 Source: Google Finance
About Dole Food Company
Founded in 1851, the company provides fresh, high quality and safe fruits, vegetables and food products. What makes Dole different and competitive is its brand image, market share, strong management, efficient infrastructure with a huge asset base and low cost production capabilities.
Currently, the company is operating in two segments i.e. fresh fruits and fresh vegetables.
Fresh Fruits: this segment includes four divisions- bananas, pineapples, Europe and Dole Chile. Dole is the largest producer of bananas with 34% market share in the US and 32% in Japan. It has sold approximately 156 million boxes in 2012. Its Pineapples division secured the second position, with the sale of 33 million boxes in 2012. Its Pineapple segment, excluding the Europe subsidiary, contributed 6% to its fresh fruit revenue. The company has four ripening and distribution centers in four countries of Europe from where it distributes Dole branded and other brand bananas and pineapples. In Chile, the company mainly produces fruits on leased land and exports fruits like grapes, apples, pears etc.
Fresh Vegetables: The company produces and markets fresh and value added vegetables and fresh berries under this segment. The company has recently acquired SunnyRidge Farms, the leading blueberry company in the US to gain market share. It manufactures and distributes different types of berries. In the vegetables division also, the company harvests and distributes 20 different types of fresh vegetables. The company sells packaged salads and packaged vegetables under its value added vegetables segment.
The company has its operations across the globe either on owned land or by sourcing fresh fruit and vegetables from independent growers.
Financials
Dole significantly outperformed the market expectations and reported 1Q13 EPS of $0.33 against the consensus estimate of EPS of $0.11. It has reported EBITDA ahead of the consensus estimates i.e. $58.7million against the consensus of $32 million. Its revenue in fresh fruit business has declined to $764 million from $848 million; revenue in fresh vegetables segment has increased by 21% to $290 million. Fresh vegetables' earnings have almost doubled from $13 million in 2012 to $24 million.
Main Highlights
Sale of worldwide packaged foods and Asia's fresh business
Dole recently announced the completion of the sale of its worldwide packaged food and Asia fresh business to ITOCHU Corporation. Dole was waiting for regulatory approval from China. The company already had approval from six other countries and China was the last country to give approval. The company got approval from China's Ministry of Commerce on the sale of its worldwide packaged food and Asia fresh business to ITOCHU for $1.685bilion in cash. The company sold major assets, like exclusive rights of DOLE on some packaged foods in the entire world and on some packaged foods only in Asia, Australia and New Zealand. The company stated that it will use proceeds from these transactions to pay its debts. The proceeds will also be used to pay Japanese Yen hedges of $25.1 million and the European Commission's fine of EUR 45.6 million. After the selling of 34% of its operations, the new Dole has only two lines of business i.e. fresh fruits and fresh vegetable business with ~$4.2 billion in revenues.
Unsolicited offer from company's CEO
The company has received a proposal from David H. Murdock, Chairman of the board and CEO of the company, to acquire all outstanding shares at the price of $12 per share. He currently owns 40% of its outstanding shares. Now, he wants to raise his stake to 60%. Mr. Murdock said he wants flexibility in expansion and innovation in the company. He had made an offer in 2003 too, but it was rejected, so he has raised the price now. The company has established a special committee of four members to make a decision on behalf of the company. This special committee has four members from the Board of Directors, Lazard as financial advisor and Sullivan and Cromwell LLP as legal counselor. The company is expected to take a decision soon.
Other Highlights
Peach Mango Smoothie Launch
Dole has launched easy and very quick to make Peach Mango fruit smoothie shaker. This is an addition to its very popular fruit smoothie shakers line. You can just enjoy this smoothie by adding it to your favorite juice and shaking for 30-35 seconds.
Acquisition of three new ships
The Board of Directors of the company has approved acquisition of three new specially built refrigerated container ships. This step is being taken to enhance capabilities of its US West Coast operations. The company currently has ships which are 27 years old with a capacity of 491 FEU. New ships will be more suitable to the company's specifications and with double capacity of 770 FEU. It will cost the company approximately $165 million.
Shares repurchase authorization
The company's Board of Directors has also approved shares repurchase authorization for $ 200 million shares.
Right - sizing process
The company is expected to save costs of approximately $50 million annually under its cost saving initiative and corporate restructuring which is a part of its right sizing process. The company expects to implement this process by the end of 2013.
Conclusion
The company has completed a major deal of selling its packaged food business on 1st April 2013. The new Dole has two lines of business. Out of these two lines, the company is the market leader in sourcing bananas in the US and Japan. Pineapple division is also doing well. Revenues for fresh vegetables segment is increasing. The company is using proceeds from this transaction to pay its liabilities. The Chairman of the Board and CEO of the company made an offer to buy all outstanding shares not owned by him. I believe the company is a good buy given the above-mentioned steps it is taking to improve its profitability and insiders' confidence in the company.
Disclosure: I have no positions in any stocks mentioned, and no plans to initiate any positions within the next 72 hours. I wrote this article myself, and it expresses my own opinions. I am not receiving compensation for it (other than from Seeking Alpha). I have no business relationship with any company whose stock is mentioned in this article.