Last week I wrote this article, sharing my opinion about Annaly Capital (NYSE:NLY). In this article I will offer my opinion on why I believe that Wells Fargo (NYSE:WFC) is a very strong buy right now, as mortgage rates increase.
Prior to getting into the details, let me say that as mortgage rates rise, while the Federal Reserve keeps short-term rates at or near zero, the ability for banks to borrow very cheap money, and lend at a much higher rate, the ability to make more profits, even if the number of mortgage applications has recently dipped, is quite large.
The Facts Have Not Lied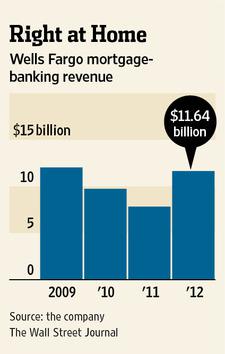 As you can see from this graphic, WFC profits from mortgage lending rebounded in 2012 to near pre-recession highs. With interest rates at an all time low in 2012, the bank had to lend more at lower profit margins. WFC writes roughly 29% of all mortgages in the U.S., which translated to about $30 billion in home loans within the first 3 months of this year and profits were up by 22% during the same period, even as margins were tight.
With the continued housing recovery, I anticipate all numbers to increase, even in the face of declining refinance applications. With mortgage rates now at roughly 4.25%, even fewer loans will still mean higher profits, but fewer loans seems highly unlikely.
As noted in this article:
While refinance applications fell, however, purchase applications-"the better indicator of underlying demand in the housing market"-edged up 0.1 percent month-over-month in June. Though purchase volume fell 3.1 percent in the latest weekly report, it still stands 12.3 percent higher than last year.
The information has come directly from this MBA press release from last week. While refinancing has been impacted by higher mortgage rates, the housing recovery continues to move ahead, as does new purchase mortgage applications.
What this could mean for WFC is that its revenues and income could have increased by the same percentages as the rate of growth in actual mortgage lending, over the last 3 months.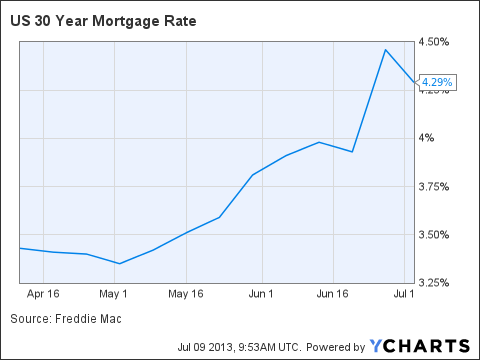 As you can see, within the last 3 months, mortgage rates have increased by nearly 100 basis points. Even if the number of mortgages written by WFC has remained flat, the 100 basis point move in rates is pure profit on actual mortgages written. The very simple reason for that is the Federal Reserves' zero interest rate policy, which keeps the availability of "cheap money" very accessible to the banking industry.
Since WFC is the largest mortgage lender by far, it is reasonable to assume that the bank will benefit more than others in overall revenues and profits: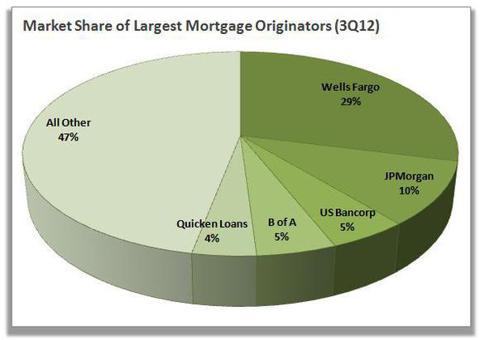 It is also reasonable to assume that when earnings come out this Friday, WFC could have a nice earnings surprise to the upside. I believe that WFC could see significant growth in revenues and earnings, fueled by the rise in mortgage rates, and the cheap access to funds by the bank itself.
Commentary By Wells Fargo Itself Supports This Thesis
As noted in this detailed report, by WFC itself, all of the housing trends and forecasts are projected upwards: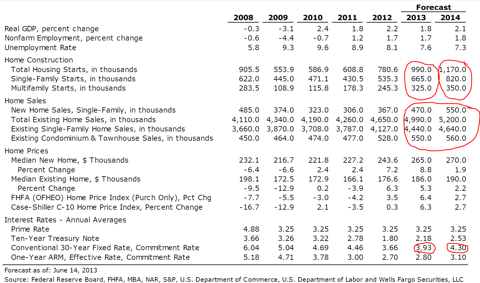 With all of the indicators moving up, it is very likely that the share price of WFC will rise significantly over the next 12-24 months as well; more homes sold, more mortgage loans made, higher average sale prices, and higher mortgage interest rates, all point to one very possible scenario: A much higher share price for WFC.
Not only in the near term, but this trend seems to just be getting started, as can be seen by this WFC chart: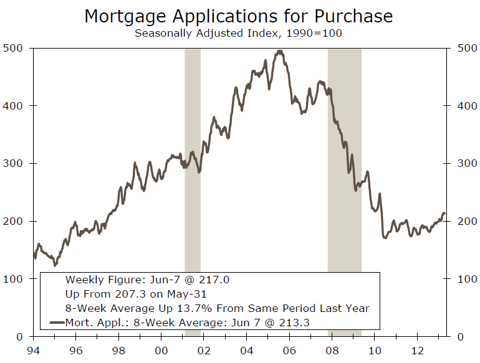 From what I am seeing, there is plenty of room for growth in this huge revenue generating banking sector. As long as the cheap money is available to WFC, the profit potential appears enormous.
With revenues from this segment just beginning to ramp up, tied in with higher interest rates, which will lead to higher margins on every loan, it would not surprise me to see the share price of WFC grow exponentially given these facts. My crystal ball has never worked well in predicting how high or low a stock price will move, but I would take a guess and say that a 25%-50% increase in the WFC share price over the next 24 months seems reasonable and achievable to me.
The downside is if the Fed decides to abruptly end ZIRP. Even in that scenario, the banking industry has always had the ability to raise their mortgage rates to whatever the prevailing rates might be. Given the facts presented, I believe my opinion of WFC is well founded.
The Bottom Line
I believe that the WFC stock price is cheap right now. Given the fact that the company also has a 3.0% dividend yield, it is my opinion that this stock should be in just about every portfolio for both growth AND value.
Disclosure: I am long NLY, WFC. I wrote this article myself, and it expresses my own opinions. I am not receiving compensation for it (other than from Seeking Alpha). I have no business relationship with any company whose stock is mentioned in this article.
Disclaimer: The opinions of this author is not a recommendation to either buy or sell any security. Please remember to do your own research prior to making any investment decisions.