Yesterday's downgrade of Intel (NASDAQ:INTC) - by just about everyone -- while a surprise, was not on eye-opener. The problem is not the company itself, but the sector. One of the main problems is PC cannibalization. More and more people are apt to get by with a tablet these days, as apposed to buying a PC or laptop. This is especially true in emerging markets, where forecasts are that PC sales will fall by 10% this year.
In reality, there is not much Intel can do. Many analysts think that growth for Intel will continue to be elusive. Even in the wake of Intel's Haswell offerings, lower PC sales will not be able to offset weak demand for desktop systems. In my book, no matter how good the technology is, if analysts do not project a rise in earnings and revenue, then all the technology in the world will have no impact on the stock.
Patrick Wang of Evercore Partners cut his estimate for Intel for 2013 and now models revenue of $52.8 billion with earnings coming in at $1.80 per share. For 2014 he projects $54.6 billion in revenue and $1.90 in earnings. Both estimates have been lowered from previous guidance. He also thinks that the Samsung deal will not be enough to offset the disastrous effect of lower prices. Furthermore, he thinks we might see a 10% drop in PC unit sales with "no inflection in sight."
Citigroup also downgraded Intel - revising its numbers downward -- citing a negative PC sales environment, despite the fact it thinks the company will perform well in the tablet and handset markets. As an aside, Citigroup also removed Qualcomm (NASDAQ:QCOM) from the broker's top picks list, saying the high-end smartphone market is saturated. No wonder other cheap stocks like Apple (NASDAQ:AAPL) are suffering the same fate as Intel.
If these dismal forecasts prove to be correct, then Intel's revenue will be about flat for the past three years and its earnings will be on a four-year downtrend. Adding insult to injury, take a look at the charts below.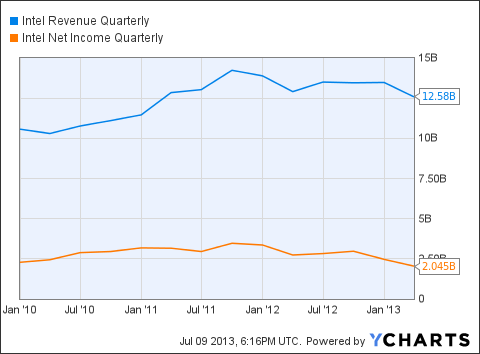 INTC Revenue Quarterly data by YCharts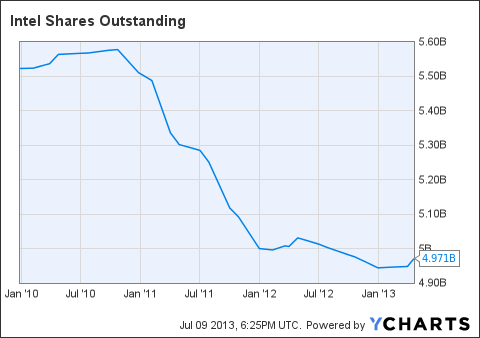 INTC Shares Outstanding data by YCharts
Earnings have been lower, despite the fact that the company is buying back its shares hand over fist (with which I concur 100%). If on the other hand Intel had not made these share repurchases, EPS would be a whole lot lower, probably by about 10% lower (since 2010).
So in other words, share purchases have put a brake on a much lower EPS. Put it another way, EPS would have fallen faster than meets the eye. And if Patrick Wang of Evercore Partners has it right and Intel does $1.80 in earnings this year, that will probably be a negative record for Intel.
Bottom line
Intel is a victim of an evolution of sorts, where consumers are changing habits and the way they work. I have to admit, I did not think the tablet craze would catch on, but it seems to be taking the sector by storm.
As such and until the transition of this new evolutionary cycle is over -- and the self-cannibalization is also over -- it is likely that Intel will exhibit very little growth, that will probably not be enough to get anyone excited in the stock for a while.
I do not recommend shorting or going long Intel. I rate Intel as a first-class conservative swing trade stock, that can probably produce a pretty good return for investors, if they can get in and out of the stock several times a year.
Other than that, if you intend to become a very long-term investor in Intel, and are looking to earn more than a dividend, I think you should look elsewhere.
Disclosure: I have no positions in any stocks mentioned, and no plans to initiate any positions within the next 72 hours. I wrote this article myself, and it expresses my own opinions. I am not receiving compensation for it (other than from Seeking Alpha). I have no business relationship with any company whose stock is mentioned in this article.