The Coca-Cola Company (NYSE:KO) is the world's largest non-alcoholic beverage company. Market share of the soft drink market is currently at 34%. Coke owns or licenses over 500 beverage brands, including waters, sparkling beverages, juices, teas, coffees, energy and sports drinks. Four of the largest beverage brands in the world belong to Coke; Coca-Cola, Diet Coke, Fanta and Sprite. Coca-Cola products are sold in over 200 countries worldwide.
Coca-Cola has admitted that health concerns could ultimately hurt its business, particularly if Government intervenes. Places like New York City, have enacted limits on the size of sugary sodas, and there has been significant discussion of taxing soda sales. Both consumers and government officials are all concerned about the potential health effects of sugar-sweetened beverages. Increased discussion of such matters could lead to negative publicity toward soda and sugary drink companies.
New Health Initiatives
Competition from companies such as SodaStream (NASDAQ:SODA) , PepsiCo (NYSE:PEP) and Dr. Pepper Snapple Group (NYSE:DPS) is threatening Coke's market share, but Coke is standing strong. Increased pressure from consumers and competitors to produce healthier, lower-calorie drinks has resulted in new products.
1.) Caffeine free coke zero- Coke has done it again. KO has never failed at reinventing its old products, resulting in consumers wanting to try the latest version of their favorite classic. According to Stuart Kronague, a Coca-Cola executive, "Caffeine-free products are growing in popularity, making up nearly 30 percent of all sparkling beverage sales in the U.S. By introducing Caffeine Free Coke Zero, we're giving fans exactly what they want, making the brand accessible for enjoyment all day along."
2.) Slimmer can - Expanding on how Coke continues to reinvent old products in order to spur enthusiasm among consumers, Coke has recently released a new slimmer can for its Coke, Diet Coke and Coke zero products. This can is currently sold in other areas of the world, but is now coming to the U.S. The streamlined can looks sleek, stylish and very consumer friendly. The calories on the slimmer can are the primary advantage - just 105 compared with 139 for a traditional can.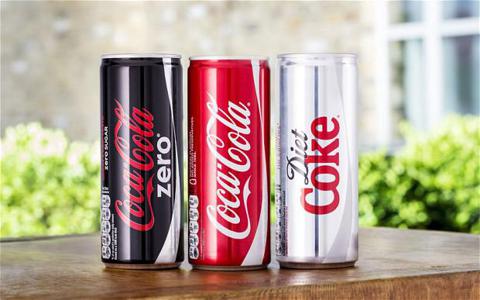 Image of the new slimmer Coke cans Courtesy of Telegraph U.K.
3.) Chemical Removal - There has been a lot of criticism of soda companies and news reports about how cola can cause cancer. NPR recently released an article reporting that Coca-Cola was the first to remove the chemical 4-MEI from its drinks. 4MEI was responsible for creating the color in the colas we have all become familiar with, but has been linked to cancer and several negative health effects. Coke has since replaced the chemical with a less-abrasive substitute while still maintaining a similar color for the drink. Coke has received commendation for being the first sweetened drink company to respond to this issue.
4.) Expanded Juice and Bottled Water Lines- Coca-Cola has also spent large amounts of time marketing its healthy alternatives to soda. Some of Coke's healthier brands include Dasani Bottled Water, PowerAde and PowerAde Light, Odwalla Juices, and Minute Maid Juices. Odwalla produces fruit smoothie and protein packed shakes in convenient servings, which are very popular among younger consumers. Bottled water has also increased in popularity, and Dasani is one of the best-known brands in the space.
Branding and new product releases should prove successful for Coke. The influence of brand messaging is extremely powerful, which is the primary reason why "Diet Coke" has become such a major success. Diet Coke is proof that rebranding current products for a more health conscious consumer works. Diet Coke has surpassed Pepsi as the number two soda in the world, only behind regular Coca-Cola. Coca-Cola sells over 900 million cases of Diet Coke a year, and Coke could do it again with its latest Coke offerings. Consumers have grown accustomed to their favorite Coke products, leaving consumers always wanting more. Creating a healthier version of current product lines allows customers to continue to enjoy their favorite drinks, while also enjoying the sentiment of doing right by their health.
Growth should continue for Coca-Cola. Global markets have been a significant catalyst in addition to health measures taken aimed toward U.S. consumers. Many of the key international drivers of sales growth include India, Russia, China, and Brazil. Sales in emerging markets are now making up a significant portion of Coca-Cola's overall revenues.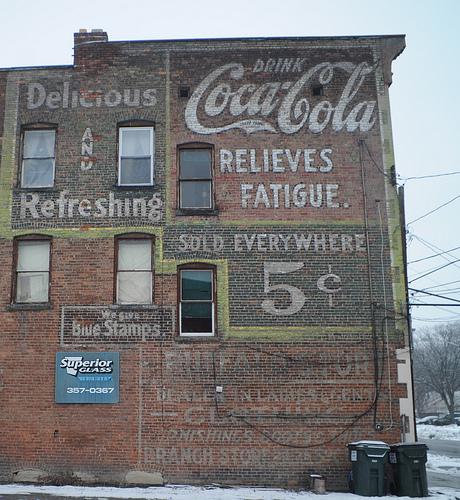 Coca-Cola is still the classic American brand that has been around for decades. When traveling into a city nearby me, there is still a sign that reads "Coca-Cola - Sold Everywhere - 5 cents." This sign reminds me of this history behind the Coke brand, and that Coke probably isn't going anywhere. Even though consumers are moving toward more health-conscious drinks, Coke is adapting to changing consumer demands, as well as capitalizing on less health conscious markets overseas. Coke trades at a multiple less than the industry average, has a share repurchasing program and pays an above-average dividend yield. I see KO as a great long-term holding for any dividend or conservative investor, as this is a great income play.
Disclosure: I have no positions in any stocks mentioned, and no plans to initiate any positions within the next 72 hours. I wrote this article myself, and it expresses my own opinions. I am not receiving compensation for it (other than from Seeking Alpha). I have no business relationship with any company whose stock is mentioned in this article.