There are 1.3 million people of Korean descent living in the United States and the number of Korean immigrants has jumped 27-fold since 1970, making Korean Americans the 7th largest immigrant group in the country.
This significant population growth is creating opportunities for community businesses, including Wilshire Bancorp (WIBC) -- a bank focused on serving Korean Americans in California and New Jersey.
Wilshire's growth opportunity
While Koreans are increasingly living in states such as Washington, they've overwhelmingly embraced Los Angeles, which serves as home to the largest number of Korean Americans in the United States.
This year, the State of California expects Korean travel to the Golden State will increase 6%, boosting spending by Korean tourists by 8.7% to nearly $1 billion. All in all, 33% of all Korean travel is destined for California and arrivals are expected to increase 24% over the next three years thanks to a strong economy and currency.
But, it's not just immigration and tourism driving travel. Increasingly, the travel is business oriented thanks to the Korean Free Trade Agreement signed by the two countries in 2012. That agreement is likely to further boost business activity with Korea, which already does more than $100 billion in trade annually with the United States.
As a result, Koreans -- and their entrepreneurial spirit -- present a big opportunity for Wilshire.
The bank, founded in 1980 and headquartered in Los Angeles, is laser focused on serving Korean Americans through 24 branches and 8 loan offices within Korean speaking neighborhoods.
Those branches are getting increasingly active as California's economy rebounds.
The state's gross domestic product has moved back up toward pre-recession highs, helping boost demand for commercial and industrial loans and real estate.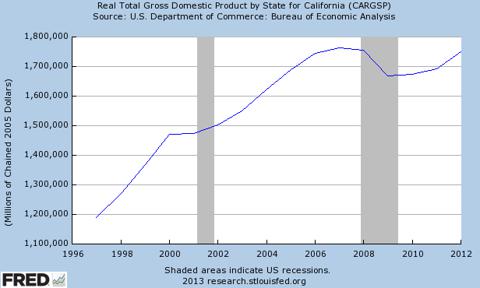 The increase in economic activity is welcome news given California was one of the hardest hit during the recession. At its peak, the state's unemployment peaked north of 12%. In May, the measure fell to 8.6%, down from 9.8% in January.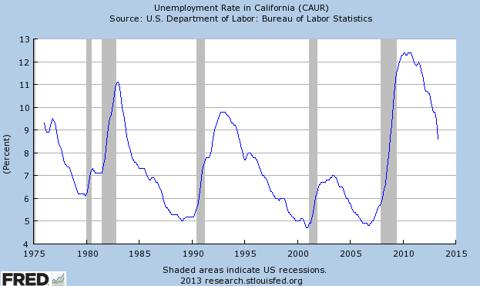 And, the results in Wilshire's primary market of Los Angeles County have been similar. In May, the unemployment rate fell to 9.2%, down from 10.9% in January.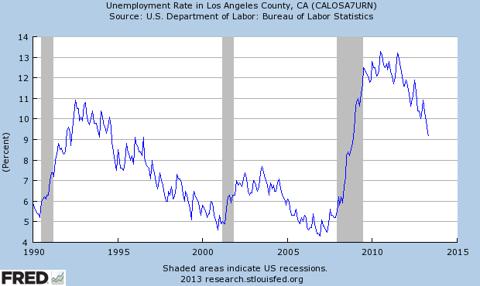 A stronger California is likely to have a greater positive effect on Wilshire this time around given Wilshire removed a competitor through an FDIC arranged marriage in 2009.
In that deal, Wilshire acquired the operations of Mirae Bank and its $395.6 million in assets and $374.0 million in liabilities, including $285.7 million in loans, and $293.4 million in deposits.
It also gained control of 5 competing branch offices in the Los Angeles market -- 4 of which have since closed.
Wilshire's opportunity isn't limited to Los Angeles
The bank is increasingly moving into other markets, such as New York and New Jersey.
At 6.3%, Bergen County New Jersey boasts the highest per capita percentage of Korean Americans in America, according to the 2010 Census. And, over half the population is Korean American in Palisades Park, New Jersey.
That concentration was attractive enough to prompt Wilshire to open a new branch in Palisades last quarter. It also encouraged the bank to buy New Jersey's BankAsiana, a commercial bank with 3 branches serving Korean Americans in New York and New Jersey last month.
The BankAsiana deal adds $207 million in assets, $164 million in deposits and $161 million in loans in the region, giving Wilshire instant market share and penetration into the New York City and New Jersey market.
Wilshire is also expanding into Washington State, where the Korean American population grew 40% from 2000 to 2008. It opened a loan office in Bellevue in 2011.
The bank may also find additional growth in Georgia, where the Korean American population doubled from 2000 to 2008, and Virginia where it increased 34% in the same period.
By the numbers.
The bank endured its fair share of impaired loans during the credit crisis. But, the bank -- which generated record profits last year -- seems to have weathered the storm.
Last quarter, net income was $11.6 million, or $0.16 per share. The bank generated a return on average assets of 1.7% and a return on average equity of 13.3% during the past year.
That's better than other small California banks, such as Provident Financial's (NASDAQ:PROV) 1.59% and 12.48%, and the broader national average of 1.12% and 9.9%.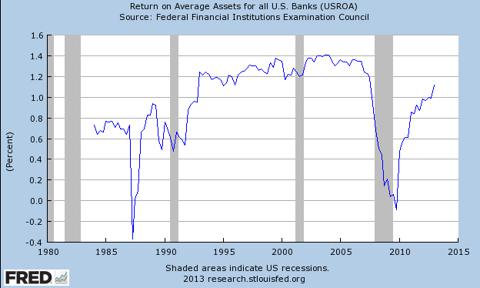 Wilshire's revenue ticked up 11% in the quarter from a year ago, reflecting the improving California economy.
However, activity remains comparatively anemic suggesting additional growth as lending spreads beyond the most credit worthy.
The easing of standards should help offset slowing revenue tied to refinancing. Since most loans made in 2006 and 2007 have already been refinanced, the ability to broaden the lending market will be important.
To lessen the impact of the pending refinancing cliff, Wilshire is focusing more on commercial lending.
During Q1, the bank originated $55 million in commercial loans, the highest level in years. The shifting focus can be seen in the banks Q1 originations.
Last quarter, 45% of originations were secured real estate, down from 60% the prior year while C&I loan originations represented 29% of originations, up from 13%.
Small Business Association loans stayed pretty much in line with last year at 14%. SBA loans held-for-sale at the end of the first quarter of 2013 totaled $64.9 million compared to $72.8 million at the end of the previous quarter.
In addition to commercial lending, the bank is also building up its residential mortgage warehousing business.
"Interest income and fees generated by this business has been increasing in the past few quarters as the warehouse line utilization continues to increase, in the short period of time we have been in the warehouse lending business. We have developed a good reputation for customer service and we have good systems in place that enable us to be very responsible to our mortgage banking customers. We continue to invest in this business, to improve the speed and efficiency of our system which should enable us to continue adding more mortgage banking relationships," said CEO Jae Whan Yoo during the last earnings report.
During Q1, residential mortgages made up 12% of originations just about in line with last year. And, residential mortgages held for sales at quarter end totaled $69.2 million.
Wilshire is also benefiting from improvement in the credit quality of its $2.19 billion in gross loans.
The amount of loans classified as substandard, doubtful and loss fell by $10.2 million to $153.8 million in the quarter. As a result, the coverage ratio of the banks' allowance for loan losses for non performing assets remains a solid 215%.
Despite declining spreads between loan yields and fund costs, Wilshire's net interest margin was 4.09% in Q1. That's down from 4.33% a year ago, but nicely above the national average of 3.21%.
Compressing spreads are partially offset by improving cost of funds as deposits migrate out of low yielding CD's to demand deposits. As a result, Wilshire's cost of interest bearing deposits dropped to 73 basis points from 79 basis points in Q4. Those deposits will give Wilshire some leverage once rates tick higher.
As for non-interest income, the bank earned $8.7 million in Q1, up from $6.7 million in Q4, thanks to bigger gains on loan sales. Those sales contributed $3.5 million to earnings, up from just $1.2 million in Q4.
The Final Take
Wilshire has positioned itself as a leader within a very specific community. The acquisition of Mirae in Los Angeles in 2009 and of BankAsiana in the newly entered New Jersey market put Wilshire in an enviable position.
As unemployment continues lower, the bank is likely to see credit quality improve more, providing it confidence to spark loan growth by easing standards and expand into new markets.
This growth, and resulting net income, should provide shareholders with the cash necessary for future buybacks, such as the buyback of up to 5% of outstanding shares approved in Q4, and dividends, which were reinstated at $0.03 per share in June.
Given shares have historically gained ground in the third quarter, increasing in 7 of the past 10 years for an average 13.18% return, now may be a good time to buy.
Source: Seasonal Investor Database

Disclosure: I have no positions in any stocks mentioned, but may initiate a long position in WIBC over the next 72 hours. I wrote this article myself, and it expresses my own opinions. I am not receiving compensation for it (other than from Seeking Alpha). I have no business relationship with any company whose stock is mentioned in this article.