The proposed acquisition announced today, whereby Harris Teeter (NYSE:HTSI) announced that it had agreed to be acquired by Kroger (NYSE:KR) for ~$2.5B confirms that M&A activity in the grocery sector is alive and well. The Harris Teeter acquisition would mark the second major M&A in the grocery sector during 2013, following the sale announced in January when Supervalu (NYSE:SVU) sold a number of its grocery store chains to a consortium of private equity buyers. With private equity, along with Publix (OTC:PUSH), rumored to be potential acquirers of Harris Teeter, the question should now shift to what company in the sector might be the next logical acquisition target. With a store count and regional operation almost the mirror image of that of Harris Teeter, Ingles Markets (NASDAQ:IMKTA) could very well be the company those potential acquirers who missed out on the Harris Teeter deal turn their attention to now. Ingles is probably not viewed as much as an upscale grocer as Harris Teeter with its locations that serve a less affluent buyer, but is also has significant attributes that would in certain ways make it more attractive to a potential acquirer. These attributes range from the significant amount of its stores and property owned by the company, capital market activity that will considerably lessen the annual debt servicing cost for the company, and a Price/EBITDA and adjusted EV/EBITDA valuation significantly below that of what Harris Teeter has agreed to be acquired for. Ingles also carries a much smaller market capitalization, at just over $600M compared to the $2.5B price tag for Harris Teeter. This is a company that is making all the right moves as an independent operator that will also now very likely have a target on its back in a good way.
Ingles Overview
One positive for investors about Ingles is that it receives almost no analyst coverage. Only two analysts appear to cover the stock, judging by their participation in the Q2 2013 earnings call. The current CEO of the company, Robert P. Ingle II, is the son of the company's founder and owns 46% of all shares outstanding per the 2012 10-K. This ownership stake is also structured to give Mr. Ingle 87% of the voting power for all outstanding shares, thus granting him voting control over any potential acquisition of the company.
Ingles operated 203 stores as of 9/30/12, the end of its 2012 fiscal year. The stores were located across the following states as seen below: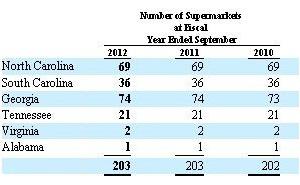 This is, again, a very similar southeast regional footprint as that seen by the store locations from Harris Teeter, which ended its 2012 fiscal year with 208 stores located in the following markets:
North Carolina (136), Virginia (38), South Carolina (14), Maryland (7), Tennessee (5), Delaware (3), District of Columbia (3), Florida (1) and Georgia (1)
Ingles stores are generally more rurally located than those at Harris Teeter. Another significant differentiating factor is that Ingles operates gas stations at almost 35% of its grocery locations, which the company believes increases store traffic allowing customers to consolidate trips. During 2012, Ingles completed adding an additional ~900,000 sq ft to its distribution facility which now is able to provide almost 60% of the inventory required for the supermarkets. This expansion also will further enable the capability of the company to self-distribute perishable items such as meat and produce. During the Q2 2013 earnings call, company management noted this increased distribution capacity will produce cost efficiencies during FY 2013 and was built to take into account additional growth in store count which will drive greater operating leverage in the future.
Finally, Ingles is also a significant property owner, owning 69 shopping centers (57 of which contain an Ingles supermarket) as well as 95 additional properties which contain a free-standing Ingles store. All told, the company owns almost 75% of its supermarkets currently in operation. This is a significant part of the equation as to why Ingles would be an attractive acquisition target. The company is unencumbered by the level of operating leases attached to most supermarket players, and also sits on a mountain of real estate assets that could be turned into cash if a buyer chose to close underperforming stores.
Financial Overview
Ingles currently trades for slightly over $25 per share, with a 52 week trading range of ~$15 - ~$27. The company currently sports a market capitalization of just north of $600M.
With no increase in store count during FY 2012 from the prior year, the company reported revenue growth of 4.2% on a YoY basis as seen below:

After adjusting for a 53rd week in FY 2012, same-store sales increased by 2.4% for the year. The company also noted in the 2012 10-K filing that it expected sales growth in 2013 to outpace the level seen during 2012.
The company generated almost $125M in income from operations during FY 2012, and has shown consistent top and bottom line growth the preceding few years as seen below:

Ingles reported gross margin of just over 22% for FY 2012, which is significantly lower than the close to 30% gross margin level seen at Harris Teeter. There is a simple explanation for the disparity between the gross margin between the two supermarket operators, which is due to the significant amount of gasoline sales that are part of Ingles revenue. These gasoline sales made up ~15% of consolidated revenue in 2012 and carry an extremely dilutive gross margin. When you exclude the dilutive impact of the gasoline sales on overall gross margin, Ingles gross margin % would increase at a minimum of 300-400bps from its reported level.
The company saw diluted earnings per share "EPS" of $1.70 and currently pays a $.66 annual dividend which yields ~2.6% annually. The reported EPS is a number many investors get hung up on, but is one that is relatively worthless in valuing a grocery store operator. A much more prudent reading on the health of the business will come from a Price/EBITDA and EV/EBITDA valuation shown below.
Turning to the balance sheet, what may scare a number of investors away from Ingles is the significant amount of debt carried by the company. Ingles ended 2012 with ~$835M of outstanding debt, the bulk of which has been incurred over the years to fuel growth, expand distribution capabilities, and for store remodels/upgrades. In early 2013, Ingles issued $700M of new debt bearing interest at 5.75%. The majority of the proceeds from this debt issuance were to be used to redeem $575M of outstanding debt bearing interest at 8.9%. With this debt transaction, the company was able to extend its debt maturity schedule by 6 years (to 2023), in addition to materially reducing the interest cost associated with the bulk of its debt outstanding. The company also has additional cash from the latest debt offering to fuel additional growth or to fund the recently announced a stock repurchase plan of 4M shares. With this announcement, the company now has the ability to repurchase ~15% of its total shares outstanding.
The hidden treasure on the balance sheet for Ingles is the significant amount of property the company owns. This includes land, buildings, distribution centers, and delivery equipment as seen below:

Ingles ended FY 2012 with $2.1B of gross PP&E carried at a book value of $1.2B. This is a part of the Ingles story that is not borne out in the operations of the company, but is inherently part of the equation of why Ingles shares are significantly undervalued. As a comparison, almost 82% of the gross PP&E on the balance sheet for Harris Teeter at the end of 2012 was related to leasehold improvement or equipment. With Ingles, only 38% of its $2.1B in PP&E is related to leasehold improvements and equipment. The bulk of the PP&E balance is tied up in physical property/stores and land. This is relevant as leasehold improvements and equipment are quickly outdated items in constant need of replacement. The land owned by Ingles will in theory increase in value over time and is carried at its original cost basis, which is most likely substantially below what that land is worth today. The buildings and property owned by the company will continue to depreciate from a book value standpoint, but these assets will in theory maintain their true value or liquidation value. As an example, during Q2 2013 the company noted on the earnings call that it sold a former store property for $7.5M, and booked a gain of $3.9M on the sale. This was a property that the company was not currently operating a supermarket in, and thus could be inferred to be an underperforming property. The fact that the company was able to make such a sizable gain on the transaction speaks to the value of the assets owned by the company, and leads to the fact that the operating properties have significant unlocked value in terms of the real estate in which they operate.
Valuation
Considering that Harris Teeter just agreed to be acquired, operates almost the same amount of stores as Ingles, and is in roughly the same geographic footprint, comparing the valuation of the two companies is a meaningful way of providing perspective on how undervalued Ingles is today. The first table below shows the FY 2012 operating results for both companies, and the implied Price/EBITDA multiple at which both companies currently trade. For Harris Teeter, this is also the multiple at which Kroger agreed to acquire it:

Clearly, Ingles is trading at a significantly depressed valuation compared to the multiple Kroger agreed to acquire Harris Teeter for. A number of factors play into this, including the level of debt carried by Ingles, the more affluent customer served by Harris Teeter, and the growth outlook for Harris Teeter. Ingles has seen its store count stay relatively stable the last few years, but the company has also noted that it chose to deploy cash on the distribution center build out and remodels instead of growth. It is now gearing up to move into growth mode heading into 2014.
A more compelling valuation would be to show a comparison of the EV/EBITDA multiple both companies currently trade at as shown below: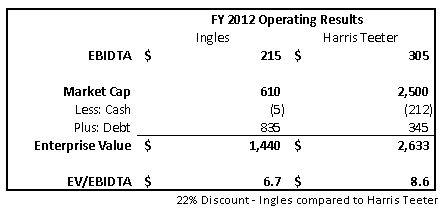 Here, we see that on the basis of this valuation, Ingles trades at a 22% discount to the price that Harris Teeter was just acquired at.
However, the real eye opener is when you adjust the EV/EBITDA valuation to account for the significant operating leases carried by Harris Teeter. This is where the rubber meets the road from a valuation standpoint, and investors can begin to see how the significant amount of owned PP&E begins to drive Ingles into the bargain bin from a valuation standpoint as seen below: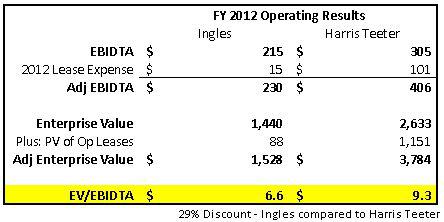 Here, you see how the burden of the operating leases, adjusted in the valuation to be treated as debt, significantly increases the discount at which Ingles is valued compared to Harris Teeter.
Investment Outlook
For all intents and purposes, this seems to be a pretty straight forward analysis that Ingles is woefully undervalued in a sector that is seeing a significant amount of M&A activity. If stumbling upon an opportunity such as this does not make do a double take, you need to rethink your investment strategy.
There are clearly buyers interested in either a LBO in the grocery space (PE firms) or other grocery chains that would be looking to expand further into the southeast US (Publix).
Ingles represents at the same time both a similar and entirely different acquisition proposition. On one hand, while the store size and geography overlap almost identically to Harris Teeter, the type of customer served by the two companies is vastly different. On the other hand, Ingles is sitting on a significant pile of assets that serve to lower the implied valuation through lower operating leases and present a potential acquiring opportunity to fund part of the acquisition through disposing of non-strategic properties.
I believe a counter argument would be that, even while Ingles is 30% undervalued compared to Harris Teeter on an adjusted EV/EBITDA basis, a portion of this valuation is warranted due to slower growth and a different consumer served by Ingles. While I would agree with that argument to some extent, I think it is entirely offset by the value that is currently locked in the real estate owned by Ingles which a PE firm immediately would look to monetize if the ROI dictated the disposal of any of the assets. Ingles, trading at a market cap of 24% of the value assigned to the Harris Teeter acquisition (excluding debt), also is a much smaller acquisition target increasing the scope of potential acquirers. The sector is ripe for acquisitions, and Ingles would appear to be the next logical dance partner.
Disclosure: I have no positions in any stocks mentioned, and no plans to initiate any positions within the next 72 hours. I wrote this article myself, and it expresses my own opinions. I am not receiving compensation for it (other than from Seeking Alpha). I have no business relationship with any company whose stock is mentioned in this article.