Interest rates jumped on the back of a robust jobs report and renewed concern over Fed "tapering," pressuring rate sensitive mortgage real estate investment trust exchange traded funds.
The iShares FTSE NAREIT Mortgage Plus Capped Index Fund (BATS:REM) fell over 5% during trading Friday and the Market Vectors Mortgage REIT Income ETF (NYSEARCA:MORT) dropped more than 4%. REM is down 5.2% year-to-date and MORT has declined 2.5%.
The Bloomberg Index of REITs shares declined as much as 6%, the largest intraday drop since October 2011 on speculation that the Federal Reserve will begin reducing its asset purchasing plan after the better-than-expected employment numbers for last month, Bloomberg reports.
Meanwhile, the benchmark 10-year Treasury bond yield rose a little over 20 basis points to 2.7%.
Mortgage REITs, or mREITs, have capitalized on a low interest rate environment, but rising rates will have a significant negative impact on the sector. When the Fed eventually raises interest rates, mREIT yields could fall due to higher funding costs.
"If mortgage rates increase and the Fed keeps short-term interest rates low, these REITs will post strong performance," according to Morningstar analyst Abby Woodham. "With financing so cheap, mortgage REITs have used leverage to provide an attractive yield. However, because these firms are so extensively leveraged, they are very susceptible to interest-rate fluctuations."
REM and MORT track U.S. residential and commercial mortgage REITs. REM has a 0.48% expense ratio and a 14.44% 12-moth yield. MORT has a 0.40% expense ratio and a 11.16% 12-month yield. MORT is slightly less top heavy, but both funds are heavily allocated toward Annaly Capital Management and American Capital Agency.
iShares FTSE NAREIT Mortgage Plus Capped Index Fund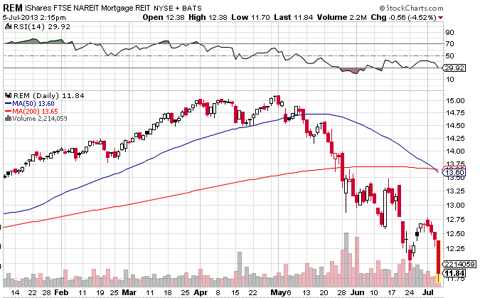 Max Chen contributed to this article.
Disclosure: I have no positions in any stocks mentioned, and no plans to initiate any positions within the next 72 hours. I wrote this article myself, and it expresses my own opinions. I am not receiving compensation for it. I have no business relationship with any company whose stock is mentioned in this article.