Exxon Mobil (NYSE:XOM) is the largest publicly traded international integrated oil and gas company. The three major segments the company operates in are Upstream (a.k.a. E&P), Downstream (refining mostly), and Chemicals (i.e. Mobil car oil). In the last twelve months, Exxon Mobil made enough profit to buy every single person on the planet a hamburger at McDonald's. Exxon's LTM earnings have the following distribution: almost three quarters (72%) come from the Upstream, while the Downstream and Chemicals have approximately equal shares (16% and 12%, respectively). The company is more efficient than most of its peers and delivered a 133% excess return over S&P 500 in the last 10 years (dividends excluded). However, even at current market levels, I believe Exxon Mobil is seriously undervalued. Hence, I would like to break up my fundamental analysis into three parts:
1) About Exxon: Good Points
2) Caution: Negative Trends
3) Valuation: Path to Fair Value
About Exxon: Good Points
Exxon Mobil is remarkably efficient. Let us focus for a moment on comparables provided by Google Finance (As of July 9, 2013):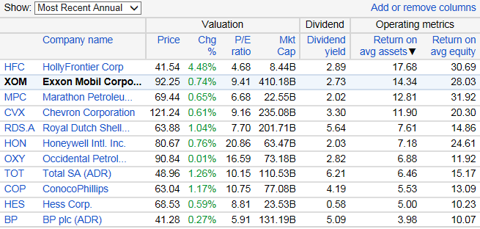 In the last twelve months, the company has been #2 and #3 on the list for metrics such as ROA and ROE, respectively. Now, looking at it closer, one can see that Exxon yields only to HollyFrontier (NYSE:HFC) and Marathon Petroleum (NYSE:MPC). However, keep in mind that Exxon is about 50X times larger than the first company and almost 20X times bigger than Marathon Petroleum. It is remarkable that a company of such a grandiose size can maintain these levels of efficiency. I have determined the cost of Exxon's equity to be around 4% thanks to a low 3yr beta of 0.5. At an ROE of 28% Exxon delivered an astonishing 24% in economic value added (NYSE:EVA) for its shareholders. Frankly, I do not see a premium for Exxon's shares in the market as it trades approximately on a median of the P/E ratios presented in the table. A more industry-related metric, Return on Capital Employed (ROCE), shows that Exxon is greatly above its peers: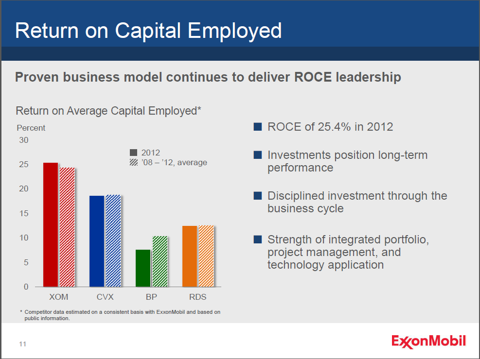 This snapshot is taken from the 2013 Q1 Analyst meeting in New York. On top of the fact that Exxon has the top ROCE on the list (about 25%), it has also improved it over the previous four-year average, whereas the other three peers have seen a decline to the average.
From a financial risk standpoint, Exxon has a meager amount of debt ($13B) compared to market value of equity in excess of $400B and Net Income figure of $9.5B (2012).
It is clear that the key to success for Exxon Mobil has been efficiency. Apart from what has already been said, it is also important to see that Exxon drives its EPS growth largely with share buybacks. This brings us to the overview of revenue growth, which is the next part of the analysis, Negative Trends.
Caution: Negative Trends
While efficiency is under control, production, the company's money-maker is lagging behind. Moreover, it does not only pertain to Upstream but also to both Downstream and Chemicals. In the snapshot of historical levels of production for the last 5 years, we can see the following disturbing trends: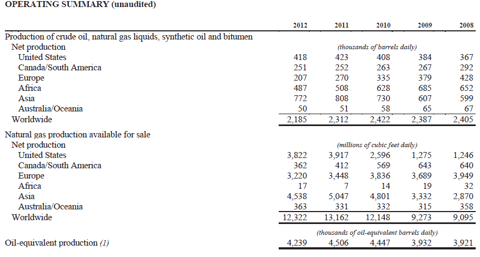 The Upstream is simply not doing well: Worldwide production of oil has been steadily declining since 2008. Natural gas production is on the rise but lower than in the previous year. Overall, oil-equivalent production in 2012 is lower than in 2010.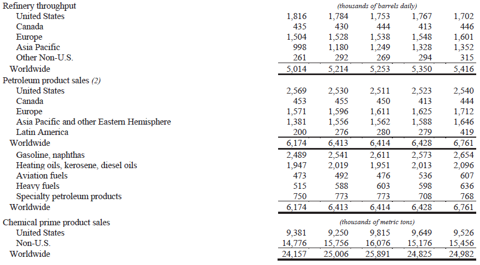 As for the Downstream and Chemicals, the picture remains the same. Worldwide Refinery throughput is declining; Petroleum product sales are also shrinking. Chemicals have been stagnating at around $24B for the last 5 years.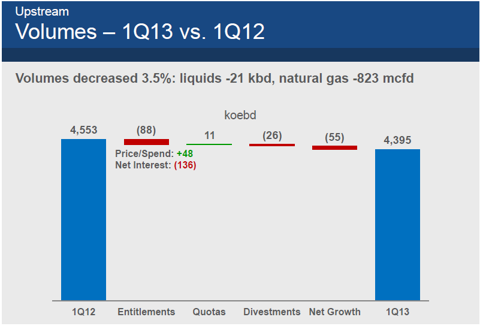 We can see that the first quarter of 2013 did not change things for the better. Similar pictures are for the Downstream. Chemicals have made gains due to improved commodity margins and asset sales.
I believe Exxon's management is fully aware of the declining production levels in all of its segments. This, however, can be partially explained by two statements/assumptions. First of all, Exxon is working according to its Energy Forecast, where it expects a sharp rise in demand for natural gas (hence, growing levels of natural gas production) and a stagnation with a modest decrease in demand for oil in the next 30-40 years. Secondly, Exxon is a very large company and may act similar to a monopoly, setting prices by manipulating product supply and production. This may be one of the reasons it maintains fairly high efficiency ratios, surpassing its peers by a considerable margin. After all, with reserve replacement ratios (RRRs) of over 115%, there is no reason to believe that Exxon simply cannot find new oilfields. Besides, the company is betting on the 27BOEB worth of projects it is now developing (vs. 25 currently in production) and another 35BOEB it plans to develop in the future. Most importantly, by 2017 Exxon Mobil plans to increase production by 1MOEBD, a significant addition (~25%) to the current 4.2MOEBD. This leads to the final part of analysis: Valuation*.
Valuation: Path to Fair Value
The three key drivers of the expected performance of Exxon Mobil's share price are:
1) planned increase in production,
2) significant Share Buyback program, and
3) strong history of dividend growth.
____________________________________
*As always, the spreadsheet with calculations is available.
1. Increase in Production
By 2017 Exxon Mobil wants to increase daily production by another 1M barrels of oil equivalent. This translates into the following picture: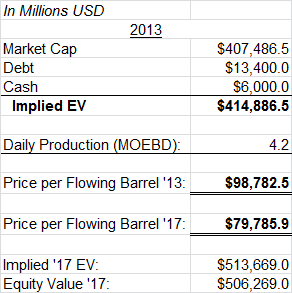 I calculated the Price per Flowing Barrel for both 2012 and 2017, given an expected increase of MOEBD to 5.2. Since Exxon Mobil is an integrated company, this may not be entirely accurate. However, 72% of earnings come from Upstream, so this approximation will work. The picture shows the market price of Exxon Mobil in 2017. Applying discount rates (OTC:WACC):
and introducing some sensitivity, we arrive to the following illustration:

This translates into this range of Prices per Share:

At an average production of 4.7MOEBD, the market value of Exxon Mobil is expected to be around $88 per share in 2017 in that year's money. This is lower than the current market price of over $92 per share. However, this is just the beginning of the path to fair value.
2. Share Buyback
Share buyback has been Exxon's major return of cash to its shareholders. By reducing the number of shares outstanding, Exxon increases EPS, all other things being equal. Here is a snapshot of buyback history during the past 3 years:

We can see that the number of shares outstanding has been reduced by approximately 5% each and every year. Based on that, projections can be made for the next four and a half years:

The projections show that the number of shares outstanding by 2017 will range from 3.5B to 3.63B. This does have an impact on value per share:

Versus:

Compared to plain vanilla market valuation, share buyback program does add significant value to valuation: for Daily Production of 4.7MOEBD and a WACC of 5%, this management's initiative will add about $24 per share, or about 24% more. Nevertheless, this is not the final touch: let us proceed to the dividends.
3. Adding Dividends
A major mistake I made when valuing BP was that I did not add the present value of dividend streams to the analysis. In the case of Exxon, dividends play a crucial role in increasing shareholders' value. Historical data obtained from NASDAQ shows that Exxon has been growing dividends at about 8% for the past 11 years:

This allows us to forecast dividends for the next 4.5 years:

The present value of the dividend streams is calculated to be $11.8 at a WACC of 4.00% (current estimate).
Now let us see if the dividend growth and share buyback programs are attainable in the long run (data in billions USD):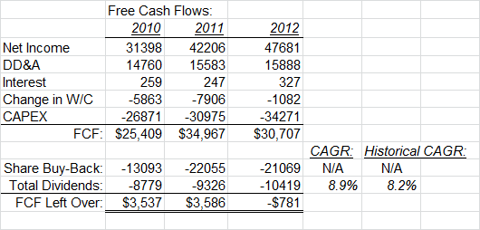 Using data from 2010-2012 period, I have constructed a Free Cash Flow schedule to determine whether Exxon is rewarding its shareholders without the detriment to the long-term financial shape of the company. As we can see, after buying back shares and paying dividends (to both shareholders and affiliates), there was still money on the table. Moreover, in order to lead the share buyback program successfully (at Low Estimate), Exxon needs to spend about $20B annually, which is even below the 2-year average.
The Big Picture
By adding figures from the three value drivers, we get the following picture:

Here is a visualization of the three value drivers: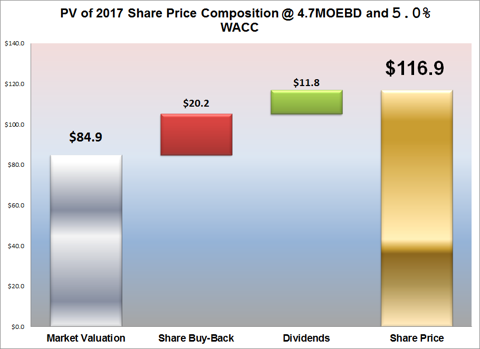 Conclusion
I do not think Exxon Mobil is overvalued at the current market prices. Moreover, I am certain it is significantly undervalued. Starting at simple multiples and margins comparison and finishing with more complex models, investors can see that the market is not giving Exxon Mobil a fair price. The company's equity has traded in the range of $82 to $92.5 in the last 52 weeks and is now on the rise, breaking the upper records. Exxon's key to future success is its targeted daily production in 2017. While efficiency is key to a giant like Exxon, investors like to see external growth by means of increases in production in the Upstream and sales in both the Downstream and Chemicals.
Disclosure: I have no positions in any stocks mentioned, but may initiate a long position in XOM over the next 72 hours. I wrote this article myself, and it expresses my own opinions. I am not receiving compensation for it (other than from Seeking Alpha). I have no business relationship with any company whose stock is mentioned in this article.