Abercrombie & Fitch's (NYSE:ANF) single year of stupendously positive comps, 2005, is the outlier analysts have never gotten over.
The stock of Abercrombie & Fitch has held a range between $22 and $29 for months, despite a string of some of the worst comparable store sales (comps) ever posted by any apparel retailer—at least any retailer that survived.
Devoted analysts who, otherwise, claim comps are a reliable indicator of success, recommend the stock in anticipation of back to school or holiday and pent up demand, or as a play on consumers coming out of a recession. Investors shouldn't listen.
For the past NINE years (see chart), Abercrombie & Fitch's comps have been negative far more often than positive, and under-performed peers by a large margin (see 2nd chart). Abercrombie's single year of stupendously positive comps, 2005, is the outlier analysts have never gotten over, though clearly, consumers have. Mall shoppers, currently, walk by without a glance. Touted as a trend setter and "iconic retailer," Abercrombie's "success" is mostly a mirage, as the two charts on this page prove.
Abercrombie & Fitch Comparable store sales by month and fiscal year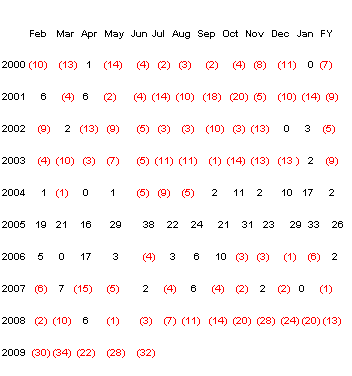 *Comps rounded to whole numbers.
** (ANF's fiscal year ends in January, or the first few days of February, in line with the National Retail Federation calendar)
During the years shown, Abercrombie booked positive comps from 2004 through 2006, though barely during fiscal years 2004 and 2006, managing just 2% annual gains. When consumers spent like there was no tomorrow during the 2001 holiday season, because they weren't sure there would be a tomorrow after the 9/11 attacks, Abercrombie posted steeply negative comps.
Despite consumers' free-spending ways in 2006, Abercrombie's comps fell during that holiday season, too. Its strongest months were October 2004 through September 2006; full year 2005 was such a stand-out that it stacks up as an anomaly.
Granted, part of Abercrombie's mystique grew out of its ability to report strong earnings, despite mediocre comps, even as, admittedly, the soon to close Ruehl No.925's (aka Ruehl) pathetic performance brought down overall comps in recent years.
Still, one wonders about a CEO who took so long to give up on Ruehl, which posted double and triple digit comp declines, almost from the day it started reporting them. Ruehl's fate seemed obvious to me as long as 2 years ago, because it moved from concept to storefront just as missy clothing sales began withering. And Ruehl never presented any unique or heart stopping styles that would distinguish it from competitors.
Absent that single aberrational comp year, Abercrombie & Fitch has relied on rapid square footage growth and outsized -- some say obscene -- margins to post strong earnings despite negative comps. Gross margins in a few fiscal years, including FY04 & FY05 exceeded 66%, a rarity in apparel retailing, where two-thirds of that would be an improvement and thrill for many chains. Fiscal year 2005 was also the year it opened its first Abercrombie & Fitch and Hollister stores in Canada, as well as a flagship 5th Avenue store, in New York, the better to capture tourists.
Comps clearly benefited. The recent slowdown in new store openings combined with steep price cuts to clear inventory weighs against Abercrombie accomplishing stellar margins in the near term.
Furthermore, Abercrombie's plans to start sourcing for lower original retail price points, expected in stores by the end of the year and more completely next spring, may not be the panacea envisioned. Lower original prices will significantly diminish Abercrombie's ability to oversize margins, a requirement for strong earnings in the face of tepid comps.
And lower prices, alone, won't help Abercrombie regain its former glory. Hollister, its lower price chain, has toted up deeply negative comps, as well.
Abercrombie's new hangtags feature both US and Canadian prices. The vast majority of its young customers may not know Canada's "loonie" buys only about 84 US pennies. To them, a cotton cardigan might seem a relative bargain at US $70 compared to Canadian $90 but for Abercrombie to see any positive psychological impact, it will need to attract customers into its stores.
That's been a major stumbling block this year when mall traffic, overall, has been down significantly and Abercrombie's down even more, some of it brought on by its own missteps.
Meanwhile, lower prices, on their own, can pressure comps if the number of units sold don't rise dramatically. And Abercrombie needs stronger sales to gain store occupancy leverage since rent, electricity, and other costs are more sticky.
As a former New York retail store owner, and since May 1987, a retail writer, researcher and analyst, I've seen many myths of greatness come and go, few more durable and widely held than the myth of Abercrombie & Fitch. Aeropostale (NYSE:ARO), selling to the same age range of customers, posted positive annual comps every year from 2001 through the present (ARO, public since 2002, didn't report older comps).
American Eagle Outfitters (NYSE:AEO), another teen retailer, which analysts are recommending at its current stock price for its large cash horde, if nothing else, posted positive comps in all but 4 of those years—in some quarters as large as Abercrombie's best, especially after the successful introduction of aerie, a "dorm-wear" line that raised respect for American Eagle Outfitters' management team.
Intimates and "dormwear" is another business Abercrombie hopes to conquer, launching Gilly Hicks in January 2008, just months after American Eagle debuted aerie. (Abercrbombie doesn't report Gilly Hicks comps, yet; the number of stores still quite small, though the company, originally, projected "at least 800.")
Of all the teen mall specialty retailers selling to the most fickle or consumers, Aeropostale has proved most consistent but, alas, its string of outstanding comps is exactly what scares investors most now. Odds don't favor that kind of performance continuing without interruption. No other retailer except, possibly, The Buckle (NYSE:BKE), faces such strong comparisons, this fall.
The Buckle, though, sticks to smaller cities to avoid some of the competition. Based in Nebraska, its locations are so far out of the way that many of the most influential analysts don't encounter it on their regular mall circuit, keeping coverage out of the hands of bigger firms.
By comparison, off-mall retailer TJ Maxx (NYSE:TJX) has posted positive comps on a full year basis every year during the time frame cited. Its closest competitor, Ross Stores (NASDAQ:ROST), missed in only one year, 2004, when implementation of new supply chain software wreaked havoc on merchandise flows.
Yet, when analysts list great retailers, Abercrombie & Fitch, inevitably, places near the top of most lists. If the two off-price retailers, Ross and TJMaxx, are mentioned, it's rarely with the enthusiasm Abercrombie inspires.
Star struck analysts should take a hard look at the charts presented here, and face up to the fact that the off-price retailers aren't, as accused, sudden trade-down winners but have been great retail managers through all kinds of economic environments. Ross Stores' stock recently broke to new all time highs, while TJMaxx is closing in on its former all time high, near $37.50, the stock impacted by settlement of claims related to a security breach into its computers. Both are worth more attention than they receive from investors.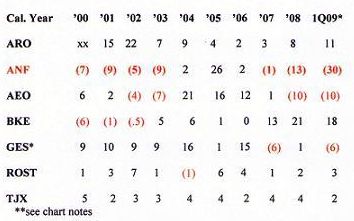 **see chart notes
The best question may be, just what built Abercrombie's "cool, trend-setting" reputation? Comps suggest it rests on a single year. That year's significant out-performance was attained thanks to strong sales of tradition busting jeans. Acid washed, splashed with paint, embellished with crystals and rhinestones, or strategically torn, those premium jeans sold for upwards of $178--more for a combination of enhancements—at a time the bulk of teen retailers were selling jeans for as little as $25.50--$58.
The stage was set for Abercrombie's premium denim success in a prior season when a line of t-shirts imprinted with slogans caused a furor. The slogans ranged from self-affirming to silly, cute, and downright stupid and should have been relegated to no better than a brief spurt in sales.
But a minor number of off-color ones raised Abercrombie's profile when offended parents picketed, demanded they be withdrawn, and threatened lawsuits. Abercrombie's step over the line attracted more media attention than money could buy. And you know what they say about (even bad) publicity. Parents versus smitten teens? The more parents complained, the more kids ached for Abercrombie. Traffic into its stores soared and made even the most expensive jeans irresistible to teens who'd never seen anything like them before.
Since then, though, Abercrombie hasn't been able to deliver a follow-up or convert antics into a significant boost to sales, despite two subsequent controversies: once over especially risqué ads with nearly nude models that were inappropriate for display in PG-Rated malls; a second time, in 2008, when other ads drew charges of racism.
Instead of following up those jeans with more creativity, Abercrombie, initially, capitalized on the publicity by selling the heck out of everything on which it could imprint or appliqué its name or initials—even hiring a veteran of the FBI to search out illegal copies.
But sales have withered since. Every teen who wanted an A & F tee already owns one, if not many more.
To stem the decline, Abercrombie, this year, began offering up derivatives of other cult retailers. This past spring it failed with 5 inch long shorts and polo shirts decorated with its trademark moose, miniaturized and embroidered in an all over pattern that was strikingly similar to styles Lilly Pulitzer has long featured, though absent her whimsical flamingos, lobsters, and martinis.
Placing a significantly distant second to the Abercrombie name for most of its history, the moose as a motif, was destined for failure. Consigned almost exclusively to decorating holiday flannels, customers would be forgiven for not even recognizing the moose as a logo, connecting it, instead, to Santa's Dancer, Prancer, and Blitzen, or dear old Rudolph.
Also this past spring, Abercrombie tried Hawaiian print shirts reminiscent of Tommy Bahama's (NYSE:OXM), though forgot to include the colorful palette, instead stenciling outlines of flowers on contrast colored fabric. For fall, Abercrombie is borrowing a page from Urban Outfitter's (NASDAQ:URBN) Anthropologie, decorating the chest of that dual-priced cardigan with miniature beads set in a floral pattern--a throwback to styles popular in the 1940s and 50s. Success remains to be seen, and may require Abercrombie girls being big fans of AMC's "Mad Men."
During its May post-earnings conference call, self-proclaimed fashion pace setter, CEO Mike Jeffries, finally admitted he missed the dress craze—three years in a row, by my count. In fact, even more than aerie, Gilly Hicks owes everything to The Limited's Victoria's Secret (LTD), offering intimates, loungewear, pajamas, and a "bra library" displaying 40 styles. Ironically, Abercrombie & Fitch was spun out of The Limited in a September 1996 IPO, with Michael Jeffries as its CEO at the time. Who's following whom?
Then there's the matter of how few females actually fit into Abercrombie's clothes, though the men's sizes run to XXL, hewing to industry standards that fit a full range of shapes and heights. CEO Mike Jeffries has been quoted saying not everyone "belongs in our clothes," and makes no secret that he prefers selling only to consumers with the "Abercrombie look."
The buffed male models used in its advertising possess more curves than female customers can, if they plan on wearing the skirts or shorts. That so few women—even teens--fit into Abercrombie bottoms helped sell a mountain of pricey tees. Plenty of girls were forced to buy men's tops, their inability to fit into the clothes on the girls' side helping create unhealthy, skinny aspirations fed, equally, by fashion's preference for underweight models and the impression that Abercrombie guys like skinny girls.
But skimpy sizing has, also, limited its customer base in recession, and will restrict its sales potential coming out. They don't call big spenders "Fat Cats" for nothing. And no one will dispute that the average female buys clothes more often than her male counterpart.
Just in case the exclusionary message wasn't clearly communicated via sizing, as soon as every other denim manufacturer rushed out copies of Abercrombie's washes and embellishments, and demand for Abercrombie's began waning, the chain started covering its windows with thick shutters that blocked views inside.
That not only hid how empty the stores were becoming but also cancelled the benefits of storefront windows as advertising medium. There was no technical reason for shutters--most of its stores are mall-based, and not, exactly, sun-drenched. The shutters were a puzzling choice: it was the novel jeans, displayed on tables lining its then, still, uncovered windows, that did so much to drive Abercrombie's comps to their zenith.
CEO Jeffries seems to have forgotten two maxims of retailing:
The more activity in a store, the greater the number of curious browsers who will be drawn in to learn what they're missing;
The more storefront displaying merchandise, the more impulse shoppers will be lured in.
The latter is why so many store lay-outs favor width over depth, and why landlords charge a premium for it. Those shutters put off consumers who are taking the privacy message to heart, staying away in droves, perhaps in these frugal times, relieved not to be tempted.
Though opened in 1892 as a luxury sporting goods retailer of clothing and equipment for fishing, hunting and camping, known for outfitting presidents and celebrities, including sportsman Theodore Roosevelt, Abercrombie & Fitch has morphed into nothing that would be recognizable to David T. Abercrombie, the founder and an inventor, or Ezra Fitch, who bought into the company 12 years later. The transformation to teen retailer began under The Limited.
But Abercrombie & Fitch is, again, faltering and its brief success look like a fluke—just another fad whose reign lasted the typical 12-24 months. Remember Sergio Valente? Fila, Ellesse, and Sergio Tachini? Crocs? Few come up with an equally successful second act and even that's no long term protection, as Sharper Image learned when ionic fans weren't the equal of Razors and didn't save it from bankruptcy.
Ultimately, all fads fizzle, which is why it's bad business to size for such a small segment of the most acquisitive shoppers who outgrow not just clothes but the chain quickly—especially now that Ruehl is winding down.
If anything, Guess has proved a more durable brand over many decades. It built greater diversification through a worldwide combination of wholesale and retail channels and has demonstrated a fairly consistent ability to design to changing trends.
For Aeropostale, on the value end, and Guess, at higher price points, selling their name has always taken a back seat to nailing the fashion zeitgeist—stocking styles customers want before they know they'll want them. Aeropostale takes its cues from its customers and Guess from European designer runways, celebrities, and fashion seen on the streets of major European cities, instead of an inflated, narcissistic view of their own magic touch. And Guess, especially, strives for sexy, the anti-thesis of Abercrombie's clothes, despite its half naked models and greeters, the latter victims of cost cuts. Skimpy isn't necessarily sexy, especially when so many girls who, clearly shouldn't, are seen in Abercrombie's mini shorts and skirts.
Abercrombie CEO Mike Jeffries, evidently believed not only that 'if we make it, they will come,' but, on conference calls suddenly sounds baffled that it has not worked out that way—blaming the economy without seeing his own, frequent, contributions. Originally, Jeffries even ruled against including an e-commerce site for Ruehl, claiming customers had to come into the stores to properly experience it, despite not just internet specialty retailers but his own chain raking in tantalizing online sales by the time Ruehl opened in 2005.
Be very wary of analysts recommending Abercrombie & Fitch's stock now for the recession's end—especially given how long it might take for consumers to rebuild their balance sheets and, again, decide they need an unlimited number of t-shirts, "damaged" by design. Aside from a brief period when controversial imprints fanned demand for break-out jeans and made its name desirable, especially to girls foreclosed from actually wearing anything but its shirts, Abercrombie has been barely any better positioned during the good times than it is now.
Analysts have only just started overcoming their crush but many more are likely to wake up as back to school transitions to holiday, and Abercrombie continues to under-perform, as it inevitably will. Too many of the scarce shoppers who venture into its stores leave empty handed, muttering, "I already have that." And the proliferation of plaid flannel shirts for fall give no retailer an edge, not even Burberry, whose price points don't sync well with teen allowances.
If Abercrombie insists on believing it sets trends, it will remain a losing bet until it really does hit on another influential line, if ever. It won't manage that by offering the same style cargo shorts in 8 shades of khaki season after season, or yet more tees with its name or initials, mistaking a switch from a vertical to horizontal lay-out for originality.
Sadly, it's likely to take the board of directors even longer than analysts to realize the company needs a new perspective and less arrogance. In December 2008, the board extended Jeffries' contract until February 2014.
About the only advantage Abercrombie has going for it, near term, is some of the easiest comps around, starting in November. Tune out analysts who anticipate a turn around on that basis alone. That premise hasn't worked well for Gap (NYSE:GPS) investors, at all. Worse, Abercrombie keeps managing to top itself, going from bad to worse even against weakening prior year returns.
Not only are second acts very difficult to achieve but the numbers, rather than perception, suggest Abercrombie & Fitch's retailing prowess is more myth than reality and too fleeting for a reliable investment when consumers are spending less. Abercrombie & Fitch is expected to report Q2 sales on August 6th, and earnings on August 14th.
Disclosure: No positions in any stocks named at time of post, though positions can change any time without notice. For the record, the author is 5'4" and 98 pounds, so can easily fit into Abercrombie's clothes. In other words, no sour grapes
NOTES TO CHART
*Many retailers actually reported Q1 2010 in May but for purposes of this comparison, the first quarter of 2010 is considered 1Q09, matching the calendar year and the timeframe during which comps were announced. ALL comps were rounded. GES changed its fiscal year, in 2008, to align with other retailers and the NRF calendar. Comps here were not, likewise adjusted, though only GES N. America comps were used. There was a time retailers ended their fiscal years in March, and reported FY in April, which means recent annual comps may not align, now, to the same months as they did in the earlier years shown. Some retailers' annual comps differ from comps reported by pr release, like ROST, because comps on their annual filings on Form 10-K are adjusted down to a 52 week basis, even if the FY contained 53 weeks. TJX comps are consolidated company comps, and would have differed if they'd been adjusted to exclude divisions like HomeGoods and HomeSense, that sell no wearable merchandise.
** Comparable sales numbers were complied from companies' SEC filings and records kept by Mitsubishi UFJ and RBC, as well as the author's own copious records. Abercrombie's online records go back only to 2004, on its Investor Relations site, while some of the older records available at the SEC were scanned off microfiche and are illegible.