Finding attractive dividend stocks listed in the US can be a challenge in today's environment. The recent bull run has boosted the stock market significantly and yields have therefore decreased. As a dividend investor, I am interested in strong companies with low valuations, high yields and a proper future. I regularly screen the stock market for dividend stocks using stock screeners from Financial Times and Finviz. I found Fly Leasing Ltd. (NYSE:FLY) on both stock screeners by using the following simple parameters:
Dividend yield: > 4%
Forward P/E: < 10x
Price/book: < 1x
Gross Margin: > 20%
Fly Leasing Ltd. was the only interesting company that popped up, and this article will therefore focus on this interesting leasing company as a potential long-term investment.
About FLY
Fly Leasing Ltd. was listed on the NYSE in September 2007 and has paid dividends every quarter since its IPO. The company is headquartered in Dublin, Ireland, with a market capitalization of $484 million. Even though the market value is modest, the volume is still satisfactory. FLY acquires, finances, leases and sells commercial jet aircraft worldwide. FLY uses medium to long-term contracts, which should be seen as an advantage due to the financial predictability that follows with it. FLY does not manage its own fleet. Leases are managed by BBAM, the world's third largest aircraft lease manager. Instead of managing the fleet, FLY focuses on the investments and return of the aircraft. Therefore, FLY has very few employees.
The leasing business is interesting to me due to several factors but mostly because leasing expenses are not as big an investment for the customer as an actual purchase of the specific item. As a result, this type of business tend to be more resistant to a potential macroeconomic crisis. The leased products could just as well be cars, bikes, trailers, ships, etc. In this case, the items are commercial jet aircraft, and Fly Leasing Ltd. has lots of them. 100 to be exact.
images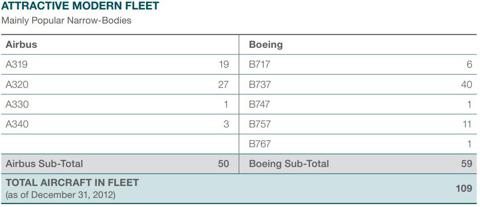 FLY recently sold 9 older aircraft with an average age of 12.9 years. Therefore, the table below sums the number of aircraft up to 109 instead of just 100. As shown above, Fly Leasing Ltd. owns a diversified fleet consisting of a mix between Airbus and Boeing aircraft. The majority of the fleet consists of Airbus A319, A320 and Boeing 737. The range of aircraft is quite modern and up to date. The net value of the fleet amounts to approximately $2.3 billion. The current fleet has an average age of 9.6 years and the number of customers amounts to 55 airlines spread over 32 countries. No customer represents more than 6% of the company's revenue.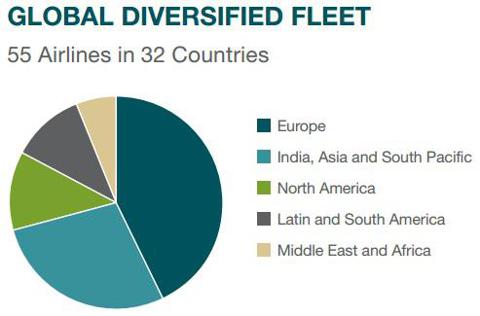 Europe and Asia are the primary markets and represents respectively 45% and 29% of the revenue. These two geographical areas are also the fastest growing markets for FLY. The development in global air traffic drives the demand for leasing. The industry has been quite resistant towards economic crises throughout the decades. The global air traffic is estimated to grow 5% annually, and FLY is thus in a stable, growing industry.
Strong growth - high debt
FLY uses a low-risk model by offering popular jet aircraft with medium and long-term contracts. Onex Corporation (ONEXF), a private equity group, acquired 50% of BBAM and 6% of FLY in December 2012. This acquisition was quite favorable for FLY since it generated $75 million in cash for future investments. The financial development is shown below:

One could argue that FLY's financial development is messy with high debt, low solvency and a very fluctuating return on equity. This could very well be some of the reasons why the shares are traded with a 16% discount on the book value together with a forward P/E of approximately 7.2x. The only steady key figure is the consistent flow of dividends.
In 2012 FLY achieved a 63% increase in revenues mainly due to the recent fleet expansion in late 2011. This expansion resulted in a debt to equity ratio of 5.1x. This ratio has since been reduced to 3.6x, but to me as an investor with an interest in companies with strong capital structures, 3.6 times as much debt as equity is not worth bragging about. It is, however, worth mentioning that the management seems dedicated to decrease this ratio further. Moreover, FLY managed to increase cash reserves in 2012 from $82.1 million to $163.1 million. This is partly because of Onex's recent acquisition. The current solvency of 18% is not high either, but FLY has no significant debt maturities until 2018. The expenses primarily consists of depreciation and interest costs.
Even though the financials are not as consistent as one might had hoped, the dividend yield should be able to dry some tears. FLY has paid dividends every quarter since its IPO and did in fact just raise dividends by 10%, resulting in a dividend yield of 5.1%. Furthermore, FLY's revenue stream seems secure and consistent. Potential unpredicted cancellations of contracts with airline costumers cannot influence the financials immediately due to the medium and long-term contracts.
FLY is a rare case of a company with high growth and a high return to shareholders through dividends and share buybacks. The growth requires capital, and the investor needs to accept a significant level of debt. I expect the ROE to increase and stabilize in the future as FLY expands its business. Moreover, as mentioned before, the management seems to be keen on reducing the current extent of the debt.
Valuation compared to its peers
I have compared Fly Leasing Ltd. with three of its peers: AerCap Holdings (NYSE:AER), Aircastle Ltd. (NYSE:AYR) and Air Lease Corporation (NYSE:AL).

Fly Leasing has the lowest market capitalization compared to these three peers, indicating a higher uncertainty and risk, but the company also seems to be traded with a discount compared to the industry average with a forward P/E of only 7.2x and a P/B value of 0.86. Why not prefer this undervalued company over its peers when it yields much higher as well?
Conclusion
FLY has a lot of growth potential and a competitive business model. BBAM takes care of the operational day-to-day operations while the FLY management takes care of returning money to shareholders. Due to FLY's growth outlook, the company should be seen as a sufficient dividend case with a considerable risk despite the low valuation. The margin of safety seems to be in favor of the investor. FLY is a relatively small business with high growth which has led to a fluctuating profitability and a considerable debt.
The company is in a very interesting industry for the contrarian investor who seeks to diversify his or her portfolio. The aircraft leasing industry seems resistant towards macroeconomic instability, and the stable dividend stream together with a low valuation makes it an attractive investment. Due to the company's small size and the mentioned risk factors, the stock should only represent a modest share of the total portfolio due to the current conditions. As the company achieves a successful development, the investor can expand his or her holdings of Fly Leasing Ltd.
Disclosure: I have no positions in any stocks mentioned, and no plans to initiate any positions within the next 72 hours. I wrote this article myself, and it expresses my own opinions. I am not receiving compensation for it (other than from Seeking Alpha). I have no business relationship with any company whose stock is mentioned in this article.