Since my previous article (found here) was published about my portfolio of 25, there have been numerous changes to the portfolio. This includes a net addition of five entities (seven stocks added, two stocks removed). This article will provide a mid-year update for the portfolio and why I have done some actions. Although this is the case, I will not calculate any returns on the stocks, since there were changes in the holdings, and the fact that I have not bought all the stocks in this list yet. I expect to buy all the stocks in this list (provided there are no changes) by mid-2014.
Investment Philosophy
This still stays the same as before.
The mission of this portfolio is to provide myself with steady capital appreciation and a reliable, predictable and steadily growing stream of dividends to be reinvested into the respective companies. Besides this, I also aim for a portfolio that will yield around 4%, and this dividend, along with the returns in the stock price itself, will be able to beat both inflation and the major indexes over the years. For now, I plan to invest a sum of money into the account every month, in order to successfully grow the account and its dividends over the years.
I will be an active manager when it comes to managing this sum of money. I plan to check the news for the stocks in my portfolio every weekend (any day), and read articles on great sites like Seeking Alpha, Yahoo Finance, MSN Money or The Motley Fool. Besides this, when stocks are more overvalued, I plan to get loaded up on cash and just collect my dividends. I will then wait for stocks to be more undervalued (i.e. recession, correction) before buying more stock, and will only sell when the dividend stocks decrease their dividend, announce news unfavorable to investors, or when I think there are better opportunities elsewhere.
I have detailed some buying guidelines, selling guidelines and general articles both here and here.
Changes
Although there were quite a lot of changes to the portfolio over the past six months, I expect this to be temporary. Since this portfolio is still in its early stages, I am still acting on many suggestions of readers, and my personal opinion, in an effort to make this portfolio better.
Addition Of Novartis (NYSE:NVS)
I added Novartis mainly due to its foreign exposure and its industry: healthcare. I had received feedback that I was underweight in the healthcare sector, and that I was underexposed to international stocks. Therefore, Novartis looked like the perfect addition to the dividend portfolio.
Here is a little bit about its business: It researches, manufactures and markets various healthcare products worldwide. Its products include drugs, eye care products, vaccines, blood testing and molecular diagnostics products, consumer medicines and animal health products. I like Novartis' business as it is the second-largest drug manufacturer in the world (by sales), with only Johnson & Johnson (NYSE:JNJ), another holding, with more sales. In addition, the drugs it mainly manufactures and markets, will always be needed by humans, as falling sick is inevitable.
Although this is the case, it has a slow 5-year dividend growth rate of around 3%, having increased its dividend only from CHF2.00 to CHF2.30 over the past five years. (In US$ terms this growth looks better, with a 5-year growth rate of 8.1%)
Addition Of Textainer (NYSE:TGH)
Textainer also provides some international exposure, being domiciled in Bermuda, and having customers from all over the globe. The company is in the business of leasing containers to (mostly) shipping companies and also (some) rail companies, and one of its customers include the U.S. Navy. Besides this, with 95% of goods traveling around the globe in such containers, and with the service it provides being a neccessity to shipping companies, the company has further growth potential into the future.
Further, being the largest company in its industry, it also possesses a competitive edge over its smaller counterparts, being able to buy more containers at a time than smaller containers (economies of scale) and having the largest network of offices and depots around the world. This large network gives many customers reason to continue paying a small premium for its services, for convenience's sake.
Finally, it offers a neat 5.4% yield at the moment and increases its dividend payouts every quarter, which gives me extra reason to add this company into my portfolio.
Removal Of Waste Management (NYSE:WM)
Waste Management's business model is one that is favored by me, and like Kinder Morgan (NYSE:KMI), which has extensive difficult-to-replicate pipelines, it also owns many landfills, which is also really difficult to replicate. The process a company has to go through to get a landfill is really tedious, and will almost always receive opposition from a city nearby. I mean, who would like having a large stinky landfill next to their city? This emphasizes the value of landfills. In fact, some smaller waste collectors are even paying it to use their landfills.
But even so, I took Waste Management out due to its substantially slowing dividend growth rate. From a 10-year DGR at around 7%, it has a 5-year DGR merely at 4.8%, and has raised its dividend by merely 2.8% this past year. Even so, its payout ratio has been growing consistently over the past few years (as shown below), making me doubt its ability to grow its dividend into the future. This was the main reason why I took the company out of my portfolio.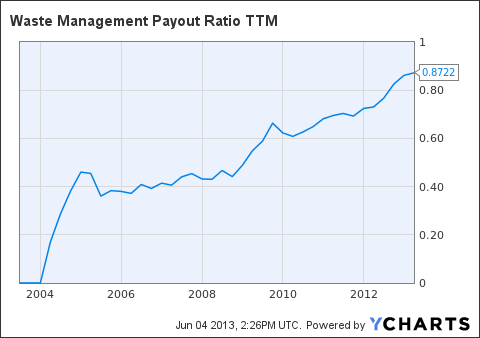 WM Payout Ratio TTM data by YCharts
Addition of Digital Realty (NYSE:DLR)
Digital Realty, a REIT in the complex data center industry, is well positioned to grow, with companies needing this service, as it is getting increasingly difficult, even for large companies, to effectively manage their own data storage spaces. Besides this, it is obviously dominant in its industry, being thrice larger than all its competitors' market caps combined, and with a diverse rang of 595 tenants operating in all industries, with its largest customer being telecom company CenturyLink (NYSE:CTL).
In addition, with a 5.2% yield and rather fast-growing FFO figures (18% since IPO) and dividends (DGR 20.6% over past 5 years), it makes Digital a really good pick for my portfolio, having both a good business and good dividends.
Addition Of Nestle (OTCPK:NSRGY), Removal Of PepsiCo. (NYSE:PEP)
I added Nestle and removed Pepsi with the intension of:
Increasing My International Exposure
Removing an overvalued stock and adding a more fairly valued stock
Nestle is a world-famous company with over 8,000 brands in total, with a few of its most famous brands including instant coffee brand Nescafe, ice-cream brand Haagen Das, snack brand Kit-Kat, instant noodle brand Maggi, pet care brand Friskies, and cocoa drink Milo. These brands, as you might have noticed, revolve around food, beverage and also pet care, (and with the exception of pet care), are very much essential in our lives. By adding Nestle, which had grown its dividend in the high single-digits range over the past few years, I thought I could increase my exposure overseas, since its products can be found virtually anywhere in the world, and also add so many brands people are familiar with into my portfolio.
PepsiCo is also in the food and beverage industry, but unlike Nestle, which has a strong foothold on both aspects, Pepsi is focused more on the beverage industry. I took Pepsi out because its valuations were at multiyear highs (and thus drove yields low), and had a slowing dividend growth rate, with this DGR slowing from the high single-digit range into the low single-digit range.
Addition Of GAMCO Global Gold & Nat. Resources Fund (NYSEMKT:GGN)
I have also decided to add a fund to my portfolio, this one being a gold and natural resource fund. The fund mainly holds cheap mining stocks, which are attractive to me at the moment, such as Barrick (NYSE:ABX), Newmont (NYSE:NEM) and Goldcorp (NYSE:GG). Although the fund also holds natural resources companies such as Anandarco (NYSE:APC) and Total SA (NYSE:TOT), eight of its top 10 holdings are Gold stocks, and 62% of all its stock holdings are miners. The best part is, the fund yields 15% now, and has only decreased monthly payouts once since its inception in 2005, probably due to the recently decreasing payouts of the gold miners.
Although I normally would not be a strong advocate of buying gold (I still believe more in firm blue-chip businesses), I like the valuations of these gold miners, and I believe this fund will provide my portfolio with the appropriate exposure to gold stocks. Along with the high yield I can collect, I don't mind waiting for these stocks to appreciate over the medium term.
Therefore, I present you my updated portfolio of 30.
My Updated Portfolio (Of 30)
Company
Consecutive Dividend Increases (Years)
Dividend Yield (%)
5-Yr Dividend Growth (%)
1.
Automatic Data Processing (NASDAQ:ADP)
38
2.5
11.4
2.
Aflac (NYSE:AFL)
30
2.4
10.9
3.
Alliance Resource Pt (NASDAQ:ARLP)
11
6.3
13.6
4.
Colgate-Palmolive (NYSE:CL)
50
2.3
11.8
5.
ConocoPhilips
12
4.2
13.1
6.
Chevron (NYSE:CVX)
25
3.3
9.0
7.
Digital Realty Trust
9
5.3
20.6
8.
General Mills (NYSE:GIS)
9
3.1
10.8
9.
Genuine Parts (NYSE:GPC)
57
2.6
6.2
10.
Intel (NASDAQ:INTC)
9
3.9
14.1
11.
Johnson & Johnson
51
3.0
8.2
12.
Kimberly Clark (NYSE:KMB)
41
3.3
7.0
13.
Kinder Morgan Energy Mgmt. (NYSE:KMR)
17
6.1
7.4
14.
Coca-Cola (NYSE:KO)
50
2.8
8.4
15.
Kraft Foods Grp. (KRFT)
0 (Spinoff from Kraft Foods, previously KFT)
3.6
Spinoff
16.
Lockheed Martin (NYSE:LMT)
10
4.2
22.2
17.
Lorillard (NYSE:LO)
5
4.8
11.5
18.
McDonald's (NYSE:MCD)
36
3.1
13.9
19.
Altria (NYSE:MO)
44
4.9
14.3
20.
Nestle *
17
3.3

8.0
(InUS$:17.7%)

21.
Novartis *
16
3.6

2.9
(InUS$:8.1%)

22.
Omega Healthcare (NYSE:OHI)
11
5.9
10.1
23.
Procter & Gamble (NYSE:PG)
57
3.1
10.2
24.
Southern Co.(NYSE:SO)
12
4.6
4.0
25.
AT & T (NYSE:T)
29
5.1
4.4
26.
Textainer Group Holdings
7
5.4
13.1
27.
Wisconsin Energy (NYSE:WEC)
10
3.3
19.1
28.
Wal-Mart (NYSE:WMT)
39
2.5
13.5
29.
Exxon Mobil (NYSE:XOM)
31
2.7
9.7
Fund
30.
GAMCO Global Gold & Natural Resources Trust
-
14.9
-
Average
26.2 Years
4.22%
11.1%
*Both Nestle and Novartis' dividend yield and dividend growth figures are based on their stock trading on their home exchanges, the Swiss VTX Exchange. Their tickers on the VTX exchange are NESN.VX and NOVN.VX respectively.
Disclosure: I am long DLR, AFL, ARLP, INTC, KMR, TGH, CVX, XOM, MCD, JNJ, GGN. I wrote this article myself, and it expresses my own opinions. I am not receiving compensation for it (other than from Seeking Alpha). I have no business relationship with any company whose stock is mentioned in this article.