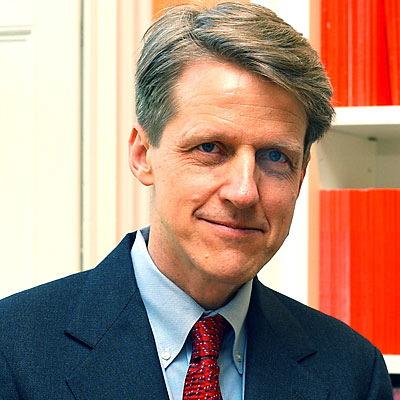 Yale economist and financial commentator Robert Shiller, author of Irrational Exuberance, deserves credit for predicting the bursting of the housing bubble. Shiller has frequently lamented the increasingly speculative nature of U.S. housing -- and rightfully so.
Most recently, in a Bloomberg interview on August 5th, Shiller pointed out that the U.S. housing market has become more speculative and more unpredictable over the past decade. Despite Shiller's criticism of the speculative nature of residential housing, Shiller recently moved to capitalize on this trend via two newly launched exchange-traded vehicles.
Robert Shiller has been a driving force behind two exchange-traded vehicles launched on June 30th: MacroShares Major Metro Housing Up (UMM) and MacroShares Major Housing Down (DMM). Shiller is co-founder of MacroMarkets, a private company that is behind the MacroShares products, which essentially represent leveraged bets on housing prices, as tracked by the S&P/Case-Shiller Composite-10 Home Price Index. With an annual expense ratio of 1.25%, the vehicles are not exactly Vanguard-style low-cost index-tracking devices. The hefty expense ratio has come under intense scrutiny recently, but Shiller has defended it in an interview with TheStreet.com.
How do UMM and DMM actually work? They hold no shares of home builders such as Centex (CTX), DR Horton (NYSE:DHI), Lennar (NYSE:LEN), or MDC Holdings (NYSE:MDC). They also don't own any actual houses. Instead, it appears that "investors" buying into UMM are essentially betting against "investors" in DMM. When one set of speculators wins, the other loses, and value is transferred from one vehicle to the other.
We commend Shiller for lamenting the speculative nature of housing, as the latter has contributed greatly to the recent bust. We also don't fault MacroMarkets for cashing in on demand for products that allow investors to speculate on housing prices. However, we find it ironic that Shiller would endorse the launch of vehicles whose ultimate effect may be to make the U.S. housing market even more speculative than it is already.
Perhaps Shiller's stance toward housing speculators simply reflects the old adage, "If you can't beat 'em, join 'em."
Disclosure: No positions.