We believe that Wisconsin Energy Corporation (NYSE:WEC) will continue its recent record of reliably delivering powerful dividend growth to investors' portfolios due to its industry-leading reliability achievement, enabling it to steadily increase its payout ratio from 36% in 2007 to 60% in 2014 and 65%-70% in 2015-17. Last year, we compared WEC to a number of well-known mega-cap utility companies. We compared WEC to Southern Company (NYSE:SO), Duke Energy (NYSE:DUK), Consolidated Edison (NYSE:ED), and Exelon (NYSE:EXC). We concluded that WEC was a stronger-performing utility company than each of these firms. We are particularly pleased that WEC's dividend payout ratio is starting to converge with the payout ratios achieved by its utility peers.
Click to enlarge images.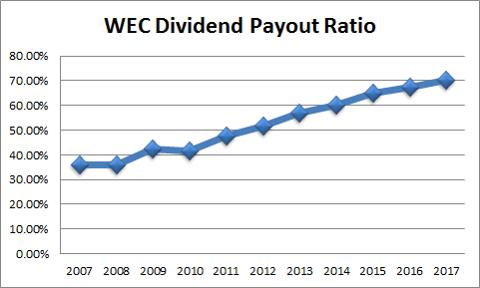 Source: Milwaukee's Business Journal.

In our October interview with WEC's CEO Gale Klappa, he confirmed our thesis that Wisconsin is seeing a steady influx of residents from the Chicagoland/Northern Illinois suburbs due to the higher quality of life and low costs of living in the Milwaukee suburbs and exurbs vs. Chicagoland. We believe that the cost of living in Chicagoland will continue to climb due to the fiscal weakness that the state of Illinois is reeling from ($2.4B deficit in 2012 and $103B pension shortfall). We compared that to the state of Wisconsin, which generated a $2B surplus in FY 2012 and has a well-regarded state pension plan system. This has helped WEC pick up 3,000 new electric customers and 6,000 new gas customers on a year-over-year basis.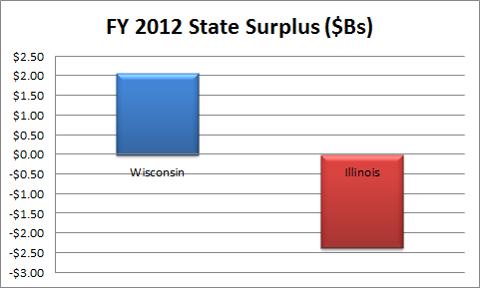 Sources: FY 2012 reports for Wisconsin and Illinois.
So far in 2013 we can see Wisconsin Energy continuing its solid absolute and relative performance. WEC generated 2.7% growth in year-over-year EPS growth from continuing operations in Q1 2013 vs. Q1 2012 despite facing an $11.6M year-over-year headwind in the form of reduced allowances for funds used during construction (AFUDC). This decline in AFUDC primarily related to the Oak Creek AQCS project, which emission control equipment went into service in March 2012 for units five and six and September 2012 for units seven and eight. We had expected WEC to see another reduction in AFUDC in 2013 as it expects to have fewer major construction projects. Cold winter temperatures in the first quarter of 2013 compared to warmer-than-normal conditions last year drove strong customer demand for natural gas and higher revenues than the company recorded in the first quarter of 2012. At least WEC's operating income increased by 8.555% year over year in Q1 2013.
In Q1 2013, WEC earned $0.76/share, which beat analyst expectations by $0.05/share and represented 2.7% year-over-year growth. Revenue growth of 7.05% was driven by 5.2% growth in residential electricity use and 1.3% growth by small commercial and industrial customers. Operating costs grew by a slower rate than revenue (6.555%), and this was primarily due to increased costs associated with fuel, purchased power and natural gas sold.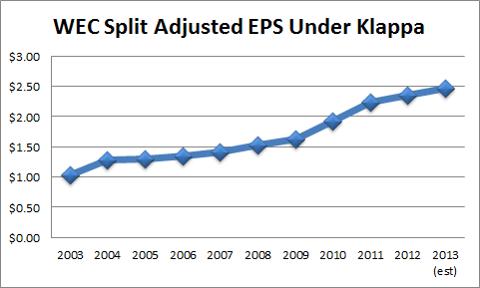 Source: Wisconsin Energy 2003-12 annual reports and Saibus Research estimates.
Natural gas prices have bounced off the historical lows achieved in April 2012. Spot prices closed at $3.77 per MMBTU on June 25, up from April's 2012 low of $1.89. The extended low-price environment for natural gas has hurt WEC competitor to the south Exelon, which generates the majority of its revenues and operating income from the wholesale power market. With natural gas prices coming back, this will help Exelon catch its breath and WEC had received approval of gas price increases for its gas distribution subsidiary. WEC's Power the Future Program called for the company to reduce its 70%-plus reliance on coal to 43% in 2012. The new capacity that WEC added was almost equally balanced between natural gas and coal.
WEC also announced plans to convert the fuel source for its Valley Power Plant from coal to natural gas. WEC's analysis shows that converting the fuel source for the plant will reduce its operating costs and enhance the environmental performance of the units. The electric capacity of the plant is expected to remain at 280 megawatts. WEC recently filed an application with the Wisconsin Commission, and if approved, its target for completing the conversion at Valley will be late 2015 or early 2016. The current cost estimate is $65M to $70M, and this project will follow the $26 million upgrade of the existing natural gas pipeline that runs near the facility.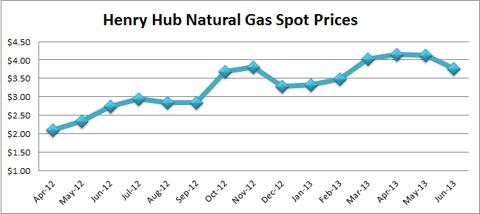 Source: Bloomberg LP.
Wisconsin Energy's board has authorized a $300M share repurchase program last year. Since the program began, WEC has repurchased approximately 4,900,000 shares at a cost of $162.9 million. That equates to an average purchase price for the program so far of $33.245 a share. Wisconsin Energy's share price has seen strong performance this year, partly because of its strong operating performance and because of the demand for dividend-paying securities as income-bearing alternatives to the poor interest rates on fixed-income securities. As we previously noted, Wisconsin Energy adopted a dividend policy that seeks to reach a 60% payout ratio in the year 2014 and 65%-70% in 2015-17. This will enable 8%-10% annual dividend growth over the next few years and enable its dividend yield to catch up with its regulated utility distribution peers.
Wisconsin Energy's capital investment budget for 2013-17 is expected to remain at $3.2B-$3.5B, which is less than the $4.8B spent during the last five years of the Power the Future Program (2007-11). This reduction is due to the fact that capital investment needs have declined due to the conclusion of the Power the Future Program. We reiterate that WEC is in a good position to take former Exelon ComEd customers and make them into We Energies customers. WEC reported that new services installed for electric customers were up 8.7% in 2012 as compared to 2011. Connections of new natural gas customers rose by more than 13.2% in 2012 compared with 2011.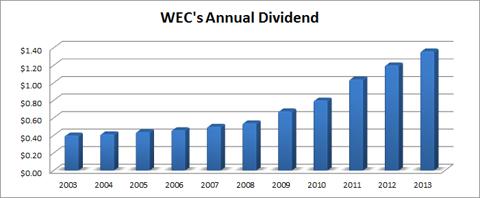 Source: Wisconsin Energy IR dividend history section.
In conclusion, we are pleased with the performance of Wisconsin Energy. We expect continued EPS and dividend growth from the company. We believe utilities are fairly valued, but Wisconsin Energy is our utility of choice. We can see why its performance has significantly exceeded the SPDR S&P 500 Utilities Index ETF (NYSEARCA:XLU) since XLU's inception in 1998. While we expect WEC to outperform the utility sector overall due to the favorable macroeconomic environment created by Scott Walker, we believe that investors should not expect WEC to repeat its 275% outperformance against XLU that it achieved from December 1998 to June 2013. Still, Wisconsin Energy is our top choice in the utility sector because it has been widely recognized for reliability among Midwestern utilities and we believe that the Midwest will see an improved economic environment. WEC has been reliably paying dividends to its shareholders since 1942 and we expect another 70 years of dividends.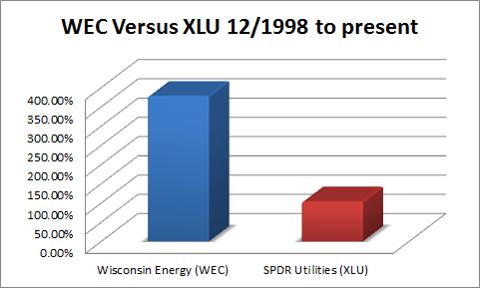 Source: Morningstar Direct.
Disclosure: I am long WEC. I wrote this article myself, and it expresses my own opinions. I am not receiving compensation for it (other than from Seeking Alpha). I have no business relationship with any company whose stock is mentioned in this article.
Additional disclosure: This article was written by an analyst at Saibus Research. Saibus Research has not received compensation directly or indirectly for expressing the recommendation in this article. We have no commercial or pecuniary relationship with any company whose stock is mentioned in this article. Under no circumstances must this report be considered an offer to buy, sell, subscribe for or trade securities or other instruments.