Hope springs eternal, as the saying goes, which pretty much explains why at the trough of every real estate cycle a new batch of commercial mortgage REITs is formed; freshly minted vehicles ready to take advantage of all prior excesses, while pledging to commit none themselves. It was no different this time, and the purpose of this note is to review the IPO-to-date performance of the "Class of 2009", including Apollo Commercial Real Estate Finance (NYSE:ARI), Colony Financial (CLNY), CreXus Investment Corp. (NYSE:CXS), and Starwood Property Trust (NYSE:STWD). All four companies squeezed through the IPO window during a 45-day period in August-September 2009.
The first thing to mention is that the group is now down to three names following the May 23rd buyout of CreXus Investment by its external manager, Annaly Capital Management (NYSE: NLY). The final $13.00 share price is actually below CreXus' $15.00 IPO cost, which illustrates that even if you get the timing and opportunity set right, there are other factors involved in making the jump to lightspeed. CXS's March balance sheet illustrates part of the problem - $961 million of total assets and only $34 million of debt. While low leverage is commendable, it is difficult to make this strategy work during risk-on periods when competitors are being more aggressive.
As shown in the table below, CreXus has the second lowest IRR from the 2009 IPO at only 2.3%. While that's obviously below the return expectation for mortgage REITs, it's far from the worst performance. Consider that mortgage REIT Crystal River Capital came public at $23 in 2006 and was bought out at $0.60/share exactly four years later.
images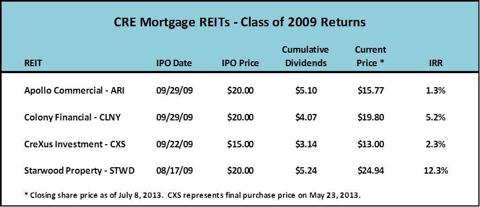 The best performer in the 2009 group has been Starwood Property Trust with a 12.3% IRR since the IPO. Part of this performance may be due to size advantages, as STWD has the largest balance sheet of the group at $4.6 billion. STWD also employs more leverage than its peers at 60%, which is in sharp contrast to CXS that employed almost no leverage. This illustrates the advantage of size, particularly when trying to access debt capital markets. It's perhaps not a coincidence that the two larger REITs - Colony and Starwood - have been able to issue convertible notes this year with attractive 4% and 5% coupons. STWD's recent acquisition of LNR Property will add even more heft to the balance sheet.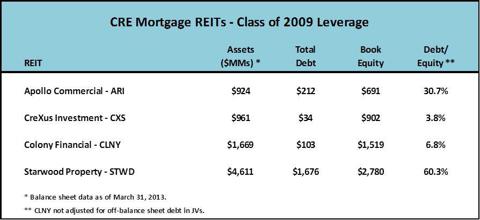 Of the three remaining players, Apollo Commercial's results are also on the low side with only a 1.3% compound return since 2009. Part of the problem might have to do with size and scale - ARI's balance sheet is the smallest at $924 million. ARI also carries the highest dividend yield at 10.1% which reflects the market's expectation for limited growth; ARI's dividend has been unchanged at $0.40/quarter since 2010. The dividend yield might be even higher if not for at least some possibility that ARI could get bought out by its external manager, Apollo Global Management. This entity manages over $100 billion for institutional clients, including $9 billion of AUM within the real estate sector.
Colony Financial is the fourth company in the Class of 2009 and the one with the closest ties to its external manager. Approximately 65% of CLNY's portfolio consists of equity investments in other Colony-related vehicles, all of which are off-balance sheet. Included in this group is a significant investment (approximately $550 million today) in Colony American Homes (NYSE:CAH), a single-family residential REIT formed to take advantage of the downturn in home prices. While CAH seems to have achieved reasonable scale with a $2 billion portfolio of nearly 11,000 homes, the company has had to postpone its planned IPO due to interest-rate turbulence and a related selloff in REIT stocks.
CLNY's investment in Colony American Homes is best characterized as a total-return play, as CAH is still in ramp-up mode and currently operating around break-even. This is because most of the purchased homes are vacant and still in the process of being renovated and leased. The drag from the residential investment (which represents a full 1/3 of the portfolio) seems to be behind CLNY's modest 5.2% IRR, although returns seem likely to improve as CAH closes the gap between total portfolio occupancy of 46% and stabilized occupancy of 86%. Questions regarding CAH's leasing pace and potential for higher distributions to its respective owners will likely be a key area of focus on CLNY's 2Q earnings call.
In summary, four commercial mortgage REITs were formed in 2009 at almost exactly the same time and with similar investment opportunities. Since then, the total returns to investors have varied widely from 1.3% to 12.3%. The strongest returns have been generated by the two larger REITs, Colony and Starwood, with the latter utilizing the most leverage. Even considering the broad selloff in REIT stocks over the last month, only Starwood has generated a return that is reasonably close to the approximate 13% average annual return for the S&P 500 over this time frame. Returns for ARI and CXS in the low single digits have been disappointing, particularly in light of generally strong stock market (and equity REIT) returns during this time period. That said, it's how you perform over a complete cycle that counts, and we seem to be in only the middle-innings of a broader commercial real estate recovery. Stay tuned, lots of cycle left to go.
Disclosure: I am long ARI, STWD. I wrote this article myself, and it expresses my own opinions. I am not receiving compensation for it. I have no business relationship with any company whose stock is mentioned in this article.