A funny thing appears to be happening in the regional bank space in that after rebounding from 2008-9 lows, the market is having a hard time deciding what sort of valuation to give a well performing bank. The typical scenario right now seems to be between 1-2Xs tangible book value for any type of positive information. Consistent returns on assets, 1-2Xs, improving NPLs but no work on growing loans, 1-2Xs. However it is setting up, investors should be increasingly skeptical and/or picky in choosing which bank shares they want to acquire because all of them are in a transition period that is putting increasing pressure on NIMs, and all of them don't seem to know exactly how revenues are going to be affected when interest rates rise, refinance activity slows down and healing provisions fail to produce incremental gains.
"You don't want a capital market that functions perfectly if you're in my business."

-Warren Buffett, Fortune 4.28.08 issue
With that said, and with the above quote in mind, Horizon Bancorp (NASDAQ:HBNC) is just the type of regional you should want in your portfolio. Valued at only 1.428Xs tangible book value, Horizon has been able to smoothly incorporate its year ago acquisition of Heartland Bancshares and generate higher returns.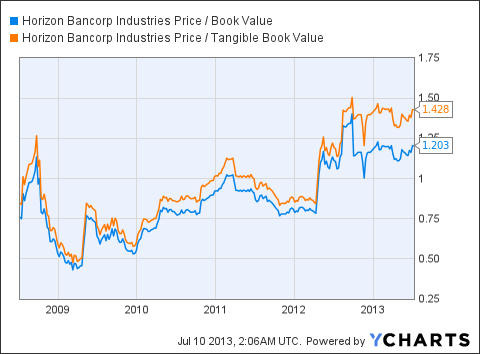 HBNC Price / Book Value data by YCharts
Before adding Heartland's $238.1 million of assets to its books, Horizon controlled $1.56 billion in assets and had $997 million in loans, supported by $1.045 billion in deposits. Looking at HBNC's financials one can easily spot the balance sheet additions but more importantly, Horizon has done a great job at keeping liquidity and credit quality inline with its pre-acquisition numbers. For instance, NPL's are up YOY (to $23.7 million) but saw declines in every quarter except for when the new loans hit the books. Most banks during this time have had net-income supported from declining provisions rather than rising revenues. Exactly the opposite of HBNC which has seen increased revenues from its new loans and has had zero declines in it provisions (flat since post-acquisition uptick). All together this leads me to believe the next few quarters will be much more favorable for Horizon as it still has some provisional help in-store, much more when compared to most of their peers anyways.
Loans did decline ~$100 million last quarter but the majority of that (if not all) was caused by a (~$108 million) decline in warehouse loans so nothing there to indicate future declines. In fact, the business has seen consistent growth coming from its commercial loans, up ~$123 million YOY and ~$26 million post-acquisition. Commercial now amounts to ~43% of the loan portfolio. Some may say this is bad because the portfolio is not diversified for a downturn but I really do think this is missing out on the benefit of looking at regional bank shares. They know their market and can specialize and build relationships better than most larger banks. And the fact that they see growth means that whatever advantage/angle they are using is working. Besides, 43% really isn't too heavy anyways.
With increasing loans and decreasing interest expenses, Horizon turned in a very attractive NIM of 4.1% last quarter. This doesn't put the bank into Ozark (NASDAQ:OZRK) or C&F Financial (NASDAQ:CFFI) territory but it is above the national average (~3.2%). Coupled with a 59.56% efficiency ratio and a respectable 83.66% deposit to liability ratio, one can safely conclude that Horizon is doing a good job managing costs and investing its deposits for consistent future returns.
Before going over the returns, I want to point out that even with a low gross loan to deposit ratio of 82.87%, Horizon's above average asset to equity ratio of 10.68 gives shareholders a higher return on equity for every return on asset. While leverage usually implies risk, and it does, the 82.87% L/D ratio, declining NPL's and Tier 1 of 12.31% put the 10.68Xs A/E ratio on very solid ground. In fact one could argue that with L/Ds at only 82.87%, Horizon has capacity for more. Either way, I like where the business is at because the leverage amplifies returns and the bank has the capacity to take advantage of more profitable loans (should the opportunity present itself). With that long-winded buildup out of the way (my bad), below is a look at Horizon's above average and improving returns.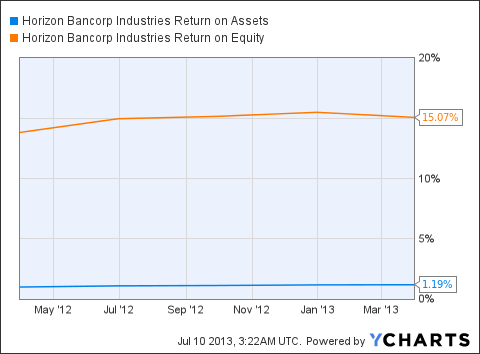 HBNC Return on Assets data by YCharts
Bottom Line
This bank knows how to turn an acquisition into higher returns while improving the safety of its loans at the same time. Without repeating too much, not too many banks have found a way to grow loan balances organically (warehouse loan aside) and there are even less acquiring more assets during that same time. Horizon has higher than average returns, safe assets, an increasing dividend and an above average NIM. All said, this bank deserves a higher valuation. One between 1.7-2Xs tangible book value puts it more inline with the current market rates, which implies a fair value 19-40% higher than where shares trade right now. More than enough to be excited about (even if you are picky ... as you should be) and coupled with the dividend payment, more than enough to at the least consider putting Horizon on your watch list ... exactly where I have it for now.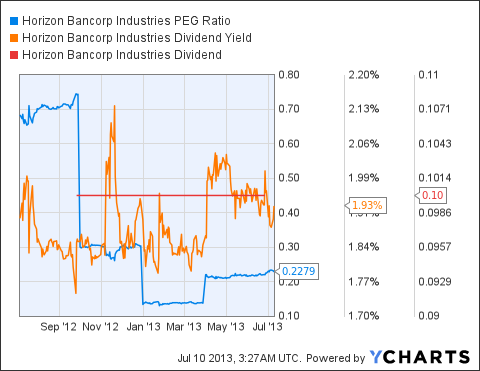 HBNC PEG Ratio data by YCharts
I hope this article helps with your own research. This information is based on my own research and was not verified by a third party. Do your own due diligence and as always, good luck!
Disclosure: I am long CFFI. I wrote this article myself, and it expresses my own opinions. I am not receiving compensation for it (other than from Seeking Alpha). I have no business relationship with any company whose stock is mentioned in this article.