There has certainly been a walloping in fixed-income based closed-end funds (CEFs) this year compared to most equity-based CEFs as interest rates have risen but if you compare premium/discount valuations between the two, bond CEFs still dominate the premium category over stock CEFs.
Looking at the 96 premium valued CEFs from CEFConnect.com as of July 8, 2013, 53 of the funds would be classified as fixed-income funds. However, throw out Master Limited Partnerships (NYSEARCA:MLPS) from the equity group, and there are only 23 equity funds trading at a premium. Of course, this list will change from day to day, but the point is that stock based CEFs haven't exactly gained from the rout in bond CEFs, and in many cases, we have even seen discounts widen for stock based CEFs.
This is confirmed in a screen shot of equity CEFs that I follow showing continued steep discounts in many of these funds.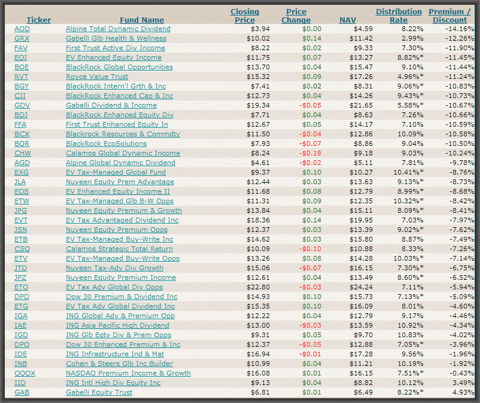 Of these funds, representing many of the largest and most popular equity CEFs available to investors, only two trade at premium valuations whereas double digit discounts are not uncommon among the stock based funds. Hardly a good example of the rotation out of bond funds to stock funds, wouldn't you agree?
So why is this? Why haven't there been more stock based CEFs moving to premium valuations or even just reducing their discounts? Well, frankly they should be, but many investors, it seems, don't really differentiate between high yielding CEFs in a rising interest rate environment and if they see their bond funds selling off, many may be just as apt to sell their equity funds too. It's hard to say whether individual investors, institutional investors or market makers are mostly responsible but my hunch is that any heavily leveraged investment firm or entity that uses margin or a carry trade strategy would be just as likely to sell high yielding equity based funds as fixed-income based funds when interest rates rise and as they unwind positions.
Another reason why fixed income CEFs may still seem rather rich in valuation compared to equity funds is because many fixed-income CEFs have seen their Net Asset Values (NAVs) drop as much as their market prices so funds which may have been at a premium valuation before may still be at a premium today.
On the other hand, many equity based CEFs have seen their NAVs hold up much better than their leveraged fixed-income counterparts but yet have seen their market prices drop as well. This tends to happen in a higher interest rate environment as all high yielding securities and sectors come under pressure, at least in their market prices.
This may not be fair, but it does give opportunities for those who are patient and looking for good entry points into equity based CEFs. Here are a few I like right now.
Equity CEF Recommendation #1
The Gabelli Healthcare & WellnessRX (NYSE:GRX) fund. With a NAV up 22.3% YTD and yet trading at a -13.1% discount, GRX is the most undervalued equity CEF by far in my opinion. I've been bullish on GRX for over a year now and the fund has been one of the best performing CEFs since I first wrote about it on February 1, 2012.
GRX is a 23% leveraged stock only fund invested in the healthcare, specialty food and consumer sectors, i.e. no bonds. GRX actually cut its discount to about -1.5% in May but the announcement of a rights offering on May 22 reversed the strong upward momentum the fund had and it has since dropped from about $11.25 to under $10 ($9.98 as of 7/9/13).
GRX is a small fund at only $128 million in common assets, hence why Gabelli wants to enlarge the fund by about $33 million by offering existing shareholders the rights to buy additional shares (three rights for one share) at an attractive $9, well below its $11.42 NAV and $9.98 market price. This would allow shareholders to keep a proportional interest in the fund after the rights offering, which is scheduled to expire on July 17th.
Frankly, no fund with the kind of NAV performance GRX has shown should be trading at a -13.1% discount. Though GRX does not have a large yield at "only" 4.1% compared to most CEFs, this is a fund you buy for appreciation first and yield second. It is almost comical how other funds can trade at premium valuations with NAVs that are negative on the year and yet here is a fund far outdistancing all of them trading at one of the widest discounts of any CEF, bond or equity. GRX may be volatile up until the rights offering is concluded, but I believe GRX will be reducing its discount once again soon after.
Equity CEF Recommendation #2
The Allianz Global Equity & Convertible Income fund (NYSE:NGZ). Allianz, along with its fund family partner PIMCO, offers a number of equity and bond CEFs that continue to show the widest valuation differences between their stock based CEFs and their fixed-income CEFs. NGZ is a good example of how an excellent equity based CEF has been all but ignored over the years while investors flocked to the PIMCO bond funds instead.
Now that there is a clear rotation out of bond funds towards equity funds, one would think that a fund like NGZ would be a clear beneficiary. However, based on its continued double digit discounted market price, this has not happened yet.
NGZ is another very small equity based CEF at only $110 million in assets. NGZ is different than GRX however in that NGZ uses an option income strategy instead of a leveraged strategy to generate enhanced income while offering a generous 8.5% market yield. NGZ includes about 18% of its portfolio in convertible stocks but mostly it's a global stock fund.
How solid has NGZ's NAV performance been over the years despite its wide discount? If you want to understand how insane investors are in CEFs, look no further than this comparison. NGZ went public on 9/26/2007, right before (and I mean right before) the bear market began. Yet despite that, NGZ has seen its inception NAV reduced from $23.83 to $15.75 today while paying a high quarterly distribution along the way. Adding back those quarterly distributions and NGZ's NAV would be $24.11 today. Though that may not sound great compared to say, the S&P 500, if you compare that to many international markets since the bear market, NGZ's positive NAV performance since inception is actually very good.
Let me compare those numbers with the PIMCO Global StocksPlus & Income fund (NYSE:PGP) which, despite its name, is really a heavily leveraged bond fund. PGP is one of the more popular PIMCO CEF funds and in fact trades at the largest premium of any CEF at 58.6%.
PGP went public on 5/31/2005, well before NGZ and well before the bear market began. Like NGZ, PGP also started with a $23.83 inception NAV, and yet despite starting over 2-years before NGZ, PGP's current NAV is only $13.85. Now PGP had a couple of large capital gain distributions at the end of 2007 and 2008 but the fact remains that from inception, both funds started with $23.83 NAVs and yet its NGZ which has a higher NAV by about $2 currently.
Here is where it gets crazy. Despite a significantly higher NAV and a fund that is mostly stock, NGZ trades at a market price almost $8 lower than PGP, at $14.13 vs. $21.96 for PGP. Are investors really saying that PGP, as a mostly bond fund, is really worth that much more than NGZ as a mostly stock fund? Heck, you can't even argue that PGP's yield at 10% is that much different than NGZ's at 8.5%. So who would rather own a leveraged bond fund at a 58.6% premium now when there is a stock based fund from the same fund family at a -10% discount? I would certainly consider a swap out of PGP into NGZ, particularly since PGP's heavy use of leverage and derivatives will make its NAV much more volatile than NGZ's. Oh, and how much more difficult will it be for PGP to support a 15.9% NAV yield vs. NGZ's 7.6% NAV yield going forward? A lot more difficult. It's just insane in my opinion but that's what can happen in the CEF universe. NGZ currently trades at $14.13.
Equity CEF Recommendation #3
OK...let's assume the fixed-income markets have seen most of the downside they are going to absorb as interest rates have already made a large move to the upside. Though I may not buy into that thesis, one could argue that the equity markets have come a long way and an investor may want equal exposure in both markets now. If that's the case, then why not look at an equity CEF that is about 50% in fixed income bonds and 50% in stock?
The Calamos Global Dynamic Income fund (NASDAQ:CHW) is a fund I have liked ever since it raised its distribution back in January of 2012 along with its sister fund, the Calamos Strategic Total Return fund (NASDAQ:CSQ).
I still like both funds, but CHW as a global fund I believe offers better upside now while giving investors equal exposure in both global stocks and mostly high yield corporate bonds. Both funds use leverage to enhance income and appreciation potential though leverage has hurt CHW so far in 2013 with both global stock and corporate bond sectors underperforming. As a result, CHW's NAV total return performance is up only 2.4% YTD, compared to 2012 when its NAV was up 17.04%. However, at a -10% discount and a 9% market yield paid monthly, CHW is once again attractive in my opinion. CHW currently trades at $8.28, down from its high of $9.20 reached just in May.
Equity CEF Recommendation #4
I'm going to go out on a limb and recommend a pure stock CEF that I have written negative about in the past but I find attractive now that the fund has gotten its distribution down to a more reasonable level and trades at a very wide -11.6% discount.
The BlackRock Global Opportunities Equity Trust (NYSE:BOE) has suffered a severe backlash after cutting its distribution twice over the past year but that is exactly what you look for in CEFs which have been thrown out by investors even though the fund is in a much better position to meet its distribution needs as well as grow its NAV now.
I've written a few times on BOE, the most recent was in May of 2012 which you can read here, Is BOE A Buy? I was mostly concerned about BOE's high NAV yield which was resulting in destructive Return of Capital (ROC) for the fund. Now ROC is common in option-income funds, but if you have too high a NAV yield, which I identify as over 12%, the result is often destructive ROC.
Historically, BOE has not had great NAV total return performance even though it has been a popular fund over the years, often trading at a premium valuation up until early 2011. BOE is also a very large fund for a CEF at over $1 billion in assets. With about 55% of its stock portfolio in overseas markets, mostly Europe, BOE has not been able to take advantage of the outperforming US markets like some other equity based CEFs, so this is partly a play on a better overseas markets as well.
BOE reminds me of the situation that the Eaton Vance option-income funds were in only a couple years ago when poor NAV performance and high NAV yields forced Eaton Vance to cut the distributions of their option-income funds to more manageable levels. With a NAV yield of only 8% now after two distribution cuts, BOE offers investors a pure stock portfolio with a windfall 9.1% market yield due to its wide -11.6% discount. I believe BOE, like many of the Eaton Vance option-income funds, will now show that it has turned the corner and will start showing better NAV and market price performance. BOE currently trades at $13.75.
Conclusion
CEFs can often be a confusing lot. Just when it's clear that a rotation out of fixed-income securities and into equity based securities is occurring in most other markets and sectors, CEFs can give you mixed signals.
But yet, this is what can be so advantageous about CEFs. Their market price moves are only subject to the whims and emotions of investors whereas their NAVs are only subject to the performance of their underlying holdings. In fact, whereas stock and bond mutual funds and ETFs can be subject to redemption demands resulting in forced position liquidations to meet such redemptions, CEFs are under no such obligation. If investors want to sell the fund, yes, the market price may go down but the fund managers are not forced to sell positions to meet such redemption demands.
Something to think about as equity CEFs continue to offer some of the most compelling buys in the markets today.
Disclosure: I am long GRX, NGZ, CHW, CSQ, BOE. I wrote this article myself, and it expresses my own opinions. I am not receiving compensation for it (other than from Seeking Alpha). I have no business relationship with any company whose stock is mentioned in this article.