As the summer kicks into high gear, earnings season is again upon us. Earnings season can be a great time to make or lose a lot of money, but it is also a crucial time for a company. It's not always just about the quarter's results or forward guidance. It also gives investors a chance to listen to management, which could be good or bad depending on what is said. As earnings season gets underway, I'm beginning to start a series of earnings previews. Today, I'll cover the five names I'm most interested in seeing report this time around. These five were chosen because I think these are crucial reports for each.
Intel (NASDAQ:INTC):
The chip giant is at a key point in what is supposed to be a turnaround year. When Intel reports its results on July 17th, we are expected to see another year over year decline in revenues. This will be the fourth straight quarter of declines, but it is expected to be the last. Everyone will be looking towards Q3 and full year guidance, where Intel is expected to show revenue growth. Current estimates for 2013 have Intel growing revenues by just $0.16 billion, or 0.3%. Intel guided on its Q1 report to low single digit percentage revenue growth for the year. At the moment, analysts barely expect any growth, so if Intel's Q2 is weak or Q3 forecast is below what analysts expect, Intel may need to cut its revenue forecast. This would be a signal that the PC market is weaker than many expect, which would really hurt Intel shares in the short term.
Intel is also expected to be a second half growth story for improving margins. Q1 margins came in at 56.17%, which missed the company's guidance for 58%. Intel also guided to Q2 gross margins of 58%. However, they did not cut their 60% gross margin forecast for the year, despite the Q1 miss. Intel believes they will make it all up in Q3 and Q4, and I have been skeptical of this given the Q1 miss. If Intel cannot meet its 58% goal in Q2, they might need to cut their yearly gross margin forecast. Their full year forecast is based on a very strong second half, and they've set a lofty goal.
It seems that analysts are starting to panic as well. Piper Jaffray came out with a negative note about a week ago, reiterating a $20 price target and "underperform" rating. Intel shares were around $24 then, meaning the firm was looking at roughly 17% of downside. On Monday, we got a downgrade from Evercore partnered with a negative note from Citi. About a month ago, Intel shares nearly hit $26.00 a share. This week, they are having a tough time holding $23.00. This Q2 report and forward guidance will have a lot to do with where Intel goes from here. Intel needs to show the second half story is still intact.
Intel shares are up about 14% so far in 2013, but this is a crucial time for the company. Intel has been trying to shake off weakness in the PC industry for over a year, and they are supposed to start showing some improvement. However, if Intel is still being pressured by a weak industry, they could be forced to cut their revenue and gross margin forecasts. Either one of these would be very negative, and I don't think the stock would be able to hold its gains if that happens.
Deckers Outdoor (NASDAQ:DECK):
The UGG maker has issued below-expected guidance for six straight quarters. Will this report be number seven, or will they finally provide some good numbers? A lot of this has to do with how the fall/winter selling season, Deckers' busiest time of the year, is shaping up. This quarterly report will determine whether Deckers makes a run back at its 52-week high around $60, or if it heads back into the $40s.
Last year, Deckers promised a big second half of the year. When they reported Q2 results, they then said Q3 would be bad, but not to worry, because they would have a huge Q4. They then took down Q4 guidance at the Q3 report, and Q4 revenues badly missed the lowered expectation. Deckers cannot do the same this year.
Q2 is Deckers' weakest quarter of the year, as this is a very seasonal business. It will be the lowest revenue quarter of the year, and the company will have a sizable loss in the quarter. But it is the guidance and management commentary for the next two quarters that is important, which is why this report is so crucial. After reaching a high of $60.25 in late April, shares lost 22.7% in the next two months. They've roughly halved those losses, but will need a solid report to hold these gains.
Google (NASDAQ:GOOG):
Google was in a transitional period as it completed its acquisition of Motorola Mobility. That acquisition, and the billion or so dollars in revenue that Motorola Mobility brought in per quarter, pushed up Google's overall revenue growth rate for a year. That year is now over. When Google reports results on July 18th, we will get the first set of results that include Motorola results from the year ago period.
Investors must realize that Google's growth, as shown on some websites, is not what it seems. Investors need to realize the difference between GAAP and non-GAAP numbers, as they can have a dramatic impact on how results are perceived. For instance, current estimates on Yahoo! Finance show analysts expecting $14.45 billion in Q2 revenues this year, 50.3% growth from the $9.61 billion they had last year. Well, last year's Q2 period had total GAAP revenues of $12.21 billion. Google's GAAP revenues include traffic acquisition costs ("TACs"), which totaled $2.60 billion. Thus, the Yahoo! number for the year ago period is the non-GAAP number. However, the current Yahoo! estimate for Q2 appears to be the GAAP number analysts are looking for. Remember, Q2 last year included $1.25 billion of Motorola revenues that didn't exist before that quarter. So it seems logical that analysts are really looking for about $2.24 billion in total revenue growth this quarter, as there is no billion plus growth from Motorola appearing. That's a true growth rate of 18.35%, not the 50.3% growth Yahoo! may show. The same logic can be applied to Q3 estimates as well.
Part of the reason why Google shares have rallied so much, as seen in the chart below, is because the Motorola acquisition boosted Google's growth rate at a time where Apple's (NASDAQ:AAPL) growth was starting to slow. With Google's growth slowing in prior years, the extra billion plus in revenues accelerated the revenue growth rate. But starting this quarter, current results will be compared to post-acquisition results. The Motorola segment did $1.25 billion in Q2 last year, so that will be the number to compare against. In the past four quarters, the comparison number was zero. When Apple's growth started slowing, the stock was really hit. Now it is time to see what happens to Google with its growth slowing. With the stock near all-time highs, expectations will be high, and Google must deliver.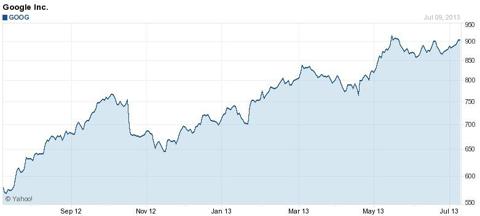 (Source: Yahoo! Finance)
First Solar (NASDAQ:FSLR):
After aggressive yearly guidance sent shares of the solar giant from $27 to $59, the company took advantage of the rise to raise some cash. Now comes the hard part for the company, as results need to justify the rise in shares. First Solar needs to meet that aggressive guidance, because shareholders are facing 11% dilution, which means you really need to cut your earnings estimates. Analysts are starting to do that, as 2013 yearly estimates have come down by a dime to $4.13 over the past two months.
This is also a very seasonal business, which leads to increased volatility for quarterly results. In the second quarter, revenues are expected to plunge by 23.3% over the year ago period. For the third quarter, analysts are looking for 31.8% growth over the year ago period. From quarter to quarter, these results bounce around, which leads to increased volatility in the stock as well. Holding everything else constant, First Solar will most likely need to cut its guidance thanks to the increased amount of shares. That could worry some investors, which is why this company needs to meet the original goals it set (when adjusting for dilution).
Dendreon (NASDAQ:DNDN):
The biotech firm behind the prostate cancer treatment Provenge needs a rebound quarter after last quarter's train wreck. Dendreon's Q1 revenues came in at $67.6 million, badly missing estimates for more than $80 million. Dendreon blamed the huge shortfall on increased competition, something they need to figure out this quarter.
Dendreon has not become profitable yet, and is burning through cash each quarter. Over the past two years (end of Q1 value), Dendreon's cash and investments balance has plunged from $779 million to $337 million. Their debt (liabilities to assets) ratio has skyrocketed from 53.44% to 105.62%. Dendreon believes that they can be cash flow positive when they hit the $100 million quarterly mark in US revenues. However, Q2 revenues are only expected to be in the mid $70 million range. Current analyst estimates do not have them meeting this target in 2013, meaning at least three more quarters of cash burn.
Dendreon is undergoing a massive restructuring plan that is expected to help results going forward, with a fair share of improvement coming in Q3. This will help reduce net losses, which should also improve cash flow. If this happens, the company will not burn through as much cash each quarter. However, if the company's revenues do not materialize as planned and expenses remain elevated, Dendreon's balance sheet will continue to weaken. With the company already having more liabilities than assets, I cannot see how this company would be able to issue any more debt. That means that any funds the company would need to raise have to come through equity. Dendreon's market cap is about $680 million, meaning any equity raise would involve significant dilution.
Dendreon shares traded for more than $50 in 2010 on the hopes that Provenge would bring in billions in revenues and make this company profitable. Revenues have continued to disappoint, and Dendreon has not become profitable yet, which is why shares now trade for less than $5.00. Q1 was an absolute train wreck for the company, thanks to competition. Dendreon needs to prove in this crucial Q2 that Provenge is still on track, or shares will fall even further.
Final Thoughts:
These five names all have crucial earnings reports this quarter in my opinion. Intel needs to show that its second half growth story is on track, while Deckers needs to show that the UGG line is setting up nicely this fall. Google needs to keep its revenue growth going, which will slow down now that we have Motorola comparable quarters. First Solar needs to prove that its capital raise and 11% dilution was worth it to shareholders after setting an aggressive target for the year. Dendreon needs to rebound from a terrible Q1 and not burn through as much cash. Over the next month or so, we should know how all of these names have fared.
Disclosure: I have no positions in any stocks mentioned, and no plans to initiate any positions within the next 72 hours. I wrote this article myself, and it expresses my own opinions. I am not receiving compensation for it (other than from Seeking Alpha). I have no business relationship with any company whose stock is mentioned in this article.
Additional disclosure: Investors are always reminded that before making any investment, you should do your own proper due diligence on any name directly or indirectly mentioned in this article. Investors should also consider seeking advice from a broker or financial adviser before making any investment decisions. Any material in this article should be considered general information, and not relied on as a formal investment recommendation.