Ranked as America's 13th Best Small Company by Forbes, Air Methods (NASDAQ:AIRM) is the largest provider of air medical transportation services in the U.S. In 2012 alone, the company transported 114,000 patients in 42 states. The company operates with two models: it owns the program and provides all services, including medical, to hospital owned programs, while Air Methods also provides aviation services to hospitals as a vendor.
The company has a market capitalization of $1.4 billion and is considered a market leader in providing air transportation for medical purposes. Actually, the 2012 year was a very successful year for the company as it racked up an increase of 28% in total revenue, 100% in net income, and a 97.5% increase in diluted income per share.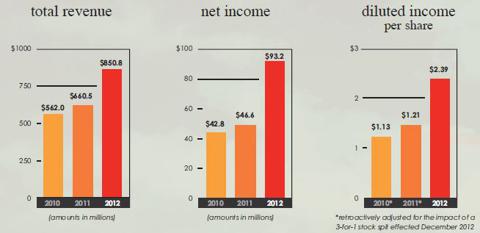 Source: Air Methods Annual Report
This small-cap wonder has been moving along nicely on the stock market for the last 5 years. So much so that I am amazed at how it has gone completely unnoticed on Seeking Alpha. The price chart below shows the mercurial rise in value that has been associated with this stock over the last five years. Numerically, in that period, the stock has appreciated by a staggering 317.6%. For Q1 2013 though, the company's financial results have been disappointing and so has its stock's performance. A steep dip in the stock price at the 2013 point on the chart backs up my claim. The company's CEO Aaron D. Todd blamed bad weather and a weaker pay mix as reasons for a weak first quarter. So how will this stock flip its fortunes around: Obamacare and good weather.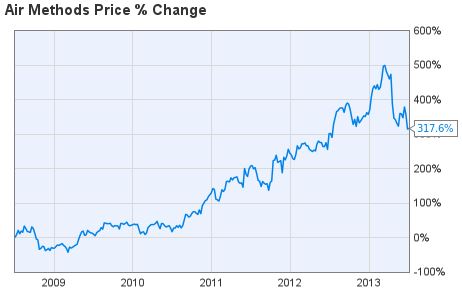 Tracking Financials
At the forefront of concerns in financing for Air Method is paying off its aircraft leases, reducing depreciation and interest expenses, and thus allowing for a more productive use of revenues. There are $53 million of aircraft leases for 2013 while $108 million of lease buyouts have already been finished in the current year. Furthermore, this will allow the company to rethink its cash dividends and stock buybacks in order to enhance shareholder value. Favorable liquidity measures such as the current ratio and quick ratio also provide a solid outlook for the company. There is one problem though - the debt/equity ratio that has been inflating over the years and currently stands at 2.0.
While it is obvious that helicopters like American Eurocopter and Bell Helicopter do not come cheap, it is important to keep the debt/equity measure low to ensure favorable interest rates and to avoid making debt servicing the primary goal of operations.
Air Methods vs. the Rest
Air Methods is in a niche category of medical services. Its peers are UnitedHealth Group (NYSE:UNH) and Express Scripts (NASDAQ:ESRX). While these competitors are much bigger in size, as their market capitalizations of above $69 billion and $52 billion, respectively, suggest, they provide the perfect competition for Air Methods on the stock market.
Below are graphs of the three companies over different time periods, which help put the company's relative performance in perspective.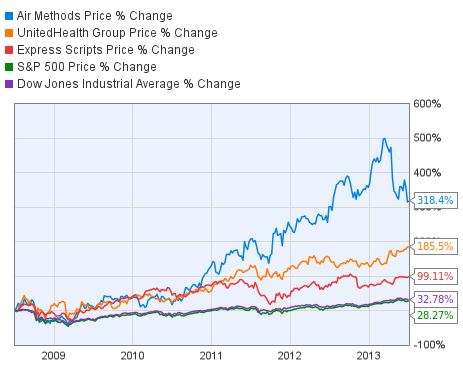 Compared to the S&P 500 and the Dow Jones Industrial Average, Air Methods has been outperforming the market since 2009. Contrary to the performance of its competitors and the market average rate of appreciation, Air Methods investors have struck gold over the past 5 years due to the 318.4% appreciation of the stock value. UNH and ESRX are also rewarding stocks to hold - UNH more than AIRM or ESRX since it pays a dividend. Essentially, all three of these medical service providers are growth stocks as they have outperformed the market by almost 100%. The latest steep decline in prices came after Air Methods published quarterly results that failed to meet analyst expectations and caused a loss per share worth $0.15.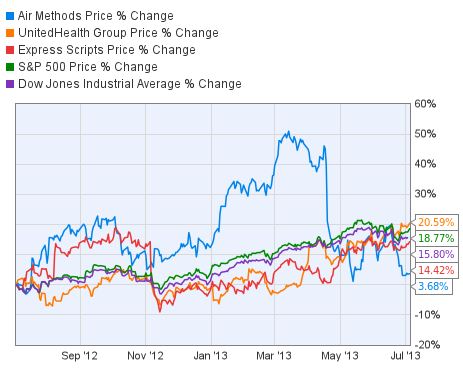 For the previous 12 months, Air Methods had been doing exceptionally well until the first quarter reports were released.
Indicator

Market Cap

$1.4 bil

$69.3 bil

$52.2 bil

Price/Earnings ttm

53.2

13.2

36.4

Price/Book

4.5

2.2

2.2

Net Income Growth (3 Yr Avg.)

51.3

13.1

16.6

Revenue Growth

(3 Yr Avg.)

18.3

8.3

56.0

Dividend Yield, %

-

1.35

-

Return on Equity

25.0

17.6

10.8

Current Price

$36.19

$67.97

$63.82
Data from Morningstar on July 10, 2013
After almost three years of successful results and trading on the stock market, one quarter has changed the company's performance picture altogether. This does, however, provide a great opportunity for people to buy into this stock. Air Methods has a P/E value of 53.2, far above the industry average of 21.3, suggesting that perhaps it would be wiser to keep this option on the backburner until August or September, when Q2 reports are expected to be released. The company's problems are not long-term but short-term as suggested by its CEO. In order to find the best break in point, I would suggest investors to be prudent rather than bold.
What does the future hold?
With its fleet of 400 aircraft, AIRM serves more than 98,000 patients each year in 42 states. The impending Patient Protection and Affordable Care Act will prove to be very helpful for Air Methods. The act mandates that all Americans maintain a minimum level of healthcare coverage which introduces the idea of a nationalized insurance. Today, roughly 12% to 13% of transported patients do not have insurance coverage, from which the company collects very little. As individuals gain more insurance coverage, the company will then be paid according to the insured transport rates which are significantly higher than uninsured transport rates. The difference in collections between an insured patient and an uninsured one is approximately $17,000. Therefore, a 1% mix increase from self-pay to insurance adds approximately $0.44 in EPS for Air Methods. This should allow the company's earnings to expand continuously in the upcoming years.
Seeing how badly the weather can affect operations of the company, investors would be wise to keep an eye on the forecast. The short-term and long-term weather forecasts for 2013 suggest that it will remain neutral and less erratic. La Nina and El Nino patterns are not expected to appear in this year around - the major contributors to extreme weather conditions. Assuming that weather remains stable for the current quarter, Air Methods is expected to post a strong result that will allow it to regain some of the lost investor confidence.
Make or Break for Investors
The company has strong results for patient collections that have brought criticism from customers. From a financial perspective, it will aid the company's growth. All things considered, Air Methods provides a good entry point, solid financials and growth potential for the remainder of 2013. A high P/E is indeed a concern. Furthermore, being prudent and waiting for the stock to lose more value over this month can also be a viable option before buying into the stock.
There is no doubt in my mind about the growth potential of Air Methods stock - the five-year price appreciation is obvious. Five years from now, I see this stock appreciating by more than a 100% again. Q1 2013 results were a short-term glitch and I expect this company to return to its profitable ways soon. If you are long on AIRM, go longer.
Choosing the time is a personal decision and it can be anywhere from right now till the announcement of next quarter's results.
Final Verdict
If you don't own this stock, then owning it is definitely going to reward you in the future. Air Methods is a gamble, and it is a buy.
Disclosure: I have no positions in any stocks mentioned, and no plans to initiate any positions within the next 72 hours. I wrote this article myself, and it expresses my own opinions. I am not receiving compensation for it (other than from Seeking Alpha). I have no business relationship with any company whose stock is mentioned in this article.