Over the last several years, many investors have been favoring large blue chip dividend paying companies that offer solid returns and steady income. The thinking is that these stalwart stocks have proven business models that will weather recessionary forces much better than smaller companies. However if you have been eschewing small-cap stocks for large or mid-cap companies, you have likely been leaving money on the table.
One of the reasons that small-cap stocks are so attractive is that many times they go unnoticed by the broader public. This lack of coverage can create a disconnect between their fundamentals and stock price, which can be exploited by investors who realize the value in their business models. In addition, smaller companies are often able to switch directions and adapt to changes in the economy, leadership, products, and consumer demand faster than larger companies. Think of the difference between trying to turn an aircraft carrier and a speedboat.
Lastly, small companies are excellent takeover targets for larger companies that are looking to incorporate new technologies or services into their infrastructure. This can create a great deal of value for shareholders in the smaller company, as most purchases typically involve a hefty premium to the current share price.
One of my favorite ETFs for tracking the small cap universe is the iShares Core S&P Small Cap ETF (NYSEARCA:IJR) which tracks 600 companies with market capitalizations less than $2 billion. The fund currently has over $10 billion in assets and charges an annual expense ratio of just 0.16%.
While small-cap companies tend to be more volatile during times of equity corrections, they can also be market leaders during strong up-trends. That is exactly what we have been witnessing since the beginning of the year. If you look at a comparison chart below of the SPDR S&P 500 ETF (NYSEARCA:SPY) vs. the iShares Core S&P Small Cap ETF, you can see that IJR has outperformed by over 4.5% so far in 2013.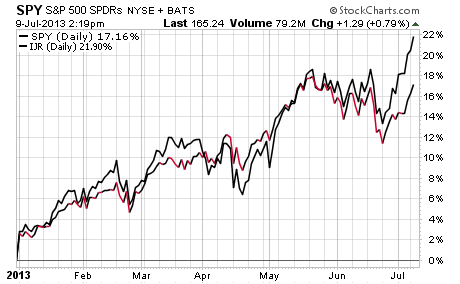 This breakaway in IJR has really been most prevalent in just the last several weeks when stocks bottomed in June and resumed their uptrend. This small cap ETF is now sitting at new all-time highs and has maintained solid upward momentum.
Another area of the market where small cap stocks have starkly outperformed are in emerging markets. Year-to-date the SPDR S&P Emerging Markets Small Cap (NYSEARCA:EWX) has handily beaten the iShares MSCI Emerging Markets ETF (NYSEARCA:EEM) by 8%, although both funds are currently still sitting in negative territory for 2013.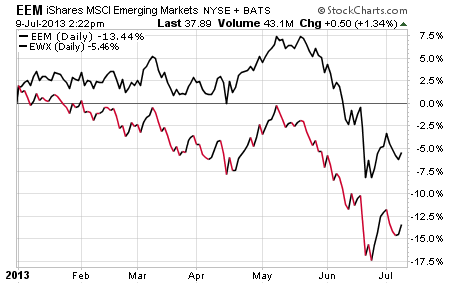 One of the reasons that EWX has outperformed EEM is because of its overweight exposure to Taiwan, which is one of the few emerging market countries that has not nosedived this year.
While I am not currently advocating that you jump into small-cap stocks on their highs, I believe that they should be on your watch list for future buying opportunities. I think that this market segment will continue to offer growth investors an excellent boost to their portfolios in the years to come for both domestic and international exposure. The key will be successfully entering new positions on a pull back to maximize your chances for success.
Disclosure: I have no positions in any stocks mentioned, and no plans to initiate any positions within the next 72 hours. I wrote this article myself, and it expresses my own opinions. I am not receiving compensation for it. I have no business relationship with any company whose stock is mentioned in this article.
Disclaimer: David Fabian, Fabian Capital Management, and/or its clients may hold positions in the ETFs and mutual funds mentioned above. The commentary does not constitute individualized investment advice. The opinions offered herein are not personalized recommendations to buy, sell or hold securities.