Nokia's (NYSE:NOK) Lumia range of phones is showing some excellent signs of high customer satisfaction levels, regularly beating Apple's (NASDAQ:AAPL) iPhone and the Samsung (OTC:SSNLF) Galaxy in many separate samples. These results are actually even better than they seem at first glance, because of the relative newness of the Lumia range and Microsoft's (NASDAQ:MSFT) Windows Phone 8. In this article, I run through some key market research findings and just why they're such a positive development for Nokia.
Verizon's (NYSE:VZ) Lumia 928 users love the phone
Verizon, rather like Amazon, allows customers to write their own reviews for the phones they purchase. While there is always a danger of sock puppet (fraudulent) reviews, I think the sheer number of reviews combined with the fact that these are registered Verizon users reduces this risk considerably. So let's take a look at their perception of the iPhone 5, Samsung Galaxy S4 and Lumia 928.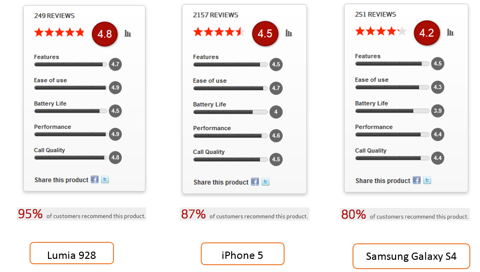 Source: Verizon website - Lumia 928, iPhone 5, Samsung Galaxy S4
These reviews are a fantastic result for Nokia. In a previous article, I pointed out that by my estimates, the previously launched Verizon Lumia 822 had sold more phones than the AT&T (NYSE:T) Lumia 920, despite receiving considerably less media attention. I believe this was due to Verizon pushing the phone with its considerable clout across all its sales channels. Verizon appears to have built on the success of the Lumia 822 and generated 2-3 times more search-traffic interest for the Lumia 928, which combined with stellar customer satisfaction levels, is likely to make it sell many more phones than the previous Verizon Lumia 822.

Source: Google Trends
There needs to be a brief note of caution here, however. While the Lumia 928 has received approximately the same amount of reviews on Verizon as the Samsung Galaxy S4, this does not mean it has necessarily sold a similar amount. In fact, I think it has probably sold less. The next market research report will help explain why, and why this is actually beneficial to Nokia in the long term.
Amplified Analytics shows very high Social Media Engagement levels by WP owners

With Nokia accounting for around 80% of all WP sales, I think it is safe to assume a strong correlation with the results for "Windows" in the above table with Nokia. What I love about this table is that it uniquely compares the amount of social media activity with sales' shares. From December 2011 to December 2012, WP went from an already outsized share of social media activity to a massive 14.1% share on the back of selling "just" 4.1% of phones.
Even better, these customers are very enthused with WP recording much higher satisfaction levels (1.56) than for iOS (1.24). The scale of this difference can best be seen by this chart.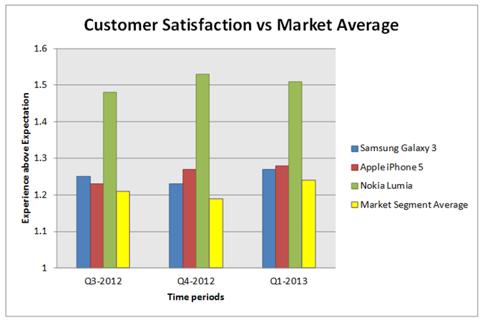 Source: Amplified Analytics via Seeking Alpha reader Colorado
Going back to the number of Verizon reviews, this makes it very likely that Lumia owners are more likely to write on their experiences with Nokia than owners of Samsung or Apple. As these experiences are highly positive, this represents free marketing for Nokia which will likely result in increased sales further down the line.
I also think that it is not too far a stretch to assume that these Nokia users who are socially engaged online, are also likely to be providing positive feedback to their friends and family, which is still the most important source of influencing purchasing decisions. They are also likely to be particularly influential being the early innovators in the technology life cycle.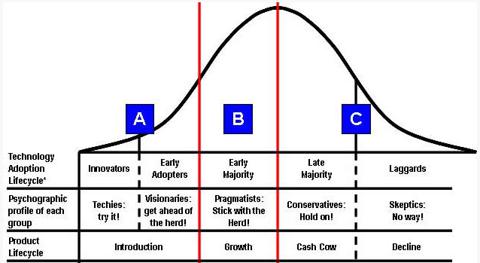 Source: Crossing the Chasm by G.A. Moore
It is their "pioneering" of new technologies and products, which ultimately decides if products succeed or fail. If they are positive about the Lumia range (which they appear to be), Nokia's future growth rates are much more likely to be positive.
It gets even better
Naturally, consumers do not just purchase solitary smartphones. They make regular purchasing decisions deciding whether to stay with the same phone brand, ecosystem and carrier. While unfortunately I haven't come across satisfactory studies on the rate of smartphone device turnover, I think with the advent of 2-year phone contracts, it can be assumed that owners change their devices around this mark.
With this in mind, let's take a look at Nokia's existing sales of its Lumia range.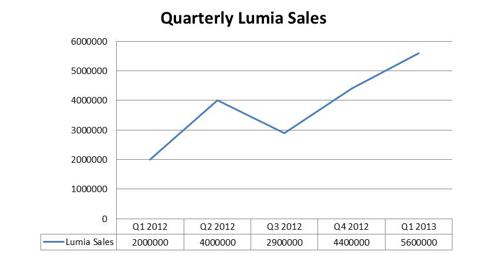 Source: Nokia Company Reports
Again, I have not found satisfactory data on the retention rates of Nokia Lumia users. What we do know however is that 91% of iPhone owners plan to buy another iPhone and 76% of Android users intend to stay loyal to Google. I believe that reflecting Nokia's high customer satisfaction rates, that it is likely that Nokia users will be particularly loyal and more like iPhone users than Android's in their loyalty rates.
To put it simply, this means that as Nokia sells more units, it will have a rising base of repeat customers who will continue to contribute to Nokia's bottom line. So for example, perhaps 1.8 million of 1Q2012's Lumia users will purchase further Nokia products, 3.6 million of 2Q2012 and so forth. Adding on top the considerable new users coming to the platform (over 60% according to Microsoft), this can only be good news for Nokia shareholders.
Final Thoughts
It must be noted that not all customer satisfaction surveys rank Nokia first such as this one here, but place it around second depending on methodology used. I do not think these fundamentally contradict my findings. It appears that Nokia's advertising is working, it is recording high customer satisfaction levels and it will retain the vast majority of its new customers. All the more reason for it to not sell its Devices & Services Division, a risk that may occur which I discussed in my last article.
I would kindly ask interested readers to be on the lookout for Nokia's retention rates. With the company's relatively modest sales levels compared with Apple and Samsung, these have tended not to be monitored. However, I believe this will change shortly. If we see high retention levels, it will mean that its stellar customer satisfaction levels have had a very positive effect on Nokia's bottom line and help ensure Windows Phone establishes itself as a major player.
Disclaimer: This article is not an investment recommendation. Any analysis presented in this article is illustrative in nature, is based on an incomplete set of information and has limitations to its accuracy, and is not meant to be relied upon for investment decisions. Please consult a qualified investment advisor. The information upon which this material is based was obtained from sources believed to be reliable, but has not been independently verified. Therefore, the author cannot guarantee its accuracy. Any opinions or estimates constitute the author's best judgment as of the date of publication, and are subject to change without notice.
Disclosure: I am long NOK. I may reduce my position between 10th July-17th July preceding the 2Q2013 earnings report. I wrote this article myself, and it expresses my own opinions. I am not receiving compensation for it (other than from Seeking Alpha). I have no business relationship with any company whose stock is mentioned in this article.