Evaluating the risk-to-reward ratio is one key tenant to becoming a successful investor. Investors who are able to limit risk while increasing the chances of reaping rewards usually make money in the long run. Investing in small cap biotechs can be risky, but with thorough and careful due diligence it can be one of the most rewarding sectors to trade in. As biotech investors, we find that cancer therapies are some of the toughest to invest in but some of the most rewarding when picked properly. Companies that specialize in cancer treatments are some of the most popular to invest in because treatments in oncology can generate large profits and attract philanthropist investors.
Astex Pharmaceuticals (ASTX) is one company that we believe has a great risk-to-reward ratio and a strong chance to produce large rewards for investors. Astex engages in the discovery and development of small molecule therapeutics for oncology and hematology. Astex currently markets Dacogen (decitabine), which is only one of two cancer drugs using hypomethlyating agents or DNA methyltransferase inhibitors. It is currently approved to treat Myelodyplastic Syndrome (MDS) in the United States and used in the European Union for the treatment of elderly patients with de novo or secondary acute myeloid leukemia (AML) who do not qualify for standard induction therapy. Dacogen has been approved since 2006 and has been prescribed on the open market for seven years. Just recently, Dacogen lost market exclusivity, but Astex is working on developing an improved version of Dacogen called SGI-110. SGI-110 is a chemically tweaked form of Dacogen that should have a better delivery method and be more efficient. Since SGI-110 is a similar form of Dacogen, we expect that the company has a great chance to produce positive data.
The Next-Generation of Dacogen: SGI-110
As mentioned earlier, SGI-110 is basically an improved version of Dacogen that is delivered subcutaneously with the intent to create an overall increased pharmacokinetic profile. Additionally SGI-110 should have a much better safety and tolerability profile in patients. In the laboratory, chemists bound decitabine with a chemically modified version of itself, creating a pro-drug. Pro-drugs are often designed to improve oral bioavailability in cases where a drug is poorly absorbed through the gastrointestinal tract. A pro-drug may also be used to improve how a drug interacts with cells or processes that are not its intended target. This reduces the adverse effects, especially important in treatments like chemotherapy. The new formulation of Dacogen (SGI-110) is essentially intended to prolong active free drug (decitabine) in the blood for a much longer amount of time, so that it is more effective against leukemia and MDS cells. Here is a video of a doctor and scientist at the Arizona Mayo clinic giving a detailed explanation of how SGI-110 is intended to work.
SGI-110 has shown promise in early clinical trials. Impressive SGI-110 Phase I results studying 78 AML and MDS patients were announced at the American Society of Hematology ((NYSE:ASH)) in December. This was cited in the data release:
The PK profile of subcutaneous SGI-110 demonstrated a longer therapeutic exposure window to decitabine of at least 8 hours, which is more than double the reported exposure achieved by Dacogen intravenous infusion (DAC IV), and a longer decitabine half-life (1.5-2.5 hours) which is up to 4-fold longer than that of DAC IV.
In the same data release Dr. Hagop Kantarjian stated:
This is the only new hypomethylating agent now in advanced clinical development, and we are excited by the differentiated PK profile and the favorable safety profile so far in this study. We are looking forward to the results of the Phase 2 dose expansion part of the trial that is now ongoing.
Subcutaneous SGI-110 has lead to quite a drastic increase in the half-life of the drug in the blood. Just as important, the treatment was well tolerated with very few side effects. These are very positive results from the first round of clinical trials and shows promise in demonstrating significant improvement over Dacogen.
We anticipate SGI-110 data from a randomized Phase II study of the drug in MDS and AML patients to be announced at the end of the year. Data presentation will be made at the European Society for Medical Oncology (ESMO) in late September and at the American Society of Hematology conference in December. In an April 10 press release the company stated:
The company also announced that the ongoing clinical phase 2 expansion study (Part B of Study SGI-110-01) in patients with myelodysplastic syndromes and acute myeloid leukemia (AML) has been expanded to approximately 200 patients by including an additional cohort of relapsed/refractory MDS patients to the ongoing three other cohorts (front-line MDS; front-line elderly AML; and relapsed/refractory AML). The phase 2 expansion trial has already enrolled more than half of the patients needed to complete the study. While data were not mature enough for presentation at the upcoming American Society of Clinical Oncology (OTC:ASCO) meeting, more mature data presentations will be submitted to other scientific conferences. The trial is still on track to submit data from the relapsed/refractory AML cohort in the phase 2 expansion study to the American Society of Hematology meeting for presentation in December this year.
These trials will evaluate SG-110 in several ways. The efficacy, safety and clinical benefit to patients will be determined by the second part of the study. The Expansion Part (Part B) will have a primary objective of estimating overall response rates in four patient cohorts: relapsed/refractory AML, relapsed-refractory MDS, front-line elderly AML not suitable for induction chemotherapy, and front-line MDS. Secondary objectives include estimating the incidence and severity of adverse events, duration of response, overall survival, and the correlation of demethylation, genetic and pharmacologic biomarkers.
It is also very important to mention that there were two AML patients that achieved complete responses, or complete remissions of their cancers. This is very encouraging that AML patients seem to be responding to the therapy, since neither Dacogen nor its competitor Vidaza (azacitidine) are approved for this indication (even though they are both used for off-label treatment of AML). All this is very encouraging for SGI-110 and bodes well for the chances of Phase II data being very good.
Astex also recently stated that updated clinical data from the dose escalation part of the study will be announced at an oral presentation at ESMO on September 28th, providing yet another catalyst for the stock within the next several months. With anticipation of such important Phase II data, interest in Astex should start to increase from here.
After reaching almost $7 a share in the last few days of April, the stock started to sell off. This selloff occurred because Dacogen lost orphan drug exclusivity in May and bulls feared generic forms of the drug will enter the market. The stock subsequently sold off to $4 in the weeks to follow, which was a bit drastic for a number of reasons.
A similar situation occurred with Dacogen's main competitor Vizada. Celgene's (CELG) Vidaza directly competes with Dacogen and lost exclusivity in May of 2011. Instead of seeing a decrease in Vidaza sales and revenues, we saw just the opposite. Revenues increased 32% in 2011 to $705 million, and almost 17% in 2012 to $823 million. It has been two years since market exclusivity has ended for Vidaza and there is still no generic form on the market. It is likely that Dacogen will be in a very similar situation with competing generics.
Both of Dacogen and Vidaza are hypomethylating agents, and are the only two on the market. They are fairly new types of drugs and most importantly are very hard to copy and manufacture. This makes it difficult and expensive for companies to make a generic form. This should leave Astex with a steady revenue stream in the short term and enough cash to develop other products in the pipeline. Generic Dacogen is not expected to be available on the market until the end 2014 or later. Astex also has a shot at other revenue sources in short term, with the recent approval of Dacogen for AML in the EU last September. Even though the market for AML is fairly small at around $250 million, it's a rapidly growing market with some analysts estimating an increase to about $1.6 billion by 2020.
If SGI-110 receives approval, it could be a blockbuster for just AML alone because it would be the first approved drug for that indication in the US. It is difficult to predict approvals and events that may or may not occur so far down the road in biotechnology, but for the long term investor these are all possible positives. SGI-110 could expect a PDUFA by early 2015 if Phase II and III trials went well. It is also very likely that SGI-110 could be worth a lot more than Dacogen if approved. In 2012, the MDS market was valued at an estimated $810 million, growing at a compound annual growth rate of about 12%.
Safety and how much toxicity a drug can create within the human body has become one of the most important deciding factors on whether a cancer therapy makes it to market or not. The Federal Drug Administration (FDA) may evaluate cancer therapies on the overall survival of patients and progression-free survival of the disease, but safety is also a major determining factor of a cancer therapy's success. For this reason, we tend to like investing in therapies that have been pre-approved by the FDA or the European Medicines Agency (EMA) for other indications. In the case of Astex Pharmaceuticals, Dacogen approval and success leads us to believe that SGI-110 would have a greater chance of approval due to its similar chemical structure. Since the company has already been through an approval process for a similar drug, it gives investors confidence in the chances of success once again.
Astex is also partnered with numerous large cap biotech companies, which shows that those companies believe in the potential of the Astex pipeline. Currently, Dacogen is partnered with Jannsen, a subsidiary of Johnson & Johnson (NYSE:JNJ). Other notable partners include Novartis (NYSE:NVS) for Amuvatinib and LEE011, AstraZeneca (NYSE:AZN) for AZD5363 and GalaxoSmithKline (NYSE:GSK) for several other programs.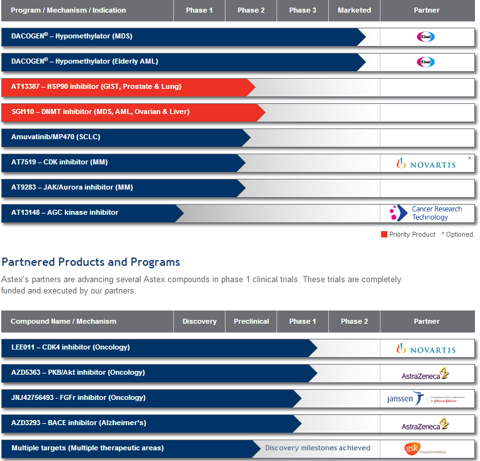 From the chart above, we can see that Astex is partnered with several impressive names. Being partnered with big pharmas for several different products in the pipeline shows that "smart money" has a vested interest in Astex.
Balance Sheet

Total Cash (mrq):

136.94M

Total Cash Per Share (mrq):

1.75

Total Debt (mrq):

0.00

Total Debt/Equity (mrq):

N/A

Current Ratio (mrq):

5.05

Book Value Per Share (mrq):

1.51
From above, we can see that Astex has about $130 million in cash. Dacogen revenues for the fiscal year of 2012 amounted to $71 million in royalty revenue for Astex. This leaves very little possible downside in the cost per share, taking into consideration that Dacogen revenues should hold steady (near term), keeping the company cash positive with almost no chance of dilution.
For the short term, the stock is undervalued at $4.50 price per share. Analyst consensus for the stock seems to be in the $7 range and RBC capital has recently put a $9 price target on the stock. Astex should be able to retest the $7 level on positive SGI-110 data. SGI-110 is not yet partnered with another company, but has a great chance to receive a partnership through its relationships with other big pharmas. The stock has approximately 46% institutional ownership, with some big time players owning the stock including Orbimed, Barclays, Vanguard and Goldman Sachs. With a strong cash position and many catalysts pending, Astex makes for an opportune investment.
Disclosure: I am long ASTX. I wrote this article myself, and it expresses my own opinions. I am not receiving compensation for it. I have no business relationship with any company whose stock is mentioned in this article.
Additional disclosure: Written by Kyle Dennis, research assistant/writer at stockmatusow.com. Mr. Dennis has a long position in Astex Pharma. Disclaimer: This article is intended for informational and entertainment use only, and should not be construed as professional investment advice. They are my opinions only. Trading stocks is risky - always be sure to know and understand your risk tolerance. You can incur substantial financial losses in any trade or investment. Always do your own due diligence before buying and selling any stock, and/or consult with a licensed financial adviser.