Even though AAR Corp.'s (AIR) earnings per share over the last 12 months have been declining, it looks like the fiscal fourth quarter will be the period it starts to turn around. If the company does reverse its earnings it should do very well because of its solid valuation levels, decent debt load, strong financial position and healthy cash flow. Combined it should continue to push the share price of the company up.
AAR Corp., which provides products and services to aviation, government and defense markets around the world, has soared over the last 12 months, climbing from $13.67 on July 9, 2012, to over $23.00 per share on July 8, 2013, a gain of just under 69 percent.
Hedge funds are part of the reason for the jump in share price, especially over the last several months. From April 18, when it was trading at $16.47 per share, AAR has been steadily climbing without much of a breather. This interest appears to be from the strong guidance given by AAR Corp. in the fiscal third quarter earnings report, where it stated margins are expected to improve, with revenue and earnings expected to jump as well.
With margins expanding and organic growth projected to continue to rise, it looks like AAR has positioned itself to perform well in the near and long term. Any surprise on the positive side could push the share price up as much as 20 percent in the short term. On the other hand, since the share price has been climbing quickly, any negative surprises would result in the share price facing just as much downside risk.
With the strong yearly and fiscal third-quarter performance, it now needs to be determined whether AAR Corp. is ready to pull back or is going to continue to fly going forward.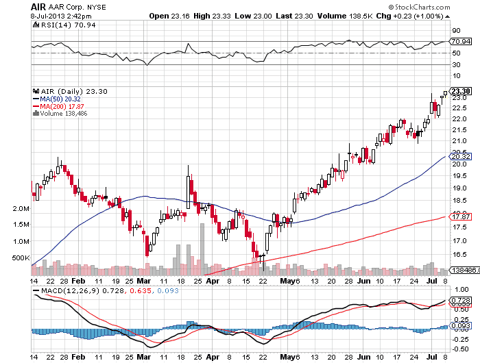 source:StockCharts.com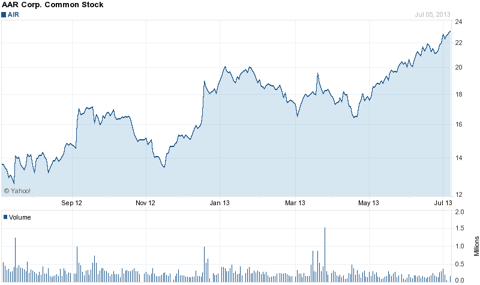 source:Yahoo
Latest Earnings Report
In the fiscal third quarter of 2013, AAR Corp. generated $520 million in consolidated revenue, down 2.6 percent from last year in the same quarter because of a drop in sales from the government and defense industries. With commercial business expected to remain strong, any improvement in winning government contracts will be a significant catalyst for the company.
Earnings per share was $0.46, up from $0.41 after adjusting for a $0.09 tax benefit last year. Improving margins should generate better earnings in the quarters ahead, adding further support to the stock.
Cash from operations for the quarter was $27.5 million, with capital expenditures of $4.8 million. Net operating cash flow year-over-year generated a gain of 104.73 percent. For the first three quarters free cash flow stood at $75 million and cash from operations at $87.8 million.
The largest unit of the company is the Aviation Services division, which boosted sales in the quarter to $408 million, a 9 percent gain. All of that growth was organic. Gross profit for the unit in the quarter was 14.5 percent. After taking into account inventory losses it jumped to 16.7 percent. Year-over-year profit was about the same, although sequentially it was down. The reason for the sequential drop was largely from lower MRO margins as a result of new work brought in by the company. Margins in the fourth quarter are expected to improve in this segment.
Income Statement
source:Ycharts

Cash Flow Statement
source:Ycharts

For the Technology Products division sales were down because of weakness in its Mobility Products segment and timing of sales in its Cargo System unit. Revenue dropped 30 percent to $112 million. Gross margin for the division in the third quarter was 15.4 percent. The margin is guided to improve in the fiscal fourth quarter, with the Cargo System sales being included in the quarterly results. The inclusion of the Cargo System sales in the next quarter's numbers could be a significant driver of the share price when added to the overall performance of AAR.
Total cash in the most recent quarter was $108.50 million, with total debt (mrq) of $722.80 million. Total debt to equity was 78.17 for the reporting period.
Operating cash flow (TTM) was $163.82 million with levered free cash flow of $123.97 million. This signifies strong operational strength and ability to finance growth.
Overall operating margins were 7.2 percent, up from 6.7 percent year-over-year.
AAR slashed net debt by $86.00 million since February 2012, resulting in savings of about $7 million in annual interest costs. Since February the firm has acquired 620,000 shares of its stock on the open market for $8.4 million. The company says it will continue to work on generating cash flow and cutting back on debt. It has a goal of its free cash flow being at least level with its net income. It's on pace to surpass that goal this fiscal year.
Stronger cash flow and shrinking debt levels will improve the balance sheet and make the company even more attractive long term.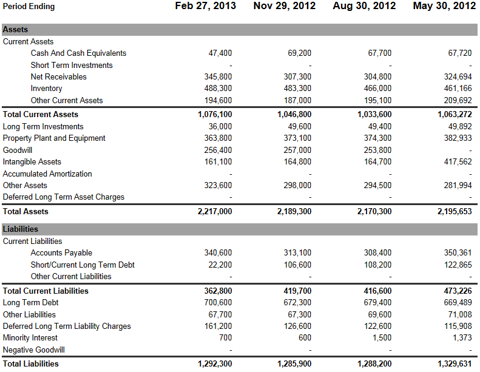 source:Yahoo
Hedge Fund Interest
At the end of the first fiscal quarter a significant number of hedge funds held positions in AAR Corp. As mentioned earlier, this type of interest will move the share price of a company one way or the other. That is evidenced in this case by the big upward move since April 2013, signifying the bullish outlook hedge funds have for AAR.
The largest position held by a hedge fund in AAR is by Diamond Hill Capital, with $17.5 million invested in the stock. That's followed by Millennium Management with $6.5 million in holdings. Others with major positions are Citadel Investment Group, D E Shaw and Gotham Asset Management.
New hedge fund interest in AAR Corp. for the quarter was from Highbridge Capital Management, which plowed $2.2 million into the company. Other hedge funds taking new positions were Ellington, HBK Investments and Arrowstreet Capital.
Why hedge funds are important is they historically can have a big impact on the share price of a company. The bullish interest in AAR from the funds suggest they see a lot more upward potential in the company's performance. That should at minimum provide a strong support level for the share price of the company.
Guidance
AAR Corp. has guided in several areas of interest to investors which will have an impact in the next earnings report. If accurate, it could propel the share price much higher.
First, there are the expected boost in margins in the Aviation Services and Technology Products segments of the company in the fiscal fourth quarter. This represents the majority of the business done by AAR, so will have a major impact on earnings if the company performs up to expectations.
Next is the timing issue in the Cargo Systems unit, which will be included in the results in the next earnings report as well.
With momentum from the third quarter expected to continue into the fourth quarter, along with current visibility, AAR raised its full-year diluted earnings guidance for fiscal 2013 to a range of $1.78 to $1.82 per share. Revenue for the full fiscal year is estimated to come in at about $2.15 billion.
The commercial aftermarket should remain on a positive trend, which along with strong cash flow will boost profitability at the company. MRO demand and profits are expected to continue to grow, which should "continue to build market share, create scale and further improve on our margins," said AAR.
After the convertible bond repurchase in the third quarter the diluted earnings per share will drop to 38.6 million shares. This should also generate support for the share price.
Conclusion
With the aforementioned guided improvement in margins in its Aviation Services and Technology Products segments, an earnings turnaround probability looks very good. When aided by the inclusion of sales from its Cargo System unit, AAR Corp. could easily surpass guidance and expectations.
To deal with the increasing competition and shrinking dollars available in regard to government services, the firm is working on increasing efficiency, quality and speed to differentiate itself and create value in the eyes of that market. If AAR successfully executes its strategy and wins more government business, it could do extremely well over the long term, assuming its commercial business continues to grow as it has been.
Another factor in its Airlift business segment is it isn't subject to sequestration because capital is drawn from an international contingency fund. This unit could surprise and add unexpected value and performance for the company.
With AAR positioned strongly in each of its core businesses, it will likely be able to generate major organic growth, which will produce even more cash flow for the company and its shareholders. That will result in further reduction in its leverage and boost its ability to grow in the future.
Added together, I see AAR Corp. probably beating expectations in the fourth quarter, and possibly in the next fiscal year. In the short term that may push the share price up by as much as 10 percent, and over the year it could jump to as high as $28.00 per share, which would be a gain of over 20 percent.
The short-term prospects of AAR could surpass the 10 percent already mentioned if it surprises in a big way on the plus side. In that case it may soar by as much as $4.00 per share or so. It would probably happen not long after the next earnings release of the company.
Any negative surprise would punish the company to the degree of the upside, as it hasn't stopped moving up since April 2013. In that case it could just as easily drop by 20 percent because of the need to take a breather. It normally wouldn't perform that way with a slight earnings miss, but this stock is so wound up any negative news will cause it to move disproportionately in response to it.
The question is how much of the upside is already priced into the stock. Barring a negative surprise, I see it still going up at least 10 percent not long after its earnings report, and with the strength of its core businesses, enjoying a long-term upward run with the occasional correction.
All of this is predicated on the fact the global and U.S. economies remain healthy.
Disclosure: I have no positions in any stocks mentioned, and no plans to initiate any positions within the next 72 hours. I wrote this article myself, and it expresses my own opinions. I am not receiving compensation for it (other than from Seeking Alpha). I have no business relationship with any company whose stock is mentioned in this article.