Al Yoon (Reuters) reports via Yahoo), that 41% of all prime conforming mortgages will be underwater by early 2011, according to Deutsche Bank. "Underwater" defines the condition of the mortgage balance outstanding being larger than the market value of the house. Prime mortgages are those issued to borrowers with the highest credit ratings. Conforming mortgages are those that come within the size limits prescribed for Fannie Mae and Freddie Mac underwriting. Prime conforming mortgages are considered the least risky of all mortgages.
For prime "jumbo" mortgages (principal values larger than the conforming maximum), the underwater condition is projected to rise to 46%. For all mortgages, the estimate is 48%. A comparison of current data to the Deutsche Bank estimates is shown in the following table: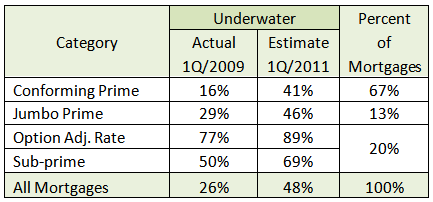 Many mortgages that are underwater do not result in defaults. The likelihood of default increases when the home owner suffers other financial stress. An example of such stress is loss of employment and, of course, unemployment is still rising. If the employment picture were to improve, the number of underwater mortgagees staying in their homes would be greater than it will be if unemployment doesn't peak for another 1-2 years, which was the situation after the last recession in 2001.
The Reuters news release does not mention how Deutsche Bank views the employment outlook. Yoon does point out that the projections contrast with recent data, which may imply that Deutsche bank does not see an improved employment picture developing. Yoon wrote:
Deutsche's dire assessment comes amid a bolt of evidence in recent months that point to stabilization in the U.S. housing market after three years of price drops. This week, the National Association of Realtors said pending home sales rose for a fifth straight month in June. A widely watched index released in July showed home prices in May rose for the first time since 2006.

Covering 100 U.S. metropolitan areas, Deutsche Bank in June forecast home prices would fall 14 percent through the first quarter of 2011, for a total drop of 41.7 percent.
This is one of the most negative outlooks for housing that I have read, and is more negative than my current tentative assessment, which is undergoing further analysis before publication. Some areas are in much worse shape than others. Yoon wrote, referring to the Deutsche Bank report:
Regions suffering the worst negative equity are areas in California, Florida, Arizona, Nevada, Ohio, Michigan, Illinois, Wisconsin, Massachusetts and West Virginia. Las Vegas and parts of Florida and California will see 90 percent or more of their loans underwater by 2011, it added.
It seems clear to me that when a mortgagee is forced to sell because of economic stress, such as loss of employment, default is very likely if the only way to sell is for the mortgagee to write a big check. For someone in such a situation, writing a check for tens of thousands of dollars to sell your house won't make sense to many, especially when they have no cash and are saddled with car loans, credit card debts, etc. Some of the millions of unemployed are going to become future defaults, unless the unlikely event of increased employment occurs in the coming months.
This situation is aptly summarized by Yoon's concluding line:
"For many, the home has morphed from piggy bank to albatross," the analysts said.