After a 30% sell-off in grains the last 7-9 months, worries about heat and dryness in the far western belt has returned. Our bearish longer-term stance in grains, since last fall and winter, is at the mercy of "what happens" to corn and soybean crops in Iowa, Nebraska and Kansas the next 4-8 weeks and whether or not heat and dryness expands further east into Illinois and Missouri.
Sunday night we began alerting clients to our "less bearish attitude" in grains and that soon the corn and soybean market would take "psychological" notice of a ridge of hot high pressure that is redeveloping over the Midwest and Plains. Hence, our longer-term bearish attitude in corn (NYSEARCA:CORN) and soybeans (NYSEARCA:SOYB) will be at the mercy of whether La Nina conditions expand further and remain for the rest of the summer. Nevertheless, a major bullish summer move on widespread drought (like last summer) is unlikely.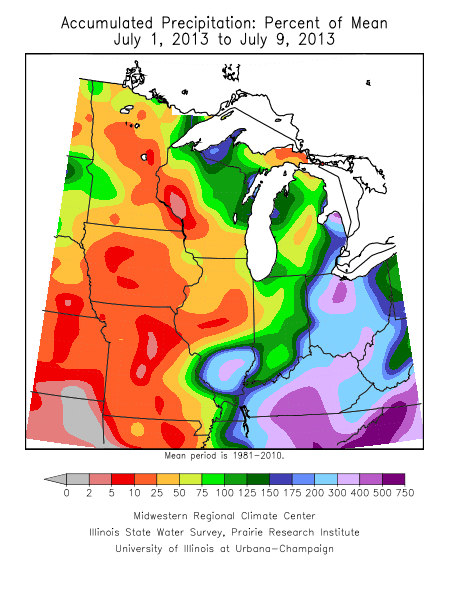 Though only about 10 days of dryness in the western belt, our forecast change over the weekend to a dome of high pressure and heat is causing a psychological short covering rally in corn and soybeans. The ETF (CORN) had a beautiful break in prices recently, but has rallied back and will be watching this dry area (red-orange) closely, during the pollination period the next 3-4 weeks. What was drought easing spring rains became too much of a good thing this spring with floods and now root systems are shallow in some areas and need cooler weather with slow consistent rains. La Nina conditions suggest problems in some areas this summer, but blocks over Canada and near Alaska suggest heat and dryness will be a short-term affair.
We are studying the situation for our major full-time clients only.
La Nina Conditions Affecting Grain Market and a Look at Other Commodities
Contrary to many forecasters who have used a few weather forecast models to predict the possible formation of El Nino, La Nina conditions are affecting many areas right now. Though officially La Nina has not formed due to a lack of cooling waters in the central Equatorial Pacific (see map below), waters are cool enough in the eastern Pacific, to the west of Peru, to signify La Nina. Not only that, but something we call Global Angular Momentum is currently in the negative phase. This has to do with wind shear and torque in the tropics along the equator.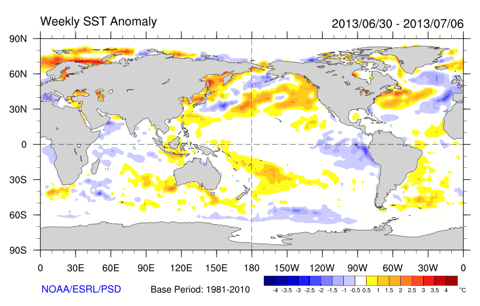 You can see the cool waters along the equator west of Peru. This, combined with negative Global Angular Momentum (below) is creating La Nina conditions in parts of the globe. This includes some western corn belt heat, the drought aggravating again in Texas, but improved weather coming for the Indian Monsoon for sugar crops and to cocoa in west Africa.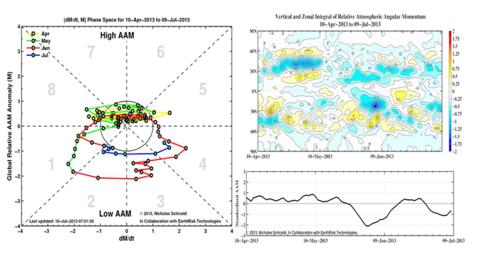 Global Angular Momentum (above) is negative. Hence, for parts of the U.S., summer is turning out a bit hotter than normal and some Midwest dryness is slowly creeping back into the picture in western areas. However, major sustained heat in key natural gas consuming regions is still unlikely.
Soft Commodity Outlook mostly bearish, except maybe for Cotton
The cotton market and the ETF (NYSEARCA:BAL) will be at the mercy of the Chinese import/export picture, overall world demand and weather news in the U.S., Pakistan, India and China. Currently, I see little real global weather issues with respect to conditions overseas, with good monsoon rains in India and decent summer weather for China. Otherwise, the cotton market would explode. Nevertheless, I remain concerned about the Texas drought and it being too wet in the Southeast U.S. and turning a bit dry in the Delta. Look for cotton prices to stay well supported between 82-84 cents, perhaps for the rest of the summer. Hence, while I would prefer to see weather issues in other parts of the world to get real bullish, a modest confident trade would be to buy this ETF.
For cocoa, while dryness has been a minor issue in Ghana the last few weeks, other than some short-term harvest delays to the Indonesian crop, La Nina type conditions suggest to me good rains coming for west Africa the next 1-2 weeks. This will keep cocoa prices and the ETF (NYSEARCA:NIB) in a sideways to downtrend market.
Sugar prices in the ETF (NYSEARCA:CANE) also have little hope for a major summer rally given a return to great crop conditions to the #2 exporter of sugar in the world, India, and a good Brazilian crop.
Coffee prices and the ETF (NYSEARCA:JO) are taking a breathier from the recent downtrend in prices, as the market has gotten a bit oversold, but other than a short-term rally in prices, the odds of a major 10-20% rise in coming months is unlikely.
In Orange juice, with so many other beverage options from coconut water to "Activate", "Juice Patrol", "Vitamin Water," and "Kombucha Mushroom Tea "(Chinese, mushroom type drink with very healthy antioxidants and probiotics), the demand side of the equation is poor. We called the end of the Florida drought about 3 weeks ago, and this was one reason for the price collapse. Hurricanes may at times scare this market in coming weeks. However, of more importance will be the "greening disease" and whether it is eradicated or not. Look for sideways to unsure price action in this market. However, Florida is overdue for a hurricane this fall, and I would not be surprised if some short-term friendly trading affairs develop ahead of that.
Due to contractual obligations with Clients, we are not at liberty to discuss some other markets with only occasional updates in grains, etc.
Disclosure: I have no positions in any stocks mentioned, and no plans to initiate any positions within the next 72 hours. I wrote this article myself, and it expresses my own opinions. I am not receiving compensation for it (other than from Seeking Alpha). I have no business relationship with any company whose stock is mentioned in this article.