As someone who covers a lot of short ideas on this site, one of the most important items I follow is short interest data. One must always be aware of the short interest in a stock. A large short base could spark a short squeeze on good news, while low short interest could spark a huge drop on bad news. Every couple of weeks, we get an update from Nasdaq on short interest data, and I report on what I am seeing. Today, I'm here to discuss the end of June numbers. Today, I'll discuss five names that short sellers are running away from, whether just recently or over the longer term.
Netflix (NASDAQ:NFLX):
Netflix short interest dropped in the second half of June. More than 1.35 million shares were covered, almost 16% of the total. At 7.2 million shares short, Netflix short interest is down 10 million from its high and is at its lowest point in more than a year. The number of non-believers in this name has dropped, and yes, I partially include myself in that statement.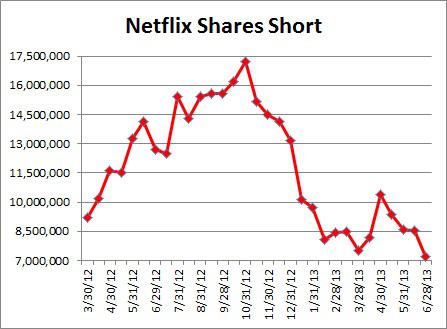 Netflix shares dipped down to $210 late in June, and I think that explains a good deal of the short interest fall. Those that shorted when we first took a shot at $250, or those that unfortunately shorted much lower, took the opportunity to cover. For them, it was a good idea, as Netflix shares have rallied back to the $240s recently. We are less than two weeks away from earnings, which will be the next major mover for Netflix short interest. Unfortunately, we won't get the next short interest update until after Netflix reports.
Deckers Outdoor (NASDAQ:DECK):
It's been one entire year since we saw Deckers short interest this low. July 13th, 2012, was the last update where short interest was below 9 million, and we're now below it again. Last December, short interest topped out at more than 16.28 million shares. Deckers is another one of the momentum names that has seen its short interest come down, like Netflix and another name that's later to come.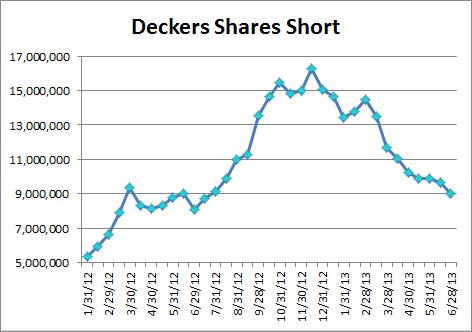 Deckers fall was one I covered extensively, and while the 2013 forecast wasn't as bad as hoped, Deckers still needs to prove itself. For now, investors have shaken off six straight quarters of below-expected guidance. I, like many investors, are waiting to hear what the company has to say about the key 2013 fall/winter selling season. Deckers has a great deal of potential and generates a fair amount of cash. However, profits have dwindled and they need to strengthen margins a bit. For those that consider UGGs a fad, the next few quarterly reports will prove you right or wrong. So far in 2013, short sellers believe Deckers is on the right track.
First Solar (NASDAQ:FSLR):
First Solar is the last of the momentum names to show another significant decline in short interest. Like Netflix and Deckers above, this is a new yearly low in short interest. Another million shares short in First Solar were covered in late June. Since the August 2012 high, more than 18 million shares, 57.36% of the total, have been covered. Short interest is actually 100,000 shares below the first date on my chart, February 15th of 2012.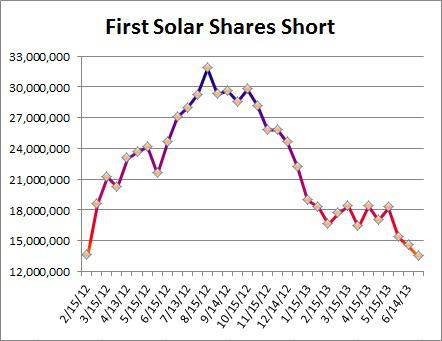 I will be the first to admit I'm surprised in the latest short interest move. I expected to see a rise in short interest after the company sold nearly 10 million shares of stock, diluting investors by more than 11%. Maybe investors aren't allowed to borrow those shares to be shorted yet, I really don't know. My best guess is that the capital raise chased some of the shorts away. First Solar can use the money for new projects, which hopefully turns into revenues and earnings. This seems like a case of investors focusing on the long-term positive side of the business, rather than the short-term negative from dilution. We'll see if the trend continues.
Cisco Systems (NASDAQ:CSCO):
This is the first time Cisco has made my list. As you can see in the chart below, Cisco's short interest hasn't been that volatile. However, we did see a decent move this time, and like many of the names on my list, Cisco short interest is at a yearly low. More than 8 million shares were covered in late June, putting the count the closest it's been to 50 million in the past year.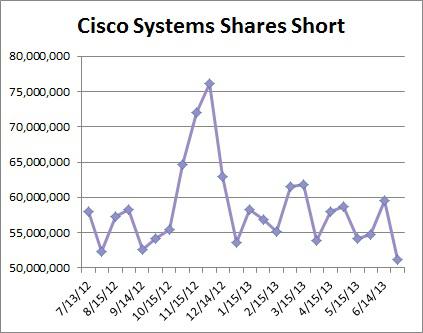 Cisco shares hit a new 52-week high on Wednesday, up more than 70% from their 52-week low. When adjusting for dividends, shares are up more than 31% so far year-to-date. A lot of this extended rally has to do with the company's improved results and increased cash return plan. Cisco is fulfilling its promise to return more cash to shareholders, and the quarterly dividend has gone from $0.06 to $0.17 in a year-and-a-half. Cisco's dividend yield has obviously come down lately, but I'm sure investors are fine with that due to the large rally!
Microsoft (NASDAQ:MSFT):
Unfortunately, Microsoft isn't quite at a new yearly low point for short interest. However, it is at its lowest point since January 15th. More than 16.6 million shares were covered in late June. Since the mid-April high, more than 40.5 million shares have been covered, 34.17% of the peak's high. This is only the second time in the past 14 months where short interest is below 80 million shares.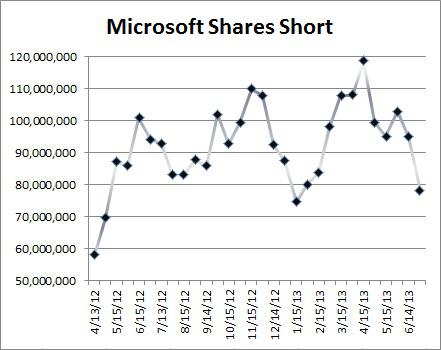 Like Cisco, Microsoft has been a solid winner this year. A large share of the gains have come since the fiscal Q3 report in April. While revenues were light, earnings beat, and the company lowered its operating expense guidance. With Apple (NASDAQ:AAPL) shares struggling, a lot of money has moved to other large cap tech names. Microsoft and Google (NASDAQ:GOOG) seem to be two of the biggest beneficiaries. But with all of these stocks rising a bit, expectations will be high going into earnings. Microsoft reports next Thursday.
Final Thoughts:
All five of these names have seen significant decreases in short interest, with four of the five at new yearly lows. Netflix shorts continue to cover as investors look to the growth potential of the business, while Deckers shorts believe the UGG brand is rebounding. First Solar shorts are running away even after a large share sale increased the number of total shares. Cisco shorts have covered as the stock has run to new highs, and Microsoft shorts have joined in the covering parade as well. I'll be back in a couple of weeks with the next round of updates, which unfortunately will be after some of these names report.
Disclosure: I have no positions in any stocks mentioned, and no plans to initiate any positions within the next 72 hours. I wrote this article myself, and it expresses my own opinions. I am not receiving compensation for it (other than from Seeking Alpha). I have no business relationship with any company whose stock is mentioned in this article.
Additional disclosure: Investors are always reminded that before making any investment, you should do your own proper due diligence on any name directly or indirectly mentioned in this article. Investors should also consider seeking advice from a broker or financial adviser before making any investment decisions. Any material in this article should be considered general information, and not relied on as a formal investment recommendation.