Eastern Insurance Holdings (NASDAQ:EIHI) underwrites a number of products in the business markets with a focus on workers' compensation. The company provides its clients with tools, resources, solutions and programs in order to maximize their potential benefits. Eastern Insurance operates offices in Pennsylvania, North Carolina, Indiana and Tennessee. The company has a few subsidiaries such as Eastern Alliance insurance Group, Eastern Re Ltd and Employers Alliance Inc.
The company generates a majority of its revenues from Pennsylvania (65.2%). The state is followed by Indiana (with 9.2%), North Carolina (with 6.6%), Virginia (with 4.3%), Maryland (with 2.8%), South Carolina (with 2.2%), Delaware (with 2.0%), New Jersey (with 1.8%) and Tennessee (with 1.7%). In the future, as the company increases its exposure to states other than Pennsylvania, its revenues should get more diversified.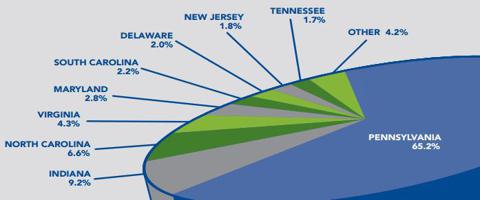 The company's geographic footprint covers the entire eastern part of the US with some exceptions here and there. Eastern Insurance divided the eastern US into four sections called Mid-Atlantic Region, Midwest Region, Southeast Region and Gulf South Region as you can see in the map below. In each of these regions, there are many regions where the company has very little exposure and it has a lot of room to grow.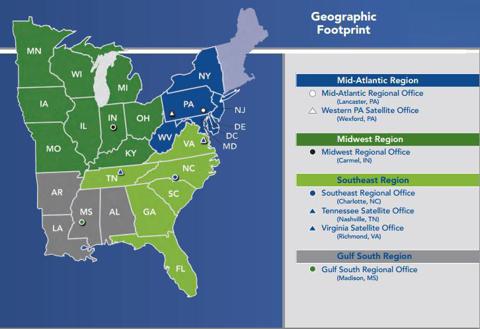 In Pennsylvania, the company is number 8 in the market share. What is more impressive is that the company is has the second lowest 5-year average loss ratio, which makes it one of the safest bets in the state. The company's 5 year average loss ratio is below 50% which is very healthy.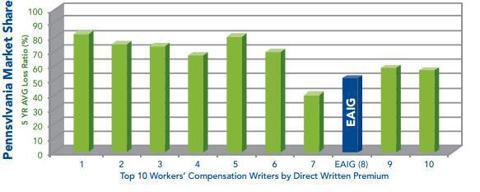 In Indiana, the company is number 14 and in North Carolina it is number 29 in terms of market share; however, in terms of loss ratios, the company is one of the top companies in each of these two states. As we can see, Eastern Insurance is really good at managing risk which is one of the most important skills in the insurance industry.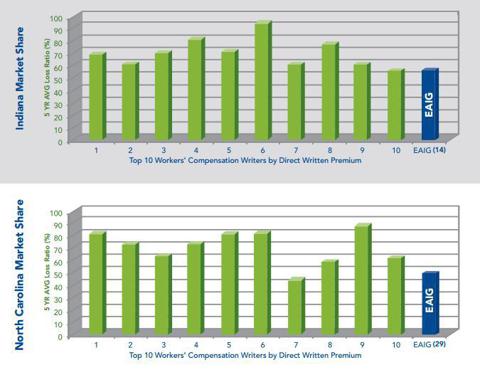 What is even more interesting is that the company's direct written premium growth has been accelerating each year. For example, in 2009, the company's premium growth rate was 8.0%, followed by 15.2% in the next year. In the last 8 years, there is no year when the company didn't outperform its performance in the previous year. Between 2005 and 2012, Eastern Insurance was able to grow its direct written premiums from $78 million to $183 million.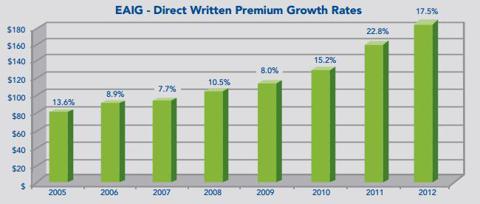 Keep in mind that last year was a tough time for insurance companies because of the new regulations, historically low rate of full-time employment (with benefits) and historically low interest yields. The company was still able to perform really well during this period. The strong performance was not limited to any geographical location either. Eastern Insurance was able to post double-digit growth in every region it operated in 2012. The company's premium retention rate was 83.5% which is very strong. Furthermore, the combined ratios ranged from 90.4% to 94.4% between different regions of the company. Even the weakest performing region of the company was able to outperform the market.
The company's reserve balance is progressively getting stronger. This should not be confused with the company's balance sheet though. Reserve balance is set apart in order to cover the claims that occur throughout the year. While an insurance company can never be certain about the adequacy of its reserve balance (what if all the workers in the world have accidents and get injured at the same time), it is important to note that Eastern Insurance never had a problem with covering any claims in its history. The company has always been well-positioned to respond to claims and its position is only getting stronger each year due to strong risk management practices of the company.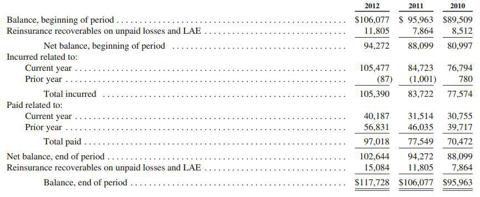 A.M. Best is a rating agency that rates insurance companies based on their profitability, leverage, liquidity, book of business, adequacy soundness of their reinsurance programs, the quality and estimated fair value of their investments, the adequacy of its reserves and surplus, their capital structure, the experience and competence of their management, and its marketing presence. Basically, insurance companies are rated in a very detailed manner. Having said that, two of the company's subsidiaries Eastern Alliance Insurance Group and Eastern Re both received ratings of "A" (stands for "Excellent") with a stable outlook. There are 16 possible rating categories and "A" happens to be the 3rd highest grade a company could possibly get out of 16 (so it's like getting 14 out of 16). Long story short, the company has a very low rate of default unless something really catastrophic happens.
While the company usually invests its premiums in high-quality and low-volatility items (such as government bonds), it still had a nice yield in years 2011 and 2012 consequently. In 2012, Eastern Insurance put $19.78 million into US bonds and treasuries, $42.94 million into local bonds, $36.62 in corporate securities and $27.98 million into mortgage backed residential securities. A total of $20.46 million was invested in equities, making a little more than 10% of the company's investment portfolio. Since this is the year of the QE and the rally, equities were the strongest performing items in the company's portfolio.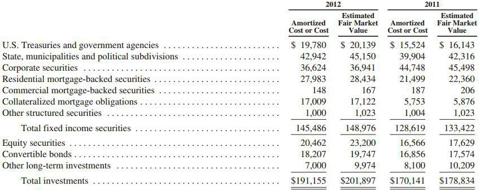 In 2012, the company's Workers Compensation Insurance segment earned $12.41 million in net income, up from $10.23 million in 2011 and $6.33 million in 2010. Between 2010 and 2012, this segment's net income nearly doubled. The Corporate/Other segment posted a loss of $2.06 million mostly due to the stock based compensations to the management.
Apart from the cash reserves to cover the claims (which I mentioned above) the company's balance sheet has $48 million in cash and $380 million in total assets. The company's liabilities total $244 million. At $159 million of market cap, the company's price to book value ratio is 1.1.
The company is expected to earn $1.39 per share this year, $1.55 per share next year and $1.75 per share in the following year. Excluding cash, the company is trading for a forward P/E ratio of 8 by 2015, which allows for an upside of more than 50% given the average P/E ratio of 16 in the insurance industry.
In the last year, the company's share price has appreciated by 22% in addition to a dividend yield of 2%. In the next few years, the company should result in similar or better annual returns for the investors if it continues its outstanding performance.
Keep in mind that the insurance industry is risky by nature and small cap stocks tend to carry more volatility and risk than larger companies. Investors should do their homework and learn about the companies they are investing in great detail. Investors should also assess their risk appetites to determine how much risk they can tolerate in their portfolios. Remember, there is no such thing as safe investment.
Disclosure: I have no positions in any stocks mentioned, and no plans to initiate any positions within the next 72 hours. I wrote this article myself, and it expresses my own opinions. I am not receiving compensation for it (other than from Seeking Alpha). I have no business relationship with any company whose stock is mentioned in this article.