BP plc (NYSE:BP) is a fully integrated oil and gas company that provides oil, lubricants and petrochemicals to its global customers from the numerous oil wells it owns and drills around the world. British Petroleum operates two main business segments, namely upstream Exploration and Production as well as downstream Refining and Marketing. The Exploration and Production arm deals in oil and gas exploration, oil and gas field development, midstream transportation, storage, processing and marketing of natural gas. The Refining and Marketing segment deals in refining manufacturing, transportation and marketing of crude oil, petrochemicals products as well as related products.
BP has been reeling from the effects of the 2010 Deep Horizon oil spill fiasco that left the company with hefty compensations bills to settle as well as a costly clean-up of the Gulf of Mexico. BP's stock has been showing strong support around $41.36 and resistance around $42.18.The stock closed at $41.17 at Friday's [July 5, 2013] close of business. The 52-week high for the stock stands at $45.45 while the 52-week low stands at $39.13. Currently, the stock is exhibiting bearish signals. If you are an investor looking for a hedged play on BP's stock, go for September 13's covered call of $42.00 for a net debit around $40.36.This is also the trade's break-even stock price. The covered call has an 81-day duration and provides investors with a 3.07% downside protection and a 4.06% assigned rate of return translating to an annualized 18.31% return rate (for comparison purposes).
If you opt for a lower-cost hedged play on BP's stock, use a longer-term call option instead of the covered call stock buys. Look to long Jan 15's $33.00 call and sell at Sep 13's $42.00 call, which leaves you with a total debit of $7.82.This trade has an 81-day lifespan, and would provide you with a 1.97% downside protection and a 15.09% assigned rate (68% annualized return rate for comparison purposes).The current dividend yield of the BP stock is 5.16%.
BP Stock Getting Very Oversold
BP's stock has been getting very oversold in recent times. You can deduce this from the stock's RSI (Relative Strength Index), which stands at 27.7. RSI is calculated on a scale of 0-100. An RSI below 30 means that a stock is oversold. BP's RSI means that the stock is oversold and it's just a matter of time before the cycle of heavy selling exhausts itself. A bullish investor can begin looking for entry points into the buy side of BP's stock. The stock's bearish run has made it an ideal value stock, trading at a mere P/E ratio of 5.8 compared to major rivals Exxon Mobil (NYSE:XOM) trading at a P/E ratio of 9.32 and Chevron Corporation (NYSE:CVX) trading at a P/E ratio of 9.11. Below is a snapshot of BP's stock movement in the recent past: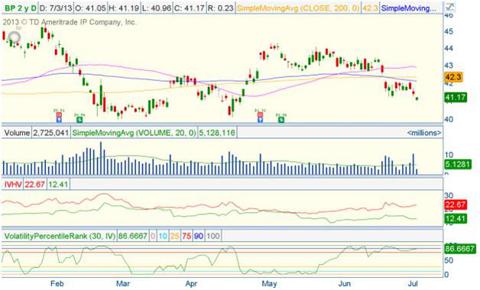 BP's Improved Market Performance
BP's Q1 2013 financial performance was an improvement over 2012 results. The underlying replacement cost profit came in at $4.2 billion compared to last year's $3.9 million. Operating cash-flow for the quarter was $4 billion compared to Q1 2012's $3.4 billion. The firm paid out a dividend of $0.09 per share.
BP sold out its stake in TNK-BP and has been aggressively pursuing an $8 billion share buyback program of its own shares. The buyback program was meant to compensate for the firm's reduction in its asset base owing to its 3-year divestment program. The share buyback program is expected to run for 12-18 months. The cash that remains after purchase of its own shares will be retained by the firm in a bid to reduce its net debt and maintain a strong balance sheet.
BP's upstream business grew by 4% after adjustments for the TNK-BP divestment program compared to the same period last year. BP also received a major boost from its major projects in the North Sea and Angola. Underlying production grew by 2% compared to the same period last year.
The downstream business also benefited from improved good operational performance, including a more than 95% refinery availability and a favorable refining environment in the U.S. Mid-West. Total oil and gas production in the quarter, excluding TNK and Rosneft, came in at 2.33 million barrels of oil equivalent /day. If you include the Rosneft deal, BP's oil and gas production improves to more than 3 million barrels of oil equivalent /day.
Production in the second quarter is expected to be lower owing to a planned seasonal activity turnaround that is mainly concentrated in the high-margin assets located in the North Sea and the Gulf of Mexico. Below are the performance trends for BP in the last few years.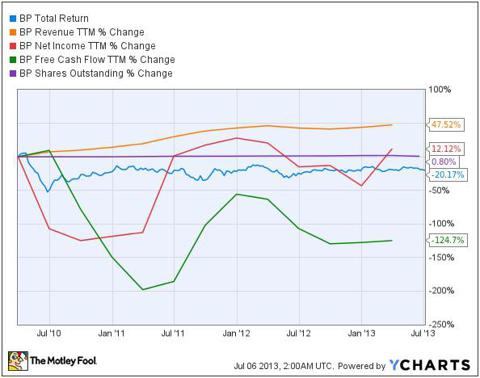 The chart below offers a comparison between BP and its major rivals in the oil and gas sector.
BP
Exxon Mobil
Chevron
Royal Dutch Shell
Sector
Year-to-Date Returns
4.18%
6.60%
15.81%
-1.81%
10.84%
BP's Achilles Heel
BP's major area of concern is its weak free cash flow. which is not likely to support the firm's dividend payouts in the future unless it changes for the better. BP has not been immune from slackening global demand for oil products, which grew only 1.8% in 2012 - well below the 10-year average growth of 2.6%. The emerging economies of China and India account for 90% of the global increase in oil demand.
The Deep Horizon Oil Spill
The 2010 Deep Horizon oil spill still continues to gnaw away at BP's profitability to date. BP had set up a $20 billion fund to deal with compensation matters and fund the clean-up of the Gulf of Mexico, but this is likely to fall short of the required amount. If BP is convicted of gross negligence by the courts, it could be liable to paying out a staggering $17 billion in fines, not to mention that the firm may have to make even more settlements with victims of the fiasco, over and above the $8.5 billion it paid out last year. This is likely to hit the firm hard in the coming quarter.
Looking Forward.
BP plans on directing 75-80% of its capital expenditure towards upstream projects, mainly in Angola, the North Sea, Azerbaijan and the Gulf of Mexico where the firm owns more than 40 projects. Recently-passed tax reforms made drilling in Alaska's North Slope more attractive, and BP along with other oil companies such as Conoco Philips (NYSE:COP) and Exxon Mobil plan to invest a combined $1 billion in the coming five years in the region.
Earnings are expected to grow by a strong 40% by the end of the year. Its more than 5% dividend yield and 5.4 P/E valuation make it a great stock despite bearish indications in the short term and the huge penalties that might accrue if the firm is convicted of gross negligence in the Deep Horizon oil spill. Hold BP's stock.
Disclosure: I have no positions in any stocks mentioned, and no plans to initiate any positions within the next 72 hours. I wrote this article myself, and it expresses my own opinions. I am not receiving compensation for it (other than from Seeking Alpha). I have no business relationship with any company whose stock is mentioned in this article.