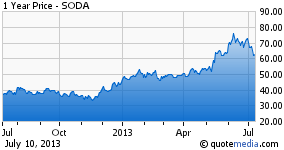 In the last couple of days, SodaStream (NASDAQ:SODA) has been correcting due to the latest updates saying that the company will not be acquired by either Coca-Cola (NYSE:KO) or Pepsi (NYSE:PEP). While this didn't surprise me a bit, I am surprised that the market is reacting pretty badly to it.
Let's face it, SodaStream doesn't fit the business model of either company. SodaStream mainly sells machines that make soda drinks and Coca-Cola and Pepsi actually sell those drinks. Acquiring SodaStream would actually cannibalize their existing products.
Putting acquisition talks aside, SodaStream's current share price of $61.95 is down 20% from the $77.80 share price achieved last month. During this period, the company's trailing P/E ratio fell from 35 to 28 while the forward P/E ratio fell from 31 to 25. At the moment, the company's current valuation is very reasonable for a company that is expected to grow at a double-digit rate for the foreseeable future.
The company currently operates in 45 countries. In 21 countries, it sells its products directly and in 24 countries its products are being sold through partners and distributors. SodaStream's products are being sold in 60,000 stores worldwide and a quarter of these stores are located in the US.
Even though SodaStream has gained momentum and popularity in the last few years, the company has a long history. In 1903, it was founded in the U.K. In 1955 it produced soda makers that could be used at home. In 1990s, SodaStream merged with Soda-Club and the company started selling its products online in the U.S. in the early 2000s. In 2007, the company was acquired by Fortissimo and it was listed on Nasdaq in 2010. Through successful marketing and wide distribution channels, the company's products started selling like hot cakes and its stock price has appreciated greatly in the process.
In 2009, SodaStream generated $136 million in revenues, followed by $208 million in 2010, $289 million in 2011 and $436 million in 2012. Currently, the company has an addressable market size of $260 billion and it expects to generate $550 million in revenues by the end of this year. Each year, the company surpasses analyst expectations and keeps growing at a rapid rate.
Similarly, the company's net income grew at an impressive rate. In 2009, it was able to earn $10 million, followed by $16.9 million in 2010, $32.9 million in 2011 and $50.0 million in 2012. This year, it is expected to earn $55 million but this is a pretty conservative figure given the company's recent run.
Between 2009 and 2012, the number of soda makers sold by the company annually jumped from 1.06 million to 3.50 million. Similarly, the flavor unit sales jumped from 7.3 million to 28.1 million during the same period. The refill unit sales also jumped from 8.5 million to 16.5 million. SodaStream targets reaching $1 billion revenue by 2016 and many analysts believe it to be a pretty realistic target.
In Europe, there are 350 restaurant locations that are currently testing SodaStream's industrial size soda machine. By the end of this year, this number is expected to climb near 2,000 with additional 1,500 restaurant locations.
The company's partnership with Kraft Foods (KRFT) sold 1.2 million units of drinks between May and December of 2012. This year, the company expects to sell 4.8 million units during the same period which represents a growth rate of 300%.
SodaStream's Country Time and Crystal Light brands of drinks were launched in 11,000 American stores including Wal-Mart (NYSE:WMT), Bed & Bath and Beyond (NASDAQ:BBBY), Meijer, Target (NYSE:TGT) and Macy's in 2012. By the end of 2013, there will be an additional of 3,000 locations including Office Depot (NYSE:ODP) and Kroger (NYSE:KR) locations. In 2012, SodaStream's Cool Aid brand was sold in 3,000 Wal-Mart locations; by the end of this year, it will be sold in 17,000 locations including but not limited to Kroger, Target, Meijer and Best Buy (NYSE:BBY).
SodaStream also signed a partnership with Samsung (OTC:SSNHY). Starting this year, some of Samsung's fridge models will come with an in-built soda machine made by SodaStream. If successful, this move can attract more partners for the company and increase its exposure greatly. Many people might be skeptical about buying a soda machine, but if it comes as a part of their fridge, they might be more open to the idea. These fridges are already rolled out in the U.S. and Canada and they will be rolled out elsewhere soon.
SodaStream's products are particularly popular and successful in Western Europe. The company is able to post double-digit growth in the region, which is a very rare accomplishment at this point in time when most major corporations are losing against the recession and seeing revenue declines. In France, SodaStream has 3.5% household penetration and in Germany the rate is 3.4%. Last year, in France, the revenue growth rate was 40% compared to 100% in Germany.
The company has yet to enter many markets where it can be very successful. For example, it is entering Mexico in 2014. In India, the company will establish itself in the second half of this year. In Japan, SodaStream's products are being sold in only 500 stores but this number will triple by the end of this year. The company also expects a lot of growth from online retailers such as Amazon.
Currently, SodaStream is pretty hot and the company is building a lot of momentum around the world. I don't expect it to slowdown anytime soon. The investors should take advantage of the current sell-off to acquire shares in this company. I haven't bought any shares of SodaStream yet but I plan on doing so in a few days when I sell some shares to free up some cash (of course I won't tell which company I will be selling, it's off topic here). Regardless of acquisition rumors, the company is a nice addition to many growth portfolios at the moment.
Disclosure: I have no positions in any stocks mentioned, but may initiate a long position in SODA over the next 72 hours. I wrote this article myself, and it expresses my own opinions. I am not receiving compensation for it (other than from Seeking Alpha). I have no business relationship with any company whose stock is mentioned in this article.