The commodities and materials sectors were two of the hardest hit by the global economic downturn. With signs of market stabilization and the beginnings of a renewal in consumer confidence, commodities and materials may also have the most to gain on the upside. Growth, both at home and abroad, is dependent on the materials necessary to create infrastructure and the energy to fuel expansion.
One way to access this sector of the economy is through the iShares S&P Global Materials Index Fund (NYSEARCA:MXI). In recent months, MXI has steadily gained momentum on our charts, moving from the No. 36 position on May 5 to the No. 12 spot on July 28. This steady increase could continue as countries worldwide begin to exhaust and restock their raw materials.
MXI tracks the S&P Global Materials Index, made up of companies that are selected based on their importance to the materials sector and the global economy as a whole.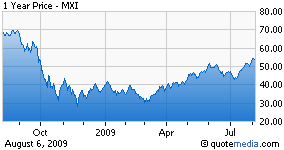 MXI's components include companies that are engaged in a wide range of commodity-related manufacturing and mining activities. The two largest sectors represented in the fund are metals and mining, composing 55.94% of MXI, and chemicals, composing 34%. As of June 30, the three countries with the largest representation in the fund were the United States, the United Kingdom and Australia, with 21.91%, 13.50% and 12.72% allocations, respectively.
At first glance, this fund appears to have low concentrations at the top of its portfolio. Top component BHP Billiton (NYSE:BHP) makes up a reasonable 7.65% of the portfolio, and the fund's 115 underlying stocks help to spread the assets around. However, investors should consider the fact that the top three components—BHP, BHP Billiton Plc. (BLT) and Rio Tinto Plc. ((NYSE:RIO)) (RTP)-are not entirely independent of one another. While BHP trades on the Australian Stock Exchange and BLT trades on the London Stock Exchange, movements between these two tickers will be highly correlated. Furthermore, BHP recently signed an agreement with RIO that ties together the companies' Australian ore assets. Together, BHP, BLT and RIO make up nearly 16% of the ETF. Investors should keep an eye on these companies when investing in MXI.
BHP is the world's largest publicly traded mining conglomerate. At the end of its fiscal year in June, BHP noted that "in the short term we believe underlying demand trends are still being masked by de-stock and stocking activities across the value chain. China inventory build is essentially complete, while we are now seeing evidence that re-stocking has commenced in North America, Europe and Japan." As economic recovery takes hold on a global scale, restocking in countries such as China will help to advance the fortunes of BHP and MXI.
Like BHP, MXI's third-largest component, RIO, has a well-diversified group of operations. China's growing demand for aluminum, coal and iron ore should particularly help RTP's operations in Australia. "RIO is more profitable than some of its competitors in a host of commodities, and we forecast it to at least earn its cost of capital," noted Morningstar analyst Mark Taylor in a recent report. RTP stands to gain a lot from global recovery while minimizing losses in more difficult climates.
Investors looking to access a U.S.-only materials sector have other choices in the ETF realm. Materials Select Sector SPDR (NYSEARCA:XLB) and Vanguard Materials ETF (NYSEARCA:VAW) both track U.S.-based materials companies that have also done well in recent weeks. For a more narrow international approach, investors can try the new Emerging Markets Titans Metals & Mining Fund (NYSEARCA:EMT), though it would be advisable to wait to participate until this fund gains significant trading volume.
MXI is the broadest of the group, and with an average daily trading volume of 206,855, investors will not have to worry about liquidity. MXI's management fee of 0.48% is reasonable for an international fund of this scope. Investing in any single sector raises the risks of volatility and over-concentration. Investors looking to track the recovering momentum of materials worldwide should consider MXI.