Yahoo! (YHOO) is in the process of a turnaround. Marissa Mayer is doing an excellent job thus far. The acquisitions that the company made and the product re-design could make Yahoo! relevant to a larger audience.
Mayer is still in the process of re-inventing Yahoo! Looking at the news, the asset utilization, and the valuations (plus addition research that I have done on the company), the revenue problem needs to be solved. In other words, Yahoo! needs to revive revenue growth. The investments that the company made have paid off for Yahoo!; Yahoo! Japan and Alibaba Group were great investments. But, looking forward, Yahoo!'s revenue needs to grow.
With that in mind, I think Mayer has positioned Yahoo! to be able to increase revenue. There could be some negative impact in 2013 from the Microsoft agreement, but I think Tumblr and Flickr could help Yahoo! grow. That said, given the current valuation, I'm not going to put fresh money to work; but in the $20-$23 range, I will put money to work long shares of Yahoo!
Recent News
Based on the 2013 Annual Meeting of Shareholders, I think Yahoo!'s first step is modernizing. Secondly, I think it is focused on investing in other companies. Lastly, it is focused on innovation. It does not seem as though Yahoo! plans on leading the industry, but instead is playing catch up.
Yahoo! paid about $70 million to acquire Xobni Corp., a developer of contact-management software. Xobni's tools for finding and storing phone numbers and addresses will be included in Yahoo's mail and messaging products. Also, Yahoo! acquired Qwiki, a tool for creating videos on iPhone, and Bignoggins Production, a mobile application for managing fantasy sports teams. Yahoo is amongst the leaders in fantasy sports.
The number of daily active users for the Flickr photo app has jumped 50 percent since it was redesigned in May, while use of mobile e-mail has climbed 70 percent since an overhaul in April. Further, with the acquisition of Tumblr, traffic should increase about 20 percent. Mayer's turnaround effort appears to be effective.
The recent news releases suggest Mayer is taking Yahoo! in the right direction. Redesigning the products and increasing the audience is exactly what Yahoo! needs to do to revive growth.
Asset Utilization
Asset utilization ratios measure how well a company manages various activities, particularly how efficiently it manages various assets. These ratios reflect the efficient management of both working capital and longer-term assets: Receivables turnover, fixed asset turnover, working capital turnover, and total assets turnover.
Since 2006, all of the asset utilization measures mentioned have been trending lower. The less efficient use of assets is mostly attributable to declining revenue. Declining revenue is mostly attributable to the Microsoft agreement. Revenue should stabilize in the coming one to three years, if Yahoo! stops losing sales to competitors.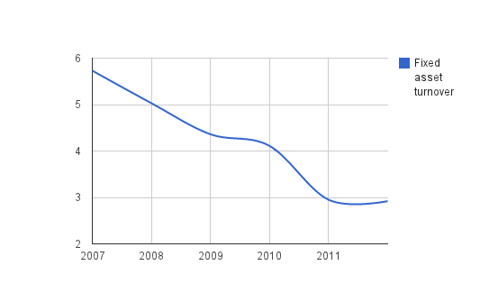 That said, the asset utilization ratios are a bearish input into the investment decision-making process. But, Yahoo!'s strength is its equity investments. Thus, the asset utilization ratios deserve less emphasis in this case than they would in most cases.
Consolidated's Forecast & Valuations
I'm forecasting revenue between $4.49B and $5.09B, operating income between $448M and $865M, and net income between $897.6M and $1.42B. There may be some remaining impact from the Microsoft agreement that will weigh on revenue from search in 2013. Also, valuations should face headwinds from roughly flat to declining revenue in 2013.
| | | | |
| --- | --- | --- | --- |
| | YHOO | S&P 500 | YHOO 5Y Avg* |
| Price/Earnings | 20.78** | 16.6 | 25.3 |
| Price/Book | 2.0 | 2.3 | 1.6 |
| Price/Sales | 6.1 | 1.5 | 3.7 |
| Price/Cash Flow | -83.3 | 9.9 | 16.9 |
*Price/Cash Flow uses 3-year average.
**Adjusted to exclude non-reoccurring items.
On a price/book and price/sales basis, Yahoo is overvalued relative to its 5-year average. The adjusted price/earnings ratio is below the 5-year average. Overall, including the S&P 500 valuations, Yahoo! is fairly valued. Based on the multiplier model valuations, the $20 to $23.50 per share zone is an accumulation zone.
Valuations based on comprehensive income add depth to valuation analysis. That said, based on a share price of $26.24, Yahoo is valued at 8.04 times non-adjusted comprehensive income.
Disclosure: I have no positions in any stocks mentioned, and no plans to initiate any positions within the next 72 hours. I wrote this article myself, and it expresses my own opinions. I am not receiving compensation for it (other than from Seeking Alpha). I have no business relationship with any company whose stock is mentioned in this article.