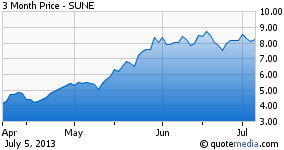 I discussed SunEdison (SUNE) in March 2013, when the company had a different name and ticker symbol, and was trading around $4. As the stock price has since then crossed my target of $8 discussed in that article, it is time for a follow up. But this time, we will take a much deeper dive into the market dynamics of the solar industry and evaluate how SunEdison will be impacted.
Segments, Competitive Landscape and Products
Semiconductor Wafers

SunEdison was originally named MEMC Electronics because the company was primarily focused on the semiconductor business that catered to a huge client base comprised of micro-electronic companies, while a large part of the solar business was done through a separate subsidiary that was named SunEdison LLC. Lately, the focus for the company has shifted to the solar industry, and hence it aptly changed the entire company's name to SunEdison. Its semiconductors business includes manufacturing and selling silicon wafers globally, and its wafers are used in the $1 trillion electronics market that includes mobile phones, computers, CD/DVD players, satellite electronics, automotive electronics and even computers.

Solar materials

SunEdison produces Poly-silicon and Silicon-on-insulator wafers as well as solar modules that are used in the solar industry. It has signed deals with Chinese companies such as Foxconn to produce solar cells and solar panels to lower costs.

SunEdison is one of the seven companies that dominate the world's poly-silicon market - these seven companies supply more than ninety percent of the total poly-silicon market. In the silicon wafer business, SunEdison's main competitors include SUMCO, Siltronic and Shin-Etsu Handotai. This business was hit by the entry of several Chinese companies that succeeded in making lower cost high-capacity products. Some market leaders like LDK Solar (NYSE:LDK) saw their sales dwindling and debt climbing.

In its solar poly-silicon business, SunEdison mainly competes with LDK Solar and Renewable Energy Corp., along with smaller players like Hemlock, Wacker and Tokyama. Compared to other companies, only REC and SunEdison has products that are forward-integrating in this segment, and both these companies are into wafers and the poly-silicon business in the United States.

Solar Energy Systems - Project Development and Installations

SunEdison manages project development and installation of solar power projects including solar farms and solar arrays. This is the company's fastest growing business segment and in the U.S. market, this segment has made SunEdison a leading player.

Outside the U.S., there are several solar installers, such as Siemens (SI) in Netherlands, Belectic and scores of other companies in Germany and Renewable Energy Systems in the United Kingdom. SunEdison also competes with First Solar (NASDAQ:FSLR) and SunPower (NASDAQ:SPWR) as well as ReneSola (NYSE:SOL) in the solar business.

Globally, SunEdison has become one of the largest solar installers with a major market share in most countries (see below).

Note: A comprehensive list of players in the solar space can be found here, which includes companies involved in various segments of the solar business.
The SunShot Initiative
The U.S. Department of Energy has started a new initiative called "SunShot" with a goal to make solar energy cost-competitive by 2020. If this initiative succeeds in reducing solar energy deployment costs, the low cost solar energy would help our country meet 30% of our electricity need in the next four decades at low prices, resulting in annual savings of about $50 billion by 2050.
In addition, this solar revolution could bring thousands of jobs to the country as well. The SunShot Vision report highlights the possibility of adding 290,000 new jobs by 2030 and 390,000 new jobs by 2050. The scale of estimated affected population by the SunShot project in 2011 can be found here.
This kind of initiative is quite late if you compare to European Union's 20-20-20 goal that was put forth in 2008; it targeted 20% decrease in green-house gases, 20% savings and also 20% of electricity to be generated from renewable sources by 2020. But do note that after this initiative was introduced, solar industry blossomed in European countries and Germany emerged as one of the biggest producers and consumers of solar powered electricity. This kind of 'revolution' in the United States could greatly benefit companies like SunEdison.
North America - Massive Prospects in Solar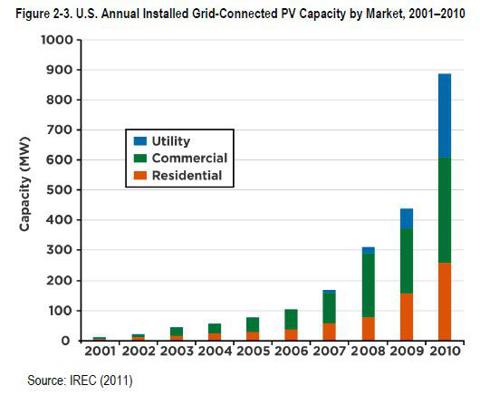 The National Renewal Energy Laboratory has indicated that the United States has a huge solar energy potential, which can be seen in this heat map (no pun intended).
The North American region has seen a substantial growth in solar capacity during the past decade, which can be seen in this capacity growth graph (right).
For the coming years as well, the future of solar energy in the U.S. remains bright. Take a look at the forecast for 2010-2016, provided by the Solar Energy Industries Association.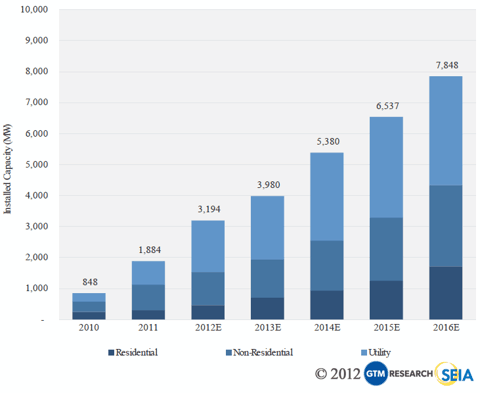 Thus, even though U.S. is still a relatively immature Photovoltaic (or PV) market, the growth prospects are immense.
2012 - A Record for U.S. Solar Industry
Last year marked a record in the history of American solar industry. The number of solar power installations jumped by 76% as compared to the previous year. Among the various segments, the utility-scale solar segment of this industry enjoyed the biggest boost (134%). Companies in this segment engage in solar projects that are designed to create huge amounts of electricity and sold to wholesale utility companies. This sudden surge in the number of utility-scale solar installations was largely due to the Energy department's Loan Guarantee Program that I discussed in the previous article.
The following solar installations are currently generating a total 631 Mwdc of solar powered electricity across America.
Agua Caliente Solar Generation Facility in Arizona spans 2400 acres and will provide solar energy to 100,000 homes annually. Another facility named Mesquite Solar 1 was also installed and is generating 124 MW of solar powered electricity in the region.
Colorado's Alamosa Solar Facility will be the largest high-concentration solar facility in the world. This will be one of the first utility-scale, high concentration solar based energy generation facilities in the country as well.
California based Valley Solar Ranch project is expected to contribute more than three hundred million dollars into the local economy along with $10 million in tax revenues for the San Louis Obispo locality. The Antelope project near Los Angeles started last year as well, and first phase of the installation has been completed. This project is expected to bring power to 75000 homes in the region.
My point is that these government incentive programs are already creating a favorable growth environment for companies like SunEdison.
So Where Does SunEdison Fit In?
SunEdison's focus is on the North American solar equipment market, and it is already the leading solar energy installer in this region. The company had also earlier announced that it expects a 25% CAGR in the U.S. Earlier, SunEdison agreed to design and build a large solar array spanning 170 acres at Arizona's D-M Air Force Base for the U.S. Air Force. A few days ago, a news report indicated that SunEdison will start construction for another giant 450-megawatt solar array project in the western Mojave Dessert in 2014, targeting completion in 2016.
The U.S. based Wells Fargo bank recently agreed to invest more than $100 million of financing in SunEdison's photovoltaic power projects in 2013 and 2014, after having provided more than $950 million dollars already since past six years. After having installed more than 400 MW in 2012, SunEdison's project backlog stands at 827 MW in the coming years (see below).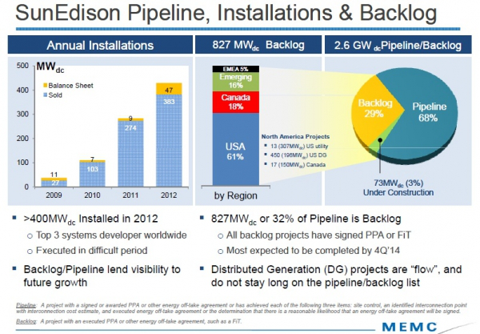 Interestingly, 61% of this backlog is in the United States.
If you look at a longer run, we are talking about a project pipeline of more than 2.6 GWdc or three times this backlog size, spanning five continents, 14 countries and 18 states in the U.S.
The Numbers Game
What we discussed above was partly economics and partly market potential. But as an investment, how do SunEdison's financial metrics pan out? Let's take look.
1) Earnings
On a trailing 12 months (or TTM) basis, SunEdison's earnings grew by 90.66% compared to previous TTM.
The mean EPS estimate by the analysts that cover the stock is $0.15 in 2013 and $0.52 in 2014. The next year's EPS growth is projected to be 246.67%. The lowest EPS estimate for 2014 happens to be $0.26, which is still 73% higher than the 2013 estimate. The highest EPS estimate for 2014 is $1.24, which indicates a 313.33% growth in earnings next year.

The mean operating EPS for 2015 projects to around $0.80.
SunEdison's Forward EPS growth (long term, three to five years) is not only positive, but a decent 12.50%.
2) Revenues
SunEdison's revenues took a hit in the first half of 2013, partly due to lower than anticipated pricing in the semiconductor business. This will impact the annual revenues of the company in 2013, indicating a year-over-year decline in revenues compared to 2012. In addition, revenues declined in the last quarter compared to the same quarter in the previous year, falling as much as 14.56%. Therefore, revenues are expected to fall from $2.83 billion in 2012 to $2.71 billion in 2013.
In 2014 and 2015, the estimates paint a completely different picture because of more number of solar project completions by that time. Revenues are expected to climb from $2.71 billion in 2013 to $4.44 billion in 2014, and $5.01 billion in 2015.
3) EBITDA
To determine SunEdison's operational profitability, take a look at the EBITDA projections for the company. The company reported EBITDA of $265.3 million in 2012, which is expected to grow to $378.4 in 2013 and $719.3 in 2014.
4) Other Metrics
SunEdison's annual operating margin was negative in 2012, but is expected to increase to as much as 3% in 2013, and double in 2014, mainly due to the company's initiative in restructuring and cost savings.
The operating revenues are expected to rise as well, especially in 2014, mainly due to its solar pipeline and completions.
Analyst Ratings
Of the 17 analysts or analyst firms that cover SunEdison's stock, nine have a Buy or better rating and the remaining eight have a Hold rating. There are no Sell ratings for this stock.
Risks
Government stance on renewable energy could change unexpectedly or regulations could hinder the growth in this business. This risk will always remain for solar and wind energy companies.
In addition, the company will always face geopolitical risks in emerging markets especially in highly energy deprived countries.
The solar industry is still immature (maybe even infant) and the supply chain in the renewable energy is very fickle. Therefore, solar companies will be very sensitive to disruptions in supply, demand and prices that may occur from external factors.
Success and proliferation of other alternative forms of energy such as Wind energy will adversely impact companies like SunEdison.
Increased competition resulting in heavy capacity expansion is another risk that SunEdison and its peers face in the long term. We have seen this in the past when oversupply resulted in severe price declines.
SunEdison operates worldwide and many of its projects are in countries such as India where the currency is weak. Depending on the currency used for transactions in such countries, foreign exchange fluctuations could in turn influence the demand for the company's product as well as its profitability.
Stock prices of solar companies are closely correlated (more than 80% in some cases) to the price of crude oil, indicating that the solar demand is mainly driven by oil prices and not just because of the 'social' need of clean energy.
Target Price
SunEdison's stock price could very well touch double digits in the next 12 months if their backlog execution performs well. Applying a multiple of 14 to the mean 2015's mean EPS $0.80, we get a target price of $11.20 (or more than 35% upside from current price).
Conclusion
The United States government is willing to help the solar industry, and solar companies are responding to this help, thus driving growth for solar businesses in the nation. The SunShot initiative here and the need for low-cost clean energy outside of the United States could cause a paradigm shift in the energy and utility sectors worldwide in the coming years.
SunEdison's primary focus is on solar project development in the United States, and the demand for its turnkey solar solutions is growing at a fast pace. Its construction starts has an increasing trend since the fourth quarter of 2012, and there are a large number of completions expected in the next couple of years, which will boost both earnings and revenues.
SunEdison's strong solar backlog and pipeline makes its stock a great long-term investment, and my opinion is that it would make sense to add to your positions or create new positions upon major pullbacks in the stock.

Disclosure: I am long SUNE. I wrote this article myself, and it expresses my own opinions. I am not receiving compensation for it (other than from Seeking Alpha). I have no business relationship with any company whose stock is mentioned in this article.