Main Street Capital (NYSE:MAIN) has been a favorite BDC of mine with prices finally coming off March highs of over $34 but it is still considered overpriced by many investors. Or is it? Recently I have considered the multiples that investors are paying in relation to risk profiles but there also needs to be some consideration for its total return. MAIN has grown its net asset value ("NAV") more than any other dividend paying BDC and is one of the few BDCs that did not cut its dividend during the financial crisis and has grown it since its IPO in October 2007 as well as started paying special dividends semiannually. In this article I will take all this into account to come up with projected total return as well as identify my key concerns and things to watch for in the coming quarters that indicate whether MAIN continues to deserve premium pricing.
NAV Growth
MAIN is one of the few BDCs to consistently grow its NAV especially at rates above 10% annually. This is because most BDCs are regulated investment companies ("RIC") required to distribute at least 90% of capital gains, dividends and interest to shareholders to avoid taxation at the corporate level and 98% of net investment income to avoid paying a 4% excise tax. Excluding ACAS which converted from a RIC to a Subchapter C and does not pay a dividend, only a few BDCs have been able to pay a healthy dividend while increasing value per share - as discussed in "Triangle Capital: Is It Priced For Total Return?" - such as MAIN, Triangle Capital (NYSE:TCAP) and TICC Capital (TICC).
Obviously, since MAIN has had undistributed income that contributed to its spillover amounts, it has had the benefit using some of its net investment income ("NII") to fund portfolio growth. Since 2009 it has almost doubled its investment portfolio at fair value per share from $14.68 to $28.34 in Q1 2013 while maintaining a lower than average debt to equity ratio of 0.55 and growing NAV an average of 16% a year as shown in the table below: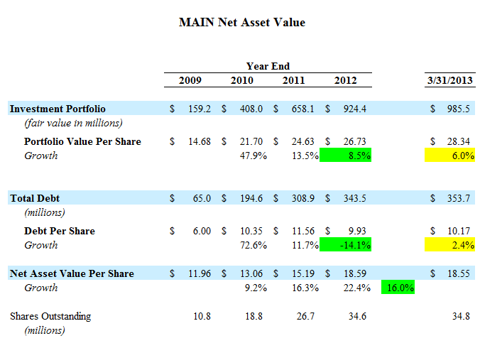 During Q1 2013 it paid out the special dividend of $0.35 in addition to its regular dividends of $0.45 having a direct impact on the NAV but still maintained its per share value. As MAIN continues to pay out special dividends it will continue to reduce its potential NAV growth to the extent that these dividends exceed additional spillover earned in the quarter paid. If MAIN's NAV grew 16% over last year, the ending NAV per share for 2013 would be close to $21.55 less the special dividends paid of $0.55. I would estimate NAV to be around $21.00 per share or 13% growth from 2012. However, there are many other factors that affect NAV, some of which are outside of the company's control including rising treasury yields and the effects on the valuations of its investments.
Special Dividends and Dividend Growth
In early November 2012, the CEO announced that MAIN was going to pay its first special dividend and explained, "As a result of our success in 2012, we project that we will have a significant amount of spillover income at year-end, with this special dividend reflecting a payout of approximately one-third of our estimated spillover income as of September 30, 2012. Our approach to paying this special dividend allows us to retain a significant amount of spillover income to benefit our stockholders in future periods. Assuming we are able to maintain our current level of financial and operating performance, we should be postured to declare an annual special dividend at the end of both 2013 and 2014."
The amount of the special dividend was $0.35 per share and it paid out approximately $10 million of the $30 million in spillover (taxable income in excess of dividends paid) as of Q3 2012 to stay in compliance with the regulated investment company tax rules. At the end of Q1 2013 it had built up another $20 million in spillover for a total of $44 million or $1.26 per share and then announced another special dividend of $0.20 payable in July 2013 and decided to start paying special dividends on a semiannual basis. With over $1.00 per share of remaining spillover as well as continued growth in excess taxable income, I believe these amounts will continue and potentially grow.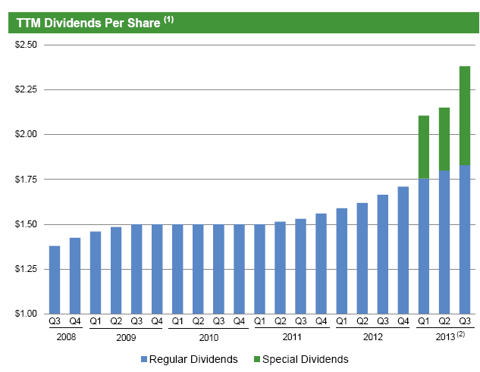 The most recent dividend announcement stated: "The combination of the current regular monthly dividend rate of $0.155 per share and the current supplemental semi-annual dividend rate of $0.20 per share equate to annualized cash dividends of $2.26 per share, or an annualized yield of 8.4% based on Main Street's current share price." I have estimated continued growth of the regular dividend of approximately 10% annually due to its EPS growth rates and dividend coverage rates from NII, for a projected dividend yield of 8.9% including special dividends and based on the current price.
Total Return
In the "Payout Category" of my latest "BDC Rankings" I account for many factors beyond the current dividend yield such as dividend sustainability, consistency and growth, as well as NAV growth rates and total return.
Many investors use total return to evaluate performance, taking into account dividend yield plus long-term capital appreciation. NAV growth per share (or at least NAV stability) is an important indicator for many reasons including the demonstration of growth or preservation of investors' capital through appreciation of assets and/or the reduction of liabilities. BDCs are usually priced based on NAV multiples, so a growing NAV per share usually leads to incremental capital gains for investors. Dividend coverage from NII is also an important indicator but in many cases BDCs will use realized capital gains for coverage. BDCs that rely on unrealized gains to cover dividends are considered "Bad BDCs" in my articles but NAV stability is key, and if a company can continue to pay a healthy dividend while maintaining its value per share this will be accounted for in total return.
Since 2009 MAIN has averaged an annual NAV per share growth rate of 16.0% but given the increased spillover payouts I would expect future growth rates of around 13.0% and have included it in my total return projections as well as projected dividend yield of 8.9% for a total projected return of 21.9% as shown in the table below: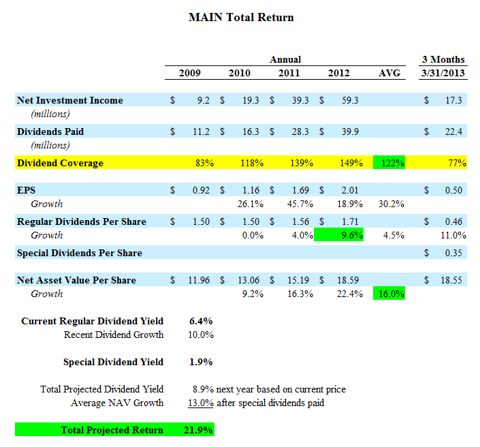 MAIN Risks
I consider MAIN one of the safer BDCs among the 25 I covered in a recent series of articles "BDC Risk Profiles" and currently rank it a 9.2 out of 10.0 on a relative risk level (10 being the least risky) for the following reasons:
The key concern I have with MAIN is regarding its lower middle market ("LMM") portfolio which accounts for 53% of total investments and primarily consist of secured debt, equity warrants and direct equity investments in privately held companies that generally have annual revenues between $10 million and $150 million. The weighted average expected yield on its LMM portfolio debt investments was 14.2% which is higher than the average BDC portfolio and implies a higher amount of risk but obviously this is where most of the income and gains for MAIN come from. In comparison, its middle market portfolio has a weighted average annual effective yield of 8.2% and accounts for almost 37% of investments.
MAIN has equity positions in 93% of its LMM portfolio companies with an average fully diluted equity ownership of approximately 33% and is the primary driver behind approximately $3.30 per share of gross net unrealized appreciation and its cumulative NAV growth per share. These equity positions support the growth in its taxable income and dividends paid through current dividend income received and periodic realized gains harvested from the $3 plus per share of net unrealized depreciation.
The 14.2% yield gives me some concern but so far the credit quality on the LMM portfolio seems stable with better than average portfolio leverage ratios. Debt to EBITDA measures the weighted average portfolio debt as a multiple of EBITDA. As discussed in "BDC Risk Profiles: Part 7 - Credit Quality," debt to EBITDA ratios greater than 4 or 5 usually indicate that a company is likely to face difficulties in handling its debt burden, and is less likely to be able to raise additional loans required to grow and expand the business and it can result in a lowered credit rating. Currently the LMM portfolio has debt to EBITDA ratios between 2 and 3 times.
Summary
My projected NAV growth of 13% a year could be considered conservative given that it grew over 22% in 2012 but keep in mind that is an average based on historical trends and taking into account the increased dividend payouts. The overall dividend yield depends on additional spillover income and EPS growth as well as the stock price that continues to rise, effectively reducing the yield but is a good problem for investors to have who can decide to sell and realize the capital gains.
In a recent earnings call the CEO said, "We think the combination of steady long-term growth in our dividend payout and meaningful book value per share growth are a 2-pronged value proposition that differentiates Main Street and has clearly generated the premium total returns realized by our investors."
In recent articles such as "High Priced BDCs: Are They Worth It?" I have considered MAIN to be overpriced compared to other BDCs with investors currently paying a 57% premium over book value and a P/E multiple of 14.4 times last twelve months earnings. I believe MAIN has a much better than average risk profile and should be priced near the top of the range for BDC multiples which is currently around 1.22 times NAV and 13.0 times LTM EPS that would give it a price range between $23 and $26 but it is currently trading near $29. However, given its growth potential for NAV and EPS as well as total return of 21.9% which is higher than almost any other BDC, I can understand why investors are willing to pay a premium.
The things to watch out for in the coming quarters are obviously continued NAV and EPS growth, hopefully followed by regular and special dividend growth and price appreciation. Portfolio credit quality, yield direction and leverage ratios, also need to be monitored as MAIN continues to grow and support higher dividends.
For my most recent price targets see my "BDC Buzz Report" or my overall BDC rankings table see "Latest BDC Rankings: Discounted At Last?"
Disclosure: I am long MAIN. I wrote this article myself, and it expresses my own opinions. I am not receiving compensation for it (other than from Seeking Alpha). I have no business relationship with any company whose stock is mentioned in this article.