The beaten down mining industry is up sharply this Thursday morning, up in an up market and on news that China's imports of metals does not reflect their apparent economic slowdown.
Yesterday, from London, "Mining firms posted some of the biggest losses in the index after the release of disappointing trade data from China. Exports unexpectedly fell 3.1% in June from a year earlier, marking the first year-over-year drop for exports since January 2012. Imports decreased 0.7%, below a Reuters estimate of an 8% rise."
Frik Els writes in mining.com,
"But buried within the data however was a 10% year on year surge in the country's copper imports. Shipments to China of refined metal, alloy and products were 379,951 tonnes in June the highest since September. China consumes some 42% of the world's copper."
In addition, Wednesday's comments by U.S. Fed Chairman Bernanke indicated it was unlikely stimulus measures would be scaled back earlier than expected were a causative factor in the large move in the overnight price of gold, hitting a two-week high near $1,300.00 in overnight trading. The Dow also responded Thursday morning reaching new all-time highs.
This is a snapshot of major metals miners market and gold miners' price activity at 11:00am today, Thursday, July 11, 2013.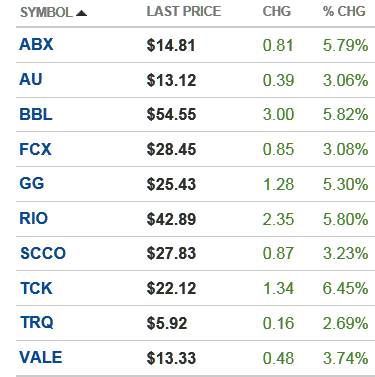 Copper prices were up very slightly on Wednesday. It is likely that the dismal trade figures continued to depress the metals markets, as copper was still trading just over $3.00/lb. near 3-year lows. However, as the second chart below shows, on Thursday morning, the copper prices rose sharply to $3.14/lb.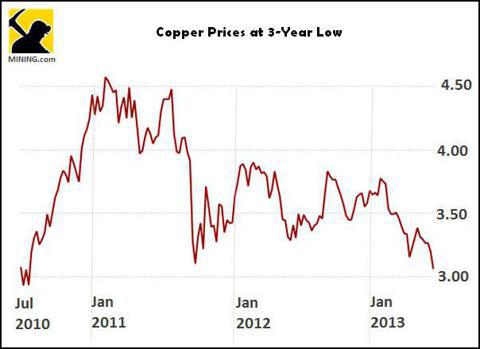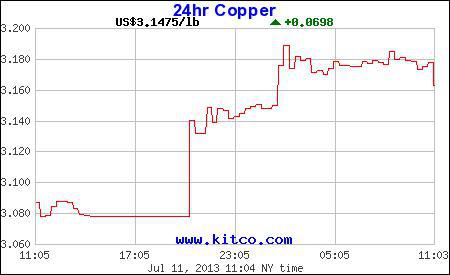 Does this upward move in the price of copper signal a change in the market trend for copper? Copper has recently hit 3-year lows. Miners have had a dismal year thus far. BHP Billiton [(NYSE:BBL) (NYSE:BHP)] has hit a 4-year low and Freeport-McMoRan (NYSE:FCX) and Southern Copper (NYSE:SCCO) are trading at the bottom of their ranges.
Do we have a bull to ride in the mining sector? The future looks brighter today.
Disclosure: I am long BBL. I wrote this article myself, and it expresses my own opinions. I am not receiving compensation for it (other than from Seeking Alpha). I have no business relationship with any company whose stock is mentioned in this article.