Last week, silver prices continued a painful slump in 2013, closing out a volatile week down $0.66, or 3.4% at $18.74. Gold prices, on the other hand, closed down $373.87 on the week, or 23.4%. The white metal, down roughly 35% year-to-date, has performed worse than gold, which is down about 20% in 2013. The serious slump in gold prices, tame inflation and record stock market rallies has taken some of the shine out of silver this year. And now we're getting more questions along these lines from Seeking Alpha contributors: Will the price of bullion go up in 2013?
Since silver is more volatile than gold, it has underperformed--typical of silver in a serious bear market. However, since volatility works both ways, when silver rises, we're going to see a massive spike in silver prices. This exact situation occurred in April 2011 when silver prices rose by 170% in the space of just seven months. This month, silver prices have slumped to deeper lows even after being smashed big time earlier in April when silver prices dropped by 12% in a single week. Technical indicators suggest an extremely oversold state and that a rise in metal prices seems imminent. Therefore, the question is not 'if' but rather 'when' prices will rise.
The Global Physical Demand And Supply Picture Points To An Unavoidable Rise In Bullion Prices
Most mints internationally have reported unusually high demand and volume orders of bullion, especially for silver bullion coins. In India, for example, where gold imports have dipped since the middle of May 2013, silver imports have seen sudden spurts since April 2013. In the past months, massive gold ETF outflows have been blamed by the mainstream media for the price onslaught in gold. What they are not recognizing is that most of this gold outflow has ended up in many eastern markets where individual buyers have hurried into the physical gold markets. What this means is that there really isn't a lack of demand for precious metals. According to the World Gold Council, and as I have indicated in my previous articles, it is quite likely that gold previously held in the ETFs will find its way to Asian consumers taking a long-term view on gold. Regardless of what's happening in the west and in the paper bullion markets, Asian buyers are making huge purchases on bargain bullion prices. We are currently in a market consisting of unprecedented waves of long-term, physical gold and silver demand from central banks and individuals alike-resulting almost exclusively from the recent steep declines in prices. In order to really drive my point across, let's bring up the supply picture of the market. As current spot prices continue to decline, many investors warn of miners going out of business (i.e. at $1000 spot prices, 50% of miners will become bankrupt), which leads to an inevitable decline in supply.
Using a simple economics equation, we can formulate an almost unavoidable increase in gold and silver prices:

The Gold-To-Silver Ratio Favors A Silver Price Rally
The multi year low gold-to-silver ratio of 1:66 today provides an irresistibly attractive opportunity for investors because historically the ratio of gold to silver has averaged 1:13. Additionally, the ratio is retesting the area where it began the spectacular rally in 2010, when silver prices rose 170%. Historically, this ratio falls most significantly when gold and silver prices rally, and silver prices generally rise more steeply than gold. Having analyzed the fundamental points of the bullion story, we will now discuss the technical points of the story and produce a time frame to which we can reasonably expect a bullion price rally.
Technicals Indicators Point To A Steep Rally Within The Next Six To Seven Weeks
On a weekly basis, the RSI (relative strength indicator) is at the lowest in 40 years of data and remains consistently low on a daily basis as well. This technical indicator suggests that silver is extremely oversold on both a daily and weekly basis and any near-term bounce for silver could be no more than short-covering; gold is similarly oversold. If, technically, a rally in gold and silver prices is absolutely unavoidable, why have the two metals seen such a steep and unremitting decline in prices? One simple answer: market manipulation. The paper market or the iShare ETFs, which really became popular 2-3 years ago, have played an integral role in defining price directions. However, it's just a matter of time before the market corrects itself. Once this happens we'll see a steep move upwards for bullion prices.
A well-respected contributor for SeekingAlpha (Emmet Kodesh) used this graph in his piece, which I will now shed some light on.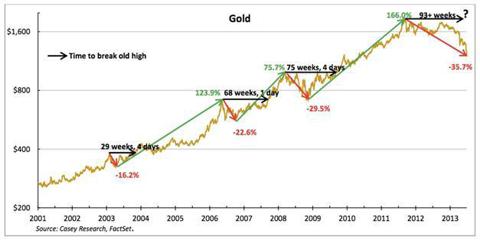 This graph illustrates four major points of correction during the bull gold market, which began in 2000, each taking a little longer to surpass the previous high (i.e. 29-weeks, 68-weeks, 75-weeks, etc). If this pattern continues, we might have another 6-7 weeks of volatility and general decline before a sustained rise toward new highs. That is, gold prices may fall to $1000 before rallying towards and testing the $1800 levels again. Silver prices, similarly, may fall to $12 before rallying back up to $40 an ounce within the next 6-7 weeks.
I believe that the macroeconomic rationale for gold has never been stronger and the technical indicators also support my thesis. Should the economy strengthen, inflation risks are high because of the challenges attributable to the shrinking of the Fed balance sheet. On the other hand, if the economy continues to sputter or turn down, the possibility of a financial market downgrade of sovereign credit would result in politically intolerable high interest rates. This will lead to a severe economic pullback, which typically sets the stage for a significant advance towards all-time highs. In the end, an increase in bullion prices is inevitable and I believe we are well positioned to enter a steep rally by late August and following a period of volatile prices.
Disclosure: I have no positions in any stocks mentioned, and no plans to initiate any positions within the next 72 hours. I wrote this article myself, and it expresses my own opinions. I am not receiving compensation for it (other than from Seeking Alpha). I have no business relationship with any company whose stock is mentioned in this article.