We shared this review in June with our subscribers as to the performance of the stock warrants trading on American International Group (NYSE:AIG). We have updated the prices to present our findings to all interested readers.
AIG is one of many financial companies with listed stock warrants and while we have not recommended the purchase of these AIG stock warrants, their recent performance gives investors a good look at what stock warrants can do for your portfolio with the potential for additional leverage.
Two simple questions first:
What is a stock warrant?
Why would an investor buy the warrants instead of the common shares?
Stock warrants, we define as, a security, giving the holder the right, but not the obligation, to purchase the underlying security at a specific price and expiring on a specific date in the future.
An investor would consider or buy the stock warrants because of the potential for additional gains due to the leverage inherit with warrants.
American International Group - AIG: NYSE
Warrants AIG-WS: NYSE
The AIG stock warrants give the holders the right, but not the obligation, to purchase one share of AIG common at an exercise price of $45.00 and an expiration date of 19 January 2021. Yes, that is correct; these warrants do not expire until 2021.
Let's look at a few charts and while they appear to be similar but we will explain the difference below: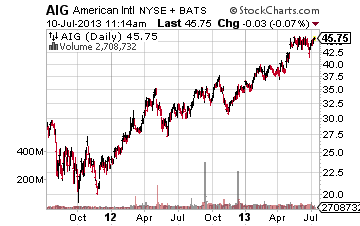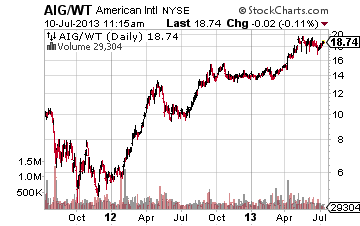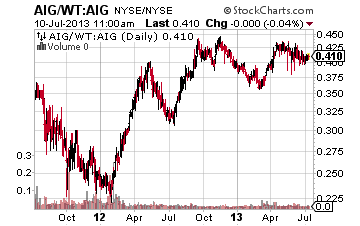 Let's take a look back at what would have happened if you had purchased the warrants in lieu of the common shares.
Comparison:
Buy the common shares in October 2011 @ $20 -
Sell today @ $45.75 - Gain 129%
Buy the stock warrants in October 2011 @ $5 -
Sell today @ $18.74 - Gain 268%
The leverage is 2.08 to 1 which is great.
You just made double your gains while minimizing your capital risk compared to what you would have made investing in the common shares of AiG.
All of the charts above look bullish but the last chart is the relative performance of the warrants over the common shares and it is topping out and this would probably be a good time to be a seller of the warrants. Currently, we have an Over Valued rating on the AIG warrants, in essence, the warrants are greatly over valued relative to the price of the common shares. In other words, the warrants are not a good buy here and if you own them, it is a good time to let them go.
The message is simple:
If you find a company you like AND
The company has a long term warrant trading (over 2 years before expiration) AND
The warrant is trading at fair value or is undervalued when you buy it AND
The market environment is positive
Then, there is no reason NOT to purchase the warrants. Think about it: you are here to make money, look at the real live facts again, if necessary.
Finding a list of stock warrants trading, terms, leverage and valuation is next to impossible and this is the precise information we furnish to our subscribers and is available instantly.
Disclosure: Neither Dudley Pierce Baker nor CommonStockWarrants.com is an investment advisor and any reference to specific securities does not constitute a recommendation thereof. The information and opinions expressed should not be construed as a solicitation to buy and securities mentioned in this service. Examples given are only intended to make investors aware of the potential rewards of investing in warrants. Investors are recommended to obtain the advice of a qualified investment advisor before entering into any transactions involving stocks or warrants. I have no positions in any stocks mentioned, and no plans to initiate any positions within the next 72 hours. I wrote this article myself, and it expresses my own opinions. I am not receiving compensation for it. I have no business relationship with any company whose stock is mentioned in this article.