Cisco Systems' (NASDAQ:CSCO) fourth quarter earnings beat the Zacks consensus by 7 cents. GAAP earnings of $0.19 were much higher than the guided $0.05-$0.07 range.
Revenue for the quarter was $8.54 billion, up 4.6% sequentially and down 17.6% year over year. Revenue was at the high-end of management's guidance range of a year-over-year decline of 17-20%. Products generated 79% of revenue, increasing 4.8% sequentially and declining 22.1% year over year. Services brought in the remaining 21%, growing 3.7% sequentially and 4.8% year over year.
The sequential increase in both products and services is indicative of a healthier operating environment. The year-over-year decline in product sales is the impact of the recession. The product gross margin was 36.2%, down 4 basis points (bps) sequentially and up 69 bps year over year. The service gross margin was up 54 bps sequentially and down 325 bps year over year. This was the third straight quarter of year-over-year decline in the service gross margin.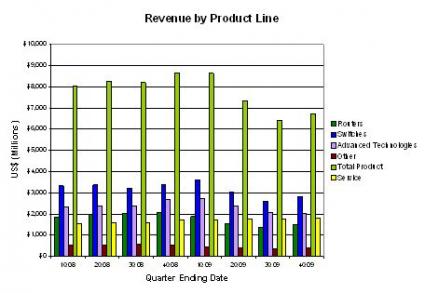 Routers were 17% of total revenue, representing a sequential increase of 7.3% and a year-over-year decline of 27.5%. All categories of routers, including low-, mid- and high-range, declined from the year-ago period. Switches were 33% of revenue, a sequential increase of 9.3% and a year-over-year decline of 16.8%, impacted by the recession.
Advanced Technologies generated 24%, down 2.4% sequentially and 24.3% year over year. There was particular weakness in video systems, unified communications and security, which were primarily responsible for the decline from the year-ago quarter. The Other segment brought in the remaining 5% of revenue, increasing 4.6% sequentially and declining 24.4% year over year, again due to the recession.
Revenue distribution by geography was as follows -- the U.S. & Canada 56% (up 10.3% sequentially), Europe 20% (down 9.4%), Emerging markets 9% (down 9.0%), Asia-Pacific 11% (up 19.4%) and Japan 4% (up 7.9%). Gross margins in Japan and the U.S. & Canada benefited from stronger revenue. Lower gross margins in Europe, Emerging Markets and Asia-Pacific were driven by higher discounts allowed in these regions. The Emerging markets were also impacted by the recognition of a larger percentage of revenue as deferred revenue.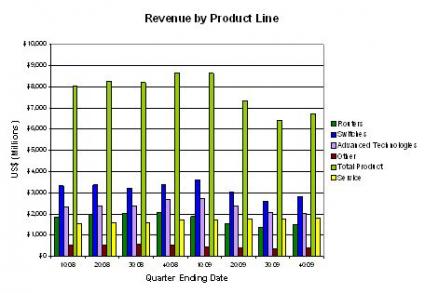 Fourth quarter 2009 gross margins have been estimated from management comments.
The pro forma gross margin for the quarter was 65.3%, compared to 65.1% in the April 2009 quarter and 66.2% in the July quarter of 2008. The small sequential increase was due to a favorable product mix and cost savings that were almost totally offset by increased discounts and lower pricing. The operating expenses of $3.35 billion were higher than the previous quarter's $3.15 billion. The operating margin was 26.1%, down 48 bps sequentially from 26.6%. The decline was due to a 179 bp increase in general and administrative expenses as a percentage of sales, partially offset by 20 bp, 30 bp and 81 bp declines in cost of sales, research and development and sales and marketing expenses, respectively.
On a pro forma basis, CSCO generated a net income of $1.84 billion, or a 21.5% net income margin compared to a $1.75 million, or 21.5% in the previous quarter and net income of $2.4 million or 23.1% net income margin in the same quarter last year. The fully diluted pro forma earnings per share (EPS) was $0.32, compared to $0.30 in the April quarter and $0.40 in the prior-year quarter.
Our pro forma estimate excludes acquisition-related costs, deferred stock compensation, amortization of intangibles and enhanced early retirement benefits in the last quarter. Our pro forma calculations may differ from management's presentation due to the inclusion/exclusion of some items that were not considered by management. On a fully diluted GAAP basis, the company recorded a net income of $1.08 billion ($0.19 per share) compared to $1.35 billion ($0.23 per share) in the previous quarter and $2.01 billion ($0.33 per share) in the prior-year quarter.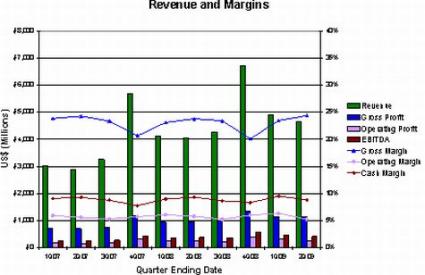 The company has a very strong balance sheet. Inventories increased 5.0% to $1.07 billion, yielding inventory turns of 11.0x. Day-sales outstanding (DSOs) were around 34 days. The company ended with a cash and investments balance of $35.00 billion, an increase of $1.45 billion from the end of the previous quarter. Cisco had $10.29 billion in long-term debt, amounting to a net cash balance of $24.71 billion. Including long-term liabilities, the debt-cap ratio was a mere 29.0%.
Management provided guidance for the first quarter on a GAAP basis. Revenue is expected to be up 1-3% sequentially, or a year-over-year decline of 15-17%. The gross margin is expected to be 64%, operating margin 38-39%, tax rate 22% and a share count of approximately 50 million. All this is expected to result in GAAP earnings per share of $0.05-$0.07, including acquisition-related expenses and stock based compensation. Management expects the company to generate operating cash flow of $1.2-1.5 billion.