Google's (NASDAQ:GOOG) share price has been on tear and sell-side analysts have been clamoring to raise their target prices to over $1,000 per share. For the long-term investor, it is an easy stock to like.
Six Reasons to Own Google
An entrenched market position in online advertising with low competitive threats.
Double digit earnings growth over the medium term as advertising budgets are switched from traditional media to online media.
A pipeline of lucrative opportunities: Android; YouTube; Maps; Motorola; Chrome; Google+.
A visionary and entrepreneurial management team.
Strong FCF generation and a 4.4% FCF yield.
A strong balance sheet with $50bn in Cash & Equivalents which represents 17% of its market capitalization (don't expect a dividend or buyback though!).
The upward trend in its share price started last summer when it reached a low of $559 per share in June 2012. There was a particularly sharp 20% surge in its share price during the second quarter of this year.
Google's Share Price
images
)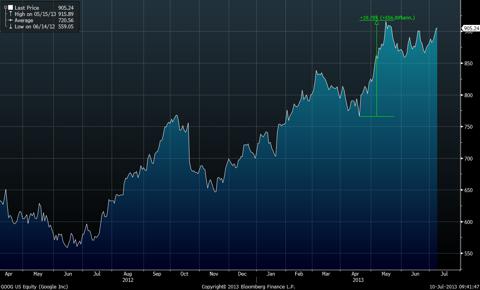 (Source: Bloomberg)
The recent 20% rally was initiated by its 1Q13 earnings. It delivered in-line results and earnings revisions have remained broadly flat. However, there were no upsets and investors have become more appreciative of its solid c.20% revenue growth - particularly in light of diminishing growth prospects at other tech giants such as Apple (NASDAQ:AAPL), Microsoft (NASDAQ:MSFT) and IBM (NYSE:IBM).
Google's Bloomberg Consensus Earnings Revisions
)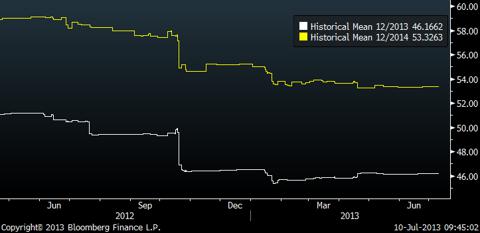 (Source: Bloomberg)
A Damp Squib
The loss of momentum in the share price in mid-May coincided with its annual Google I/O Developer Conference where it showcases its developments in software and hardware. As Google makes a foray into hardware, the fanfare and speculation surrounding this event is becoming on a par to Apple's. The hope was for more details on the Moto X, its home-grown smartphone. Instead, we got Google Glass, a smartphone-cum-spectacles. Amusing maybe, but hardly a mass market opportunity. Google did announce some developments to fortify its ecosystem such as an overhaul of Google Maps and a Spotify-style music streaming service but the event provided nothing new for investors.
Er, Larry, I Think You Overpaid
Going into the autumn, investor attention will now become increasingly focused on the delivery of the smartphone strategy following its $12.5bn takeover of Motorola two years ago. No one doubts the wisdom of Larry Page & Co in wanting to enter the smartphone sector in the quickest possible timeframe but their enthusiasm got the better of them and they overpaid (the bid was a 63% premium). At the time we were told it was to bolster its measly patent portfolio but the reality is that a smartphone offering would be a key pillar to Google's ecosystem if successful. Market chatter speculates that it will have a dual handset strategy where it will launch both the Nexus 5 and the Moto X later this year (the Nexus range is manufactured by a third-party which previously included HTC and LG). This does seem somewhat messy and unsustainable. The Moto X is not expected to be an iPhone killer but rather a competitively-priced, mid-range smartphone with a 10 megapixel camera. Analysts expect Motorola to remain loss-making for many more years yet.
Google 101
It should not be forgotten that Google is an online advertising company and analysts have always been intently focused on the downward trend in its cost per click. For those who do not follow Google, there are two trends which are scrutinized at every earnings announcement: 1) cost per click or CPC; and 2) number of paid clicks. Advertisers pay less for keywords (or clicks) on mobile devices versus desktops as these clicks are deemed to have less chance of being monetized. As the growth in mobile clicks continues to outpace desktop clicks, the average amount received by Google for every click (the CPC) is declining. However, despite the downward trend in CPC, revenues still continue to grow at 20% year-on-year due to the rapid growth in the number of paid clicks.
Forget Moto X, It's All About Enhanced Campaigns
It appears we may now be at an inflection point where CPC may start to stabilize and this will be a key catalyst for investors and analysts alike. Google has been transitioning all of its remaining smaller and medium-sized advertising clients onto Enhanced Campaigns which will be completed in July. Enhanced Campaigns essentially provides advertisers with the ability to provide orchestrated marketing campaigns across the various Google platforms (i.e., paid search, mobile, display, and YouTube). Enhanced Campaigns also provides better insight for advertisers on its return on investment on keywords. Ultimately, if Google can improve ROI for an advertiser, the advertiser will be willing to pay more for keywords even if it is a mobile click. It is still too soon to confirm this trend, but industry sources say that Enhanced Campaigns is helping to stabilise the downward trend in CPC.
The Share Price Surge Has Been A Re-Rating, Not Earnings Driven
The share price has now re-rated from sub-14x current year earnings in mid-2012 to over 19.6x current year earnings. The Google story was undoubtedly undervalued in 2012 and many analysts seemed disproportionately concerned about the downward trend in cost per click. The Enhanced Campaign strategy does present a fundamental change which further supports a re-rating in 2Q but it is probably correct to say that the re-rating will soon run out of steam. It is unlikely to see it go much beyond 20x in my opinion. Many of the headline grabbing $1,000-plus target prices are now incorporating DCF methodologies which is normally the first sign that sell-side analysts have become more aggressive in order to justify their BUY ratings.
Google's Current Year P/E Chart (Bloomberg Consensus Earnings)
)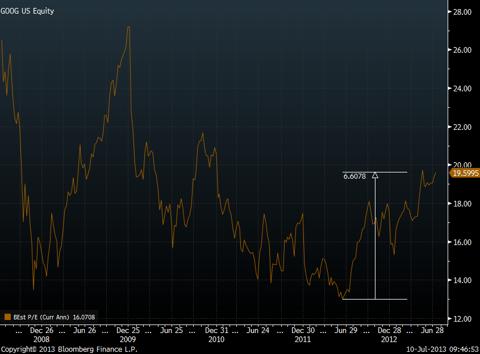 (Source: Bloomberg)
From Value to GARP
In conclusion, Google's valuation is fast approaching fair value. If it can demonstrate over the next couple of quarters that Enhanced Campaigns has stabilized the decline in cost per click, then a $1,000 share price is a realistic scenario. The valuation is not as attractive as it once was but it is hard to identify an alternative large-cap tech company with a more compelling and visible growth story. I believe Google can maintain its 19x multiple into 2014 and as such roll forward this multiple to form my target price. If we use Bloomberg consensus earnings, then this derives a $1,013 share price. The re-rating story for Google has now played out but it provides visible mid-teen earnings growth for the next couple of years and it should easily be able to grow into a $1,000 share price. For the long-term investor, Google remains a core holding in my view.
Disclosure: I am long GOOG, IBM. My employer is an asset manager for which I provide research coverage on companies discussed in this article. My employer and its clients may hold a position in any of these stocks and my employer and its clients may trade in these stocks over the next 72 hours. I wrote this article myself, and it expresses my own opinions. I am not receiving compensation for it (other than from Seeking Alpha). I have no business relationship with any company whose stock is mentioned in this article.