We've written (here and here) and commented on Barrick Gold (NYSE:ABX) from the short side over the last six months to the chagrin of many diehard longs. Our thesis, at the beginning of the year, was simple: ABX was overpriced and significantly exposed to downside risk via declining gold prices. Back in May, we took our profits in our core short position and rolled it into a lottery ticket (deep out-of the-money puts), which turned into a blessing recently. OK, enough of our chest-thumping -- what have we done lately? We've completely covered our short and have started a core long position sub-$14 a share after the recent Barrick announcement regarding delays in its Pascua-Lama mine and likely writedowns. Our risk level is small at the moment as we look to scale in at better prices around the upcoming earnings release in August. At a minimum, the short trade on ABX and other gold miners is getting rather long in the tooth, and we suspect that long-term value investors will be attracted to this sector at current prices.
Let's start by stating that the worst is probably not over for ABX. In particular, this upcoming earnings announcement (Aug. 1) will likely be a doozy with $10 billion in writedowns, putting book value per share in the $12 range. Net income per share will be -$7 -- ugly. Barrick already alluded to a $5 billion writedown associated with the dreary Pascua-Lama project, which now has a delayed opening for production until 2016. In addition, with over $8 billion in goodwill associated with overpaid acquisitions (e.g., Equinox) and overvalued assets (e.g., O&G properties), we easily foresee another $5 billion; Barrick has already stated that this goodwill writedown will be significant. That said, there is a silver (or dare we say gold) lining to writedowns, at least at the current share price. That is, ABX will be able to minimize, if not eliminate, cash tax payments over the next four years, preserving $3 billion in cash flow. One could argue that, given ABX's cash flow needs, this is not a bad time to write it down hard. A lot of analysts miss this key point -- once the writedown is baked in, which we feel is mostly done, there is a benefit to forward-looking investors.
More importantly, we think ABX is going to aggressively attack their cash flow issues. In particular, we believe we will see minimum $1 billion in (depressed) asset sales, likely issuance of 100 million equity shares, and a 50% dividend cut. This may not all be announced in the near term, but, with 2014 EBITDA likely to be sub-$4 billion (at $1,250 gold, $3.25 copper) and net debt of $13 billion (after asset sales), leverage ratios would be exceedingly high. That would lead to credit downgrades, without further cash flow improvements. We would not be surprised to see further capital expenditure reductions as well. While this might put pressure on the stock to trade down toward $10 short term, without these measures the stock price would probably falter even more as investors look to bail out of a sinking ship. In fact, if we don't hear an aggressive posture on their upcoming conference call, we will be quick to reevaluate our position.
Our dividend discount model, which we use to project cash flows and discount, sees a fair value of roughly $15 on the shares (we alluded to this in prior comments here on Seeking Alpha). We've used what we believe are conservative assumptions, including higher costs associated with Pascua-Lama and pricing in the recent pricing concessions in their Dominican Republic mine, Pueblo Viejo. While net earnings will be abysmal this year, forward earnings will be roughly $2/annum but flat for the next few years, putting the P/E of 7-8 in perspective (i.e., no near-term growth). Down the road, however, we believe that if ABX takes the aggressive stance toward their capital structure, then earnings and dividends can begin to grow later this decade. Note we are agnostic on precious metal prices and prefer to let the futures market dictate our inputs.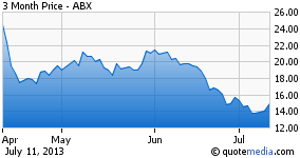 An investment in Barrick is not for the fainthearted (just look at the chart). However, we feel that enough bad news is currently priced in to warrant the start of a core position. Many investors have heard this before, but coming from a pretty diehard short (until recently), this hopefully eliminates some ownership bias. Assuming we see an aggressive capital plan announced in a few weeks, and the stock trades poorly, we will use that as an opportunity to risk up. We actually do not see a dividend cut as being significant as the level of income investors in this stock is probably minimal, particularly after the huge price decline of late. In addition, the issuance of 100 million shares that we envision will be absorbed, we believe, if accompanied by an aggressive action plan. All told, we think ABX is finally at the price level to warrant some long-term, value investor attention and should make a good long-term buy in the $10-$15 range.
Disclosure: I am long ABX. (We are looking to add risk at lower prices.) I wrote this article myself, and it expresses my own opinions. I am not receiving compensation for it (other than from Seeking Alpha). I have no business relationship with any company whose stock is mentioned in this article.