Garmin (NASDAQ:GRMN) is a manufacturer, most famously, of GPS systems for cars, boats and other methods of getting around.
From Garmin's website:
Our Mission : To be an enduring company by creating superior products for automotive, aviation, marine, outdoor and sports that are an essential part of our customers' lives.
Garmin is part of a host of companies that have been overlooked (or just plain forgotten about) since you've been able to access GPS on your smartphone. Picking Garmin out of the crowd for its good aspects, while awaiting something big to happen for the company, would be argued by me to be a savvy move at this point. With a new "game changer" product coming down the line and a rock-solid company foundation, I'll explain why.
Since shedding about 10% in late February of this year, Garmin has been characterized by cyclical ups and downs, trading between support at $32.50 and resistance at the $37 level for the past 5 months.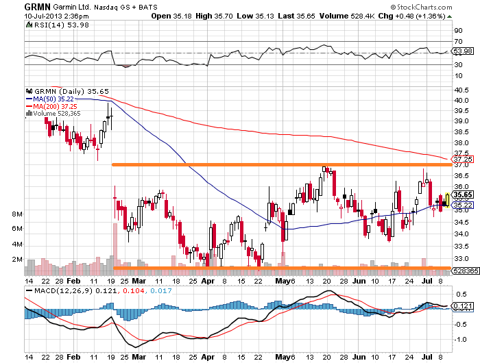 I'd argue that Garmin is a great stock to be in, even without any upcoming catalysts. In this case, it's a great stock to be in with what I will feel to be a "game changer" on its way down the product line.
Over the past three years, Garmin's book value has risen 14.45% and Garmin has increased the dividend by 16.67%. The stock, in general, is in a several year uptrend, with higher highs and higher lows dating back to 2009.
The balance sheet looks appealing, too, with assets steadily growing over the past five years by 64.75% and zero long-term debt. Put simply, this is an extremely stable stock, as well as company, to put your money into.
Now, Garmin looks like it has a catalyst heading its way. Gizmodo reported in an article on Monday that Garmin is going to be making an HUD that projects turn-by-turn directions directly onto your windshield. It's the first thing I've read in a little while that has given me pause and made me mutter, "cool," out loud.
The Gizmodo article states:
The new Garmin HUD sits on your dashboard, projecting navigation information at eye-level onto either a transparent film you stick to your windshield or onto an included reflector lens (so you can use it in [a] rental, for example). The unit pairs wirelessly via Bluetooth with a smartphone running one of Garmin's navigation apps (Street Pilot or NAVIGON) from which it pulls turn-by-turn directions. Besides the obvious information the HUD projects useful details including what lane you should be in for your next move, and a constantly-updated estimated time of arrival.
- courtesy of Gizmodo)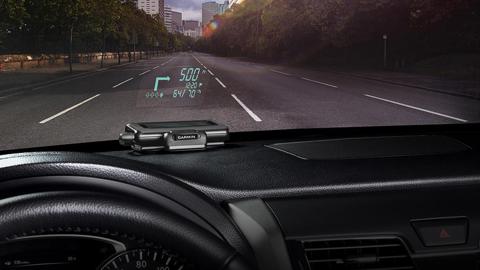 CNET goes on to explain:
HUD -- short for head-up display -- sits on the dashboard at the base of the windshield, where it projects navigation data upward into the driver's line of sight, either onto a transparent film affixed to the windshield glass or a reflector lens that attaches to the HUD device. Both the film and reflector lens are included with the device.

Garmin states that HUD will automatically adjust the brightness of its projections, so that the display remains visible in direct sunlight or at night. The device will be powered by a 12V charging cable with an integrated USB port for keeping your smartphone charged as well.
How will this compete with GPS systems that are being built into vehicles more and more? Well, therein lies an opportunity.
First, standalone GPS units are often preferred and used by people that have to drive for a living (taxi drivers, truck drivers, etc), so Garmin is going to retain its leg up in that respect.
Secondly, it is my contention that it's only a matter of time before we see this technology built into cars, and if it's something that Garmin can pioneer and master, it's going to be lucrative for the company.
Also, it will be worth looking into the IP and patent fine print that are sure to accompany Garmin's new technology. If the company, somehow, can make this HUD on windshield technology its and its alone, it's going to mean even more cash in the bank for Garmin.
QTR's Analysis
Most importantly, this product is a sign that Garmin continues to innovate, which is arguably the most important thing for a company that has dug its heels in as a conservative and respected growth stock over the past few years.
I've made the same argument about Apple in the past - the fundamentals look great, but what's important is that the company continues to innovate.
Based on solid fundamentals, a great balance sheet and cash position, sustained growth over the past three years, and continued innovation, I'm bullish on Garmin in the future.
Disclosure: I have no positions in any stocks mentioned, and no plans to initiate any positions within the next 72 hours. I wrote this article myself, and it expresses my own opinions. I am not receiving compensation for it (other than from Seeking Alpha). I have no business relationship with any company whose stock is mentioned in this article.